The Headlight
---
Southern California Scenic Railway Association, Inc.
Serving the Travel Town Museum and the Crystal Springs and Cahuenga Valley Railroad
Volume 11, Number 3............................................................................Fall 1996
---
---
By Bryan Reese, M.177 Project Manager
The progress on M.177 this quarter is perhaps the most visible ever! Visitors to Travel Town can now see the virtually complete "gull wing" paint scheme on the nose of the motorcar.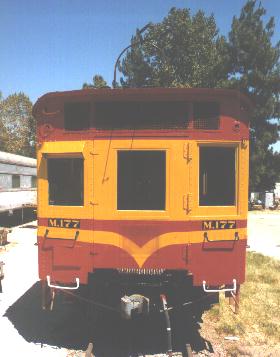 Earlier this summer, final prep was begun on the roof, which received first a coat of Variprime etching primer, followed by a sealer coat of coal tar epoxy and finally the black gloss polyurethane top coat. This completes the roof, and the layout was begun of the nose. Assisting were Doug Stephens and Bob Bennett. Others involved in M.177 this quarter were (and thanks to) Tom Graham, Brian Moore, Dan Price, and Gordon Bachlund
While a Santa Fe diagram was available for laying out the red and yellow "gull wing," it proved maddeningly ambiguous in several respects. Most notably, the diagram was clearly drawn to depict a Brill motorcar, rather than our extant Pullman-built M.177. This meant that the dimensions didn't quite match. Further, the diagram didn't specify the size or spacing of the numbering. What this all comes down to is that we had to rely heavily on photographs and a little guesswork. I hope I won't be besieged by the infamous "rivet counters" who delight in pointing out inaccuracies in such works. To them I can only say, "Where were you when I was painting?"
The numbering was tricky, because I wasn't real sure about the size or the style. I finally received a set of letters and numbers from Steve Whisel of the Arizona Railway Museum that he had pulled off of the Internet. Next I took the sample letters along with enlarged photographs of M.177 (provided Larry Bowker) to Bill Schultz of Wirsching Sign Company in Glendale (who not too coincidentally does the lettering and signage for Metrolink) and he had one of his artists redraw the letters slightly to more closely match the original. These were then scanned into their computer, and lasercut vinyl letters were produced. Many thanks to Bill, for he donated these services free of charge to our organization.
First the yellow was applied. Dupont was good enough to supply the original formulas used by Santa Fe for both the red, yellow, and green. Since the lettering was also yellow, the low-tack vinyl numbers were next applied. Then the remaining yellow areas were masked and the red was shot.
The paint used was Imron 5000, a high-solids polyurethane, and pretty much the best paint that money can buy. It took about a gallon of yellow and a gallon of red, and figuring the cost of the activator, it comes to about $360.00 a gallon. Using paint of this quality and our new Binks gun, it came out better than I could have hoped for.
After the masking was removed, the black backgrounds for the numbers were painted, after which the vinyl letters were peeled away to reveal crisp yellow numbers. By the time you read this, the rest of the body will probably be finished in Pullman Green. With the red and yellow finished, the new glazing has also been installed in the nose.
Another interesting project was the re-creation of the side ladder. The City had removed the ladder years ago to keep unauthorized people off the roof, and subsequently discarded it. Again, we were fortunate to have an original construction drawing of the ladder. Armed with this, I simply ordered the appropriate steel angle stock and the forged rungs, just as the railroad might have. But then there's the tricky part: the rivets. The whole ladder is held together with half-inch steel hot rivets.
Stan Garner of Short Line Enterprises was nice enough to lend us a rivet gun and the equipment that goes with it, as well as giving us some rivets. One Saturday afternoon we spent cutting the rivets to the proper length, heating them with the acetylene torch and driving them. The ladder has since been applied to the right side of the motorcar, and it is indistinguishable from the original.
Another important job completed was the rebuilding of the battery boxes by Greg Smith. Greg found it necessary to replace the floor of both boxes, as well as make new doors utilizing the original hardware. Alan Weeks subsequently spent hours on his knees priming and painting the boxes, and now they are ready for the new batteries.
But what about the Winton Engine? I received a call from Tom Johnson at Globe Bearing asking me for additional parts such as the water pump, governor, throttle piston, exhaust manifold, and other items, indicating to me that we are very close to completion. Tom admitted that the engine had suffered a minor delay owing to the fact that one of the piston rings broke during installation, and they had to wait to have another ring made. At this point, the engine could be delivered about the first week in October.
For the Main Generator, Caudill Electric has submitted a proposal for rebuilding and it is presently being evaluated.
In closing, let me gently remind all of M.177's staunch supporters there is still a significant obstacle to be overcome in terms of fundraising. It is going to take in excess of $40,000 to finish paying for the work on the Winton engine and the Main Generator. There are many other expenses yet to be incurred, and we have come too far to stop now. I hope that you all will do all you can to support the fundraising effort.
---
By James G. Hoffmann, SCSRA President
A guest editorial appeared in the September/October 1996 issue of Locomotive & Railway Preservation magazine entitled "Fools For Love -- Marriage Counseling for Museums," by Aaron Isaacs. Gordon sent copies to Board members and officers. I wish all Associates could read the examples and suggestions contained therein. Having served for many years at another museum, I have seen many of the examples shown take place. It is up to all of us to maintain a cohesive effort. I would like to see some of the author's suggestions followed. First of all, "all persons associated with the museum must be treated with respect...group harmony outweighs technical skill." Secondly, "[criticism of] the work and performance of others" should be done only by officers and supervisors, "and even then it must only be done constructively and with tact." Finally, "bad-mouthing of others is a habit that simply cannot be tolerated." Let us strive to remain a united organization focused on! the M useum's mission and goals.
Our quarterly management meeting was held Saturday, August 31. During the meeting the subject of volunteers working on the property outside of regular volunteer work days was discussed. The City has developed a sign-in sheet which will be posted in a convenient location (to be determined at a later date) so that staff members will know who is on the property. Let me stress that it always has been up to us to let someone on the Park staff know what we are doing when we come into Travel Town on weekdays. This is all the more important now that we have a fenced working area.
The management meeting was followed by our (SCSRA/ASRA) First Annual Steak Fry. A good turnout of associates and guests all enjoyed barbecuing their various meat entrees and feasted upon Yvonne's delicious side dishes and salads. After dinner, practice sessions were held for the upcoming Second Annual Handcar Races. I'm happy to report that only one team (names withheld to protect the guilty) overrran the stop zone at the bottom of the hill and hit the wheel skate. This would result in a 5-second penalty during the actual event!
Be sure to stop by and inspect the cab end of the M.177, resplendent in its yellow and crimson "gull-wing" paint. You might consider wearing sunglasses if it is a bright day! Kudos to Brian Reese and his hard-working restoration troops.
Track activity was basically quiescent during this typically hot period. Demolition of the Track 5 crossing concrete was the major project. This willl enable proper ballasting and leveling of the track, and the installation of conduit to the crossing signal on the north side.
---
M.177 Operating History
By Mary Jo Hurdle, Historical Research Associate
This fourteenth report of our research efforts covers the quarter ending August 31, 1996.
Mrs. Thomas E. Tholen (Emporia, KS) remembers riding the "Little Ranger" during World War II. She made the 3 hour trip from Winfield to Emporia so her baby could visit her grandparents. Conductor Peters was always solicitous regarding the comfort of his passengers, and several times offered to warm a bottle of milk for the baby. Mrs. Tholen's father-in-law was head timekeeper for the middle division on the Santa Fe.
Mrs. Tholen also relates that one time, when her husband was on his way to Winfield, he got off in El Dorado to get a candy bar for lunch, being assured he had plenty of time. The usual routine when the train stopped in El Dorado was for it to go outside town a bit, back up, and switch to a side track (off the main line) and on to another track to continue to Winfield. However, when Mr. Tholen returned, the train was disappearing down the track! Knowing of the switching operation he flagged down a passing motorist, waved a dollar bill, and asked him to catch the train, which they did!
Mrs. Tholen's narrative comes to us through the courtesy of Yvonne O'Brien of the Lyon County Historical Society and Museum. Mrs. Tholen has been encouraged to write her recollections of the "Little Ranger" for them. Ms. O'Brien also has a connection to railroading, as her father and brother retired from the Santa Fe truck division in Chicago.
M.177 Gets Kansas Visitors!
By Alan Weeks
Mary Jo contacted me early in June and asked me if I would be available to give a tour of the M.177. She had received a letter from Mr. Robert Benortham from Carbondale, Kansas. He and his wife were coming to the Los Angeles area and wondered if they could see the M.177. Jim Vicars had offered to do the tour but since the visitors did not have exact dates, Mary Jo wondered if I could be a back-up in case Jim was unavailable.
When they arrived in late July, Jim was on vacation in Oregon so they contacted me. We arranged to meet at Travel Town and did so later that morning. We managed to recognize each other, and I had the chance to meet two of their long time friends who live in the San Fernando Valley.
We spent about one and a half hours in pleasant conversation touring the M.177 and the parts boxcar. They asked many questions and were impressed with our progress. I pointed out the endless days and hours that Chell had spent sandblasting and what an inspiration he had been to us. We both took pictures of them and the motorcar. In one of Robert's letters to Mary Jo, he referred to the M.177 as "Old Polly." I forgot to ask the significance of that name. That could be a story in itself.
I gave them copies of the Headlight and some specification sheets of the motorcar. Mr. Benortham's father was a fireman on the AT&SF and was able to provide Chell with the names and addresses of five ex-crew members of the motorcar. Robert and his wife remember seeing the motorcar in Kansas but had not ridden it. They plan to send a picture and a story of their Travel Town visit to their local newspaper.
I treated them to iced tea and Cokes and we reminisced under the shade of our pine tree. We then parted after what was for me an enjoyable morning. It gave me a good feeling to reunite some old friends with the M.177.
---
By Gordon Bachlund, Mechanical Superintendent
CWR No. 56, the Big Momma -- Greg and Chris Rippy worked on the sanders. Both locos had their batteries serviced by Jim Vicars with help from Doug Stephens. Linda, at the writer's request, arranged for the City to purchase 34-volt and 68-volt pulse chargers for the No. 1 and No. 56 respectively, based on our positive experience thus far with the solar-powered 12-volt pulse chargers we fitted to the cabeese. Thanks, Linda.
Cabeese -- The center aisle of AT&SF 999110 was fitted with new pieces of linoleum, which now remain to be finessed, glued, and trimmed with molding. Meanwhile, we are installing shelving and 12OVAC electrical service in the clothes locker for the use of the Operating Department. Here will be kept training materials and records, the VCR and monitor, and our introductory and safety videotapes. This will be the domain of the Rules Examiner, whom you are urged to see if you want to begin or continue training. Many thanks to Tom Graham for carpentry and electrical work and to Scott Muir and Thomas Seal for linoleum work. Over in SP 4049, Kevin Simons has been polishing the polycarbonate safety glazing in the bay windows, removing ages of road grime. This promises to be a job of several weekends spread over several months. If successful, it will save us the cost of replacement glazing. Also, Alan Weeks and the writer recoated the safety treads on the steps.
Both cabeese had their batteries serviced by Jim Vicars, and were treated to a major dose of bug killer by Dan Price and Jeff Barrow. Who did leave those empty soda cans in there?!
Buildings and Equipment -- The indefatigable Charles Forsher cleaned up the office and now makes a weekly ritual of stocking the fridge with drinks. Say thanks, gang! Grounds cleanup continued with Charles and Kevin Simons moving ties and beginning a cleanup of the Restoration Yard tracks and M/W storage area. In this latter endeavor, they were joined by Ed Sikora, Jeff Pippenger, Tom Graham, Brian Moore, and Dan Price, and Jeff and Tom graded an area where a track car setout will be built.
Elsewhere in the M/W storage area, Kevin, Charles, and Dan began a long-deferred but important task -- disassembly of rescued railroad crossing signs from their masts, enabling more compact storage and a nice stockpile from which to select needed materials for future track construction. This will continue into disassembly of crossing gate and light assemblies. Its so easy to bring stuff back to the yard, but so hard to break it down, sort, and store it! May this effort continue through the summer! Would you care to help? See us any Saturday.
M/W News -- The concrete at the Track 5 pedestrian crossing was removed using a rented jackhammer, and a temporary wooden crossing was installed. We must now remove the remains of the original ties under the crossing, replace them and a few dozen more to the west, and extend 110-pound rail one rail length west into the platform area. Meanwhile, Linda is investigating various manufactured crossing materials to select a permanent "fix." Of course, this will enable installation of the cable to the remaining gate which can then be made operational. This effort should begin September 7th, as will the aforementioned track car setout, the latter a Boy Scout project. Thanks, Scouts! The next report will list your names and provide an official "thank you!"
Contrary to rumors, the M/W work area is alive and well, and will be involved in exciting new work. If you have earlier worked in M/W and have strayed for any reason, or if you'd like to get in shape the "trackrobics" way, come out any Saturday and join us!
From the World of Steam -- On July 13 and 14 our ASRA friends had a birthday bash for UP Diner 3669 (or 369 in a previous numbering). To help create a railroad ambiance, A1 DiPaolo, suitably garbed, hovered about adjacent SP 0-6-0 No. 1273, answering questions and doing the docent thing. This was a very popular adjunct to the event, and we are grateful to Al, and to Mickey for letting him have time off from The Magic Kingdom.
A WAKE-UP CALL -- M.177 is coming along at a fast clip thanks to Bryan Reese's enthusiasm and ability, costs have increased significantly over the past years. Not only has Imron skyrocketed, but the main generator work came in $5,500 over our budget estimate and we still owe Globe Bearing for engine work on-going. Thus, every month our M.177 account diminishes with scant new funds coming in. I would estimate that we'll need at least $40,000 to finish the work.
All this points to a real need to energize our Fund Raising activity. A new solicitation document is being prepared, but Linda needs inputs from more than a few volunteers who are very late in replying to bio requests. Beyond that, a crew is required to promulgate our solicitation packages, follow up with potential donors, etc. We appear to be very much asleep at the wheel in this area. If you can help, or if you have ideas, please contact Linda or any Board Member or Officer.
---
Operations Sunday with Jim Vicars, Ted McConville, Mike Flaherty, and Steve DeVorkin all dressed for the part!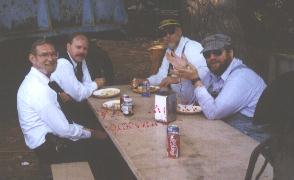 Jim Hoffmann and Gordon Bachlund take a break from lunch for a few mug shots (both photos by Alan Weeks)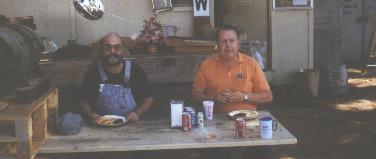 The Boy Scout Project
Boy Scout Justin Roberts and fellow scouts work on an Eagle project at Travel Town.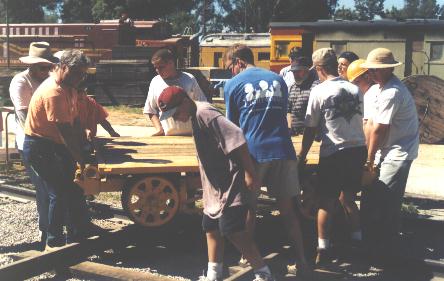 Helped by Ed Sikora and Dan Price, they move a M/W toolcart into position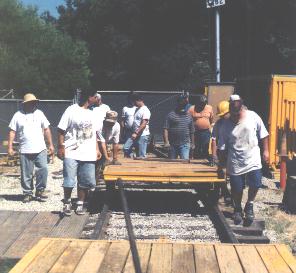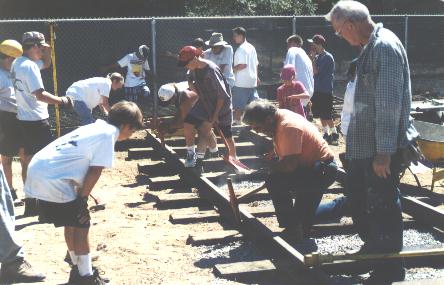 Ed demonstrates the fine points of spiking...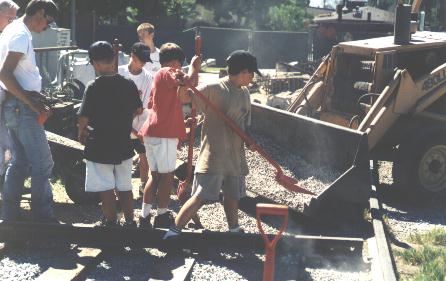 Then the scouts get some ballast from the skiploader...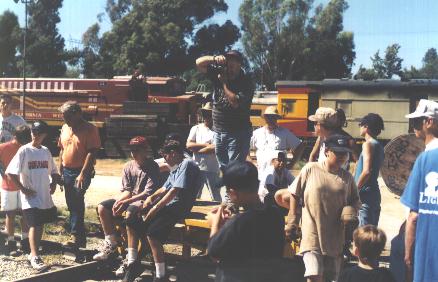 Justin's dad catches the moment for posterity, and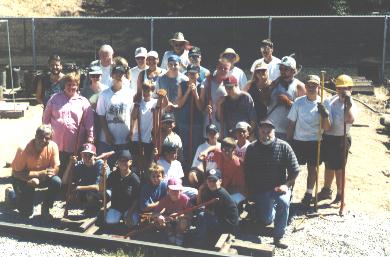 We get a group shot of the fine scout turnout for this project! (scout photos by Steve DeVorkin).
---
By Tom Graham, Bridge and Building Superintendent
We now have a new department, Bridge and Building. Things are quiet right now while we wait for the heat to die, except for plans to repair or, if needed, rebuild the steps for the Hunter's Point. One new proposal is a four-foot inspection pit for servicing and inspecting various types of trucks, locomotive, freight, and passenger. This would be a great secondary project leading up to the building which is in the final planning stages.
---
By Gordon Bachlund
Following a recent informal survey of the fourteen steam locomotives at the Travel Town Museum, Assistant Superintendent of Steam Al DiPaolo found that most were in remarkably complete condition, with mechanical lubricators, injectors, compressors, distributing valves, etc., still intact. He also discovered a curious electrical device, a Pyle-National plug connector, fitted to a matching receptacle, while most of the locos' cabs had only the receptacles. This sole surviving plug is a two-pole device with button contacts contained in a housing that "locks" onto the receptacle housing, using slots and pins, by being rotated 20 degrees or so, not unlike today's "twist-lock" devices. Button contacts worked since the plug rotation tended to make the plug contacts "wipe" the receptacle contacts. The cast plug body has a male threaded connecting nipple to which a cord connector or flexible conduit connector could be attached. Why was such an arrangement used?
The answer may be found in its application. Any cab appliance lighting fixture, such as a sight glass or gauge light, that must be disconnected when the appliance to which it is mounted must be removed for cleaning, repair or calibration, needs itself to be removeable. To complete this picture, imagine a boiler backhead with a water level gauge glass and a steam pressure gauge on the fireman's side and on the engineer's side, air brake gauges, etc., each fitted with a gauge light fixture mounted on the gauge itself or on the gauge back plate since the hot backhead is not a hospitable surface for lights. Indeed, CFR 49, Part 230 (Steam Locomotive Inspection), para. 230.28 states: "Care must be taken to locate the (steam) gauge so that it will be kept reasonably cool...."
As several generations of Travel Town Museum guests surreptitiously removed these appliances as souvenirs of their felonious visits, they took the lights as well. Thus, all the plug bodies, save for one, disappeared. That one, perhaps difficult to unseat due to fortuitously unyielding paint, remained for Al to discover.
Why don't we see such connectors on modern steam locos and on diesel locos? With the growth of electrical technology, the button contacts gave way to pin and sleeve type connectors wherein the greater insertion depth of the plug pin into the receptacle sleeve afforded a better wiping action and rendered them "self-cleaning," to a point, with each connection and disconnection. Examples of such connectors may be found on Charley Atkins (headlight connectors) and on CWR No. 56 (class light connectors).
---
By Greg Ramsey, Assistant Mechanical Superintendent, Diesel
The final few missing trim pieces for Charley's (CS&CV #1) cab interior were milled by Tom Graham based on sketches made by Alan Weeks and they now await staining and varnishing (Are you listening Bob?). Tom also relocated the radio from the top of the control stand down to the front bulkhead and installed a remote speaker in its place. Hopefully this will reduce the risk of damage to the radio and improve the intelligibility of incoming communications. The writer, with the assistance of Jim Hoffmann, Thomas Seal, and Scott Muir, removed the wheel truing brake shoes and after discovering that they were now being contoured vice the wheels, we reinstalled the original iron shoes. Doug Stephens and I also practiced our contortionist skills and crawled underneath on the ties and ballast and inspected the traction motor brushes and lubed the motor bearings. (Boy, if we only had an inspection pit!) Evidently, the motors have been serviced recently as the commutators were in gre! at sha pe and the brushes were only about 3/16" shorter that our ready spares. Brian Moore also did his best water boy impression with journal-tex which he expertly applied to the journal boxes.
School is back in session at L.A. Trade Tech and the folks in the diesel overhaul classes have started in earnest on the #1 engine. At this writing the engine is mostly torn apart and they have started on the inspections. Hopefully by the next issue I'll be reporting this project's completion.
Chris Rippy, my son Gregory, and I continued to work on the CWR #56 Baldwin RS-12's sanding system. All new distribution pipes have been manufactured and installed and three of the four sand boxes have been cleaned. Seven-year-old Gregory has proven himself to be an excellent shop-vac operator. Removal of the radiator fan and the bad pedestal bearing is on hold until we finish up a few of our other open jobs.
Both locomotives had their batteries serviced by Jim Vicars with help from Doug. Linda Barth arranged for the City to purchase 34-volt and 68-volt pulse chargers for the No. 1 and No. 56 respectively, based on our positive experience thus far with the solar-powered 12-volt pulse chargers we fitted to the cabeese. Thanks, Linda.
Staffing the Diesel Shop this quarter in addition to the above included Gordon Bachlund and David Smith.
As always, I can be reached at home at (805) 483-1552, work at (805) 982-9720 or on E-mail
---
By Albert J. Di Paolo, Assistant Mechanical Superintendent, Steam
Al's column appeared only on line last quarter, and since he was late writing a column this quarter, I printed his on-line column in the current paper issue. Al promises to have a new column by next time! Ed.
For all intents and purposes, the SP 1273 is done being lubricated and is ready to be moved. We did have a slight problem as when I checked the journal boxes that were repacked, I noticed that one of them had sand poured in it again. Darn those kids!
The weekends of July 13th and July 20th were busy celebrating the 75th anniversary of the UP diner and the above mentioned locomotive. I spent the Saturdays of the aforementioned weekends answering questions and "interpreting" the switcher to our visiting public. I had a lot of fun and even met a gentleman who said he worked for the U.P. when in his early twenties. He said he worked at their L.A. roundhouse as a machinist and he remembered working on the 4439 (one of our three 0-6-0 swicthers). Unfortunately, he couldn't remember any stories to tell, but I did get his son to consider joining our organization.
Working on the engines at Travel Town is always a pleasure because each locomotive tells a different story. I sometimes take for granted that a lot of the "stories" that I see seem obvious to most eyes but my experiences are proving otherwise. I guess a lot of the visitors and my comrade volunteers can relate more closely to modern railroading with its latest diesels and ever-present doublestack trains. What I'm getting at is that the SP 1273 is chock full of SP"isms" that I thought everybody knew about but I'm finding out differently. So, sit back and I'll fill you in some of the more prominent features:
I have mentioned in the past that the SP equipped most of their engines with alemite fittings on almost every part of the running gear. I've also talked about the side access doors on the driving box cellars. And, I've discussed the painting of stars on the wheel centers in relation to the type of lubrication the driving boxes got. The above features don't exactly stand out to the untrained eye but there are other features that definitely stand out and can be seen on most SP engines. One detail is the flange oil reservoir. This is usually found on the fireman's side of the boiler just aft of the smokebox. It consists of a piece of pipe about 4-5 inches in diameter that curves up from underneath the boiler and ends just above the boiler centerline. At its bottom end there is a pipe tee that goes out to both sides of the engine and carries oil to the flange oilers. These oilers consisted of a pipe fitting just above the wheel to be lubricated that had a steel rod ! about 3/8" in diameter that came in contact with the wheel. The oil would drip down the rod onto the flange. There is usually a valve just above the fitting to control the amount of oil. Most SP engines I've seen have this although the 1273 is the first I've seen to have them on the engineer's side. It's also the first I've seen to have two of these device, the second being above the rear drivers (it makes sense since it is a switcher and spent a lot of time running in reverse).
Another prominent feature is the manifold found above the cylinders on the fireman's side. This manifold consisted of three valves arranged in the blower line. It was through this manifold that either external compressed air or steam was hooked up to light the fire when the engine was cold. The manifold was so arranged so that you could send steam to either the blower only, the firing manifold only, or both at the same time.
The SP also had a very distinctive blowdown muffler but our engines don't seem to have them. They may have been removed when they came to Travel Town or just never had them to begin with. Only photos can tell.
Well, the above stuff is just a few of the "spotting features" of an SP steam locomotive. I encourage everyone to look at the 1273 and the 3025 for these items. I think you'll find the same items on the SP engines scattered throughout the west. Some of the closer engines can be found at the L.A. County fairgrounds, The San Bernardino County Museum, The Lomita Railroad Museum, and the Santa Clarita Valley Historical Society.
If anyone has any other features, please feel free to contact me as I would love to compare notes!
---
By James G. Hoffmann, Operations Superintendent
This quarter started with the construction (by the City) of new passenger loading barricades. These handsome wrought-iron fences and gates add a nice professional touch to our operations, although the close clearances keep the crews alert! We can now load passengers on the south side (nearest the display building) and unload on the north side. This reduces congestion around the birthday party cars and separates entering and exiting passengers. In addition, we can use the same platforms for entering and exiting passengers, relieving the mileage on the car attendants' shoes, and reducing congestion around the cupola ladder of the ATSF caboose.
Due to my job requirements, I have been unable to create the second Operating Department newsletter. I will put it out as soon as I'm able to come up for air.
Special operations were held on May 26 for the Los Angeles Live Steamers. About 40 delighted people rode the cabooses, handcar, and the cabs of both locomotives. Our public operations were held March 3, April 14, and May 5.
                         Passengers              Donations
Sunday, June 2              908                 $   197.35
Sunday, July 7              692                     282.25
Sunday, July 14 (charter)   737                     127.56
Sunday, August 4            692                     365.93
Sunday, August 11 (charter) 737                     232.67
                    ______________________________________
  
Total:                    3,438                 $ 1,205.76
                    ______________________________________
Total to date:           55,184                 $20,586.49
                Operating Days: 	82
The honor roll of those who participated in keeping the trains running includes Gordon Bachlund, Dale Brown, Mike Flaharty, Tom Graham, Brian Moore, Dan Price, Greg and Yvonne Ramsey, Chris and Isabel Rippy, Jim Vicars, and Alan Weeks. As always, THANK YOU (and anyone else who's names I missed) for your support!
---
Donations Department -- The SCSRA received two significant donations of historical material this quarter. Mary Pat Huxley of Ventura and her mother Patricia Huxley of Barstow have given us a wonderful collection of slides taken by their father and husband of railroad stations around the country with several in Europe. There is seven carousels of slides, and we are still going through them to find out all we have. Once we have catalogued them, we will make them available for research to our associates and other historians.
The Internet also yielded some gold. William Ertman of Pittsburg, Kansas, posted some months ago that he had some surplus Baldwin manuals for sale. I responded that since we were operating a Baldwin locomotive and were always short of manuals, we would be an excellent home for them if he cared to donate them. He agreed and just last week I received in the mail a large box with five original 1950s vintage parts and repair manuals. So far I have determined that there is a wealth of useful material there including detailed drawings of the main and auxiliary generator, turbocharger, and air compressor.
Our thanks go out to Mr. Ertman and the Huxleys for these valuable donations. Contributed by Greg Ramsey
---
August 8, 1996
Ladies and Gentlemen,
We met him on Olive Avenue, in Burbank, outside a 7-11 type store. He was wearing a colorful T-shirt with a railroad theme, and so, while walking out with two hot coffees, I complimented him on the shirt. He immediately sized me up and inquired whether or not I was partial to trains, even though he well knew what reply this stranger would give.
One thing led to another and by the next afternoon, many years ago, my son, my wife, and I were in Travel Town, looking at a part of its collection in an entirely different way. Our host was, of course, a guy named Chell Hurdle, who had a pervasive, soft-spoken love of all things rail and of people who shared his interest. It was a delight to have been with him, and his enthusiasm for the Doodlebug, among many other projects he found equally fascinating, was inspiring. He put us on your mailing list, we have corresponded in the past, and now are saddened to find that he is of blessed memory. We miss him even though we had only spent a few hours with him many years ago. That defines an extraordinary person! Chell placed us on your mailing list; we have had a letter subsequently placed in the Headlight and we continue to cheer on your progress and professionalism. Now, we add prayers for the repose of the soul of this fine man who was, in many ways, a part of the collective soul of your group. Old trains almost always outlast those who saw to their preservation and restoration, but the memories of good people outlast the wood and metal with their inspiration to continue the work despite the frustration and obstacles and to continue to reach out to others and let them know that the good fight is being fought. You have lost Chell's presence, knowledge, and labor, but not his spirit. We know that on our next visit to you there will have been a lot of progress made. Please continue your efforts, and when you might happen to have personal differences, or feel pessimistic about achieving your goals, or even feel that you have not accomplished as much as you should have for all your labors, recognize that Chell and other members who are no longer with you physically are still rooting for you, still believe in the cause, and know that the "impossible" can be achieved.
Again, thank you for sharing your personal loss. Now, may you continue to work to gain what he, you, and so many others wish to achieve.
RAY CRAPO
Thank you for such a fine remembrance of Chell. Mary Jo and the rest of the SCSRA are truly touched and inspired. Ed.
September 22, 1996
Dear Mr. Sikora,
I want to thank you for your help with my eagle project at Travel Town. I really couldn't have done it without you. I also want to thank you and the Southern California Scenic Railway Association for supplying the materials and tools needed to accomplish my project successfully. Being able to do my eagle project at Travel Town was a great learning experience. I hope someone else will do an eagle project at Travel Town someday. I'd like to go back and do this one more time.
I especially want to thank you for letting me and some of the other boys ride in and drive the 40-ton locomotive. For some of the kids this was the best part of their day. Everyone involved in my eagle project had a great time.
Thanks again.
Sincerely, Justin Roberts
Life Scout, Troop 179
See the pictures of this project above. The SCSRA was very happy to have the scouts out helping and enjoying Travel Town. Thanks for thinking of us, Justin and scouts! Ed.
---
Hardcopy printing for the Headlight was generously donated by
MINUTEMAN PRESS
"For the job you needed yesterday"
Specializing in

Multicolor printing
High-speed copying
Expert desktop publishing
Free, professional advice
Minuteman Press
3165 Sherman Way
North Hollywood, CA 91605
(818) 764-6091
---
NOTE: All SCSRA caboose train operations and ASRA passenger car tours take place at Travel Town during regular park hours, which are 10 a.m.-5 p.m. standard time and 10 a.m.-6 p.m. during daylight savings time.
Nov 3 SCSRA Operations (caboose rides)
Nov 16-17 ASRA Passenger Car Tours
Dec 1 SCSRA Operations (caboose rides)
Dec 7 Holiday Party and Movie Night
Dec 15 ASRA Passenger Car Tours
---
THE HEADLIGHT
is published quarterly at Los Angeles, California, and is the official publication of
THE SOUTHERN CALIFORNIA SCENIC RAILWAY ASSOCIATION, INC.
P.O. Box 11216, Glendale, CA 91226
(213) 667-1423 and via the World Wide Web at http://www.scsra.org/~scsra
A California Nonprofit Public Benefit Corporation, Incorporated January 4, 1984
IRS Tax Exemption No. 95-3947766
Editor: Sue Kientz
Send your letters to the editor to the park address above or at E-mail link below
Any article or feature published in The Headlight may be reprinted in whole or in part provided that proper credit is given the source.
---
BOARD OF DIRECTORS
Chair, Gordon Bachlund
Members, Linda Barth,


Randy Matus
Ted McConville
Greg Ramsey
Bryan Reese
Ed Sikora
Greg Smith
Jim Vicars
CORPORATE OFFICERS
President, Jim Hoffmann
Secretary, Tom Pyle
Treasurer, Jim Vicars
APPOINTED OFFICERS
Vice President, Corporate, Gordon Bachlund
Vice President, Museum Services, Linda Barth
Vice President, Railroad Relations, Bryan Reese
APPOINTED SUPERINTENDENTS AND MANAGERS
General Superintendent, Greg Ramsey
Mechanical Superintendent, Gordon Bachlund


Asst. Supt., Gas & Diesel Locos, Greg Ramsey
Asst. Supt., Steam Locomotives, Al DiPaolo
Asst. Supt., M.177 Project, Bryan Reese
Asst. Supt., Electrical, Jim Vicars
Asst. Supt., Inspections/Records, Bryan Reese

Operating Superintendent, Jim Hoffmann


Asst. Superintendents, Gordon Bachlund, Greg Ramsey, Jim Vicars
Rules Examiner, Tom Graham
Inspectors Jim Hoffmann, Gordon Bachlund, Randy Matus

Maintenance of Way Superintendent, Joe Barilari


Asst. M/W Supt. Ed Sikora
Asst. Supt., Motor Vehicles, Jeff Pippenger
Asst. Supt., Signals/Communication, Ted McConville

Bridge and Buildings Superintendent, Tom Graham
Assistant Treasurer, Ted McConville
Safety Officer, Ed Sikora
Fund Raising Manager, Linda Barth
Historian/Archivist/Library Manager, Jim Vicars
Historical Research, Mary Jo Hurdle
Merchandise Sales Manager, Yvonne Ramsey
Public Relations Manager, Steve DeVorkin
Publications Manager, Sue Kientz
Dining/Hotel/Commissary Manager, Yvonne Ramsey
Key Control Officer, Jim Vicars
Recycling Manager, Alan Weeks
Associates with inquiries regarding project work schedules
may contact any of the above by leaving a message at (213) 667-1423.

---
Questions and comments to Sue Kientz, SCSRA Publications Manager