The Headlight
---
Southern California Scenic Railway Association, Inc.
Serving the Travel Town Museum and the Crystal Springs and Cahuenga Valley Railroad
Volume 13, Number 3............................................................................Fall 1998
---
---
By Steve DeVorkin, Public Relations Manager
How time flies! This is my tenth year as associate number 68 of the SCSRA. My first project was setting the crossover connecting the "new" track set by the National Guard. I met a couple of guys there. One was Joe, wearing a cowboy hat, who was a whirling dervish with what I came to know as a "spike maul." I thought the thing was a hammer, used to drive those big nails. Then there was Ed. He was the "track expert," discussing with Joe the correct placement of the "frog." I kept looking for a green amphibian, worrying that it might be squished with all the big hammers hitting the huge nails into the enormous pieces of wood called "sleepers" (how could they sleep with everyone hitting them so hard?)
I was a complete novice, and really have had extensive "OTJ" training over these ten years. Then I met some other guys. One was in the Navy and we went to his mother's house to look for a "grey marine." So I thought he had a big aquarium and didn't know why this Greg guy, who always had the most stylish train overalls, was interested in a "fish" called a grey marine.
Jim and Ted were eclectic guys (one was into physics and the other into television, two things that still fascinate me). They taught me more about our friend "Mr. Electricity" than watching all those hours of Mr. Wizard.
Of course there were the twins, Gordon and Chell. Chell pontificated about how "stupid" building the red cars all over again was, since we had them in the first place. Gordon, well Gordon just is. A presence. Mere words fail in trying to describe Gordon. Try to think of Paris without the tower, New York without the buildings, SCSRA without Gordon.
I could go on and on here with my Garrison Keillor imitation, but that's not my point.
It's been ten years and there were a lot of things everyone talked about back then. Getting the Winton done was one. Getting some cabooses was another. Finding some crossing gates, signals, and giving regular rides to the public were all just wishes.
The really big dream was our railroad to the zoo. Everyone was talking that one up. And it seemed to me that we were always just about to start laying track. We even had plans to dig a 700-foot tunnel to complete the project. Boy, those were exciting times.
Well, guess what? A mere Ten years later and every one of those "wishes" have come true, for the most part. All those projects have been started and some have been completed. Looking back just on my tenure here, I am amazed.
We really have done so much. And we have so much to do. My point, I think, is we don't have to wish anymore. We aren't "wannabees." We are an active, healthy group of people dedicated to the preservation and operation of railroad equipment. We are doers (not to be confused with "Dewars") and have a great relationship with the Travel Town museum. It was the establishment of the museum and the city's dedication to Travel Town that inspired me to join the SCSRA. I felt that if the city was taking my beloved Travel Town seriously, I was going to help.
If we wish we had more members, we will attract more by doing what we do. If we need more donations, we will attract more by working on all the projects we have going. We don't have to dream - we are living the dream. (Amen)
I loved playing with all these trains when I was a kid, and I wished that I could really run them. I don't have to wish anymore.
The railroad to the zoo is a reality. The M.177 will be running soon. Travel Town is no longer a neglected pile of rusting hulks.
Things have come a long way, baby.
An M.177's-eye view of the Annual Dinner:
What would the ole girl herself say to all this attention??
---
By Bryan Reese, M.177 Project Manager
You may recall from the last issue that the Winton Engine was finally returned to the engine room of the motorcar, after a decade-long absence. While this operation made for quite a show, once it was bolted down to the floor, the real work could begin.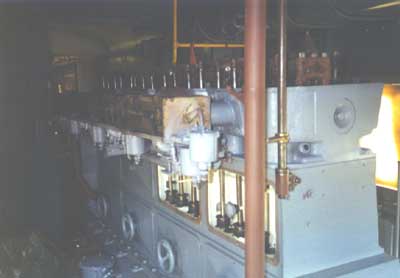 The most important task ahead was application of the cylinder heads. The Winton Model 148 has 4 cylinder heads, each sitting atop a pair of cylinders. The original head gaskets were long gone, but that was irrelevant because they were made of a copper and asbestos sandwich which can no longer be obtained.
I turned the task of finding a suitable replacement material over to Greg Ramsey. He first called FelBro, a large gaskey manufacturer. They told him that they didn't have anything suitable, but referred him to SGL Carbon in Valencia. They had a material that was composed of graphite fiber with a thin layer of stainless-steel foil sandwiched between it, and was rated as high-pressure and high-temperature. They asked Greg if he was a distributor and, of course, he is not, so they couldn't sell directly to him. So they gave him a "sample." When the box arrived, it was so big that he had to tie it to the top of his car! They sent us four 32-inch square sheets, which was roughly twice what we needed. That was good, because Greg really wasn't sure of the best method to cut the material, which is rather soft and about an eighth of an inch thick. This meant he could afford to practice.
There are actually two different types of gaskets associated with each head. There is one large, nearly foot-square gasket that essentially seals the water connections between the engine block and the head. In addition to this water gasket, there are two compression gaskets, or "fire rings" as I've heard them called. These are round, ring-like gaskets which sit atop the lip of the cylinder liner and actually seal the cobustion chamber. Greg cut these out of the same graphite material.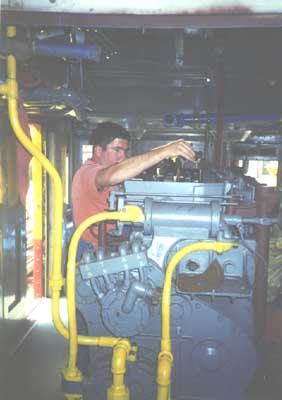 Greg first made a cardboard template directly off the cylinder head, and then took that home to make a thin sheet-steel pattern. He brought that back to Travel Town and filed and trimmed it until it fit the heads. Then he used that to cut out the gaskets. Greg said that after trying various methods such as punches and the like, what worked best to cut out gaskets was a very sharp utility knife.
The designers of M.177 very accommodatingly mounted an I-beam the length of the engine room ceiling, and this made it a very easy matter to lift the 200-plus pound heads up and set them in place on top of the engine block. When this was accomplished, the head studs were inserted down through the heads and screwed into the block. None of the Winton Engine manuals or bulletins that we have say anything about torque settings for the heads, other than "pull hard with a hand wrench with 14-inch length." Greg and I consulted a table of standard torque values for modern bolts and decided the 300 pounds was appropriate, and tightened in three steps to pull down the heads tightly and uniformly. It will probably be necessary to do this again after the engine is warm.
In addition to the heads, lube oil piping has been applied along with cooling water piping. It was Santa Fe's practice in the early years to color-code the piping. Lube oil was yellow, coolant was blue, and fuel was red. We are following that practice.
Other parts that have been applied have been the carburetor (all 250 pounds of it), the rocker arms, the water pump, and various push rods. So much has happened since the engine arrived, that I hesitate to go into too much detail for fear of crowding out the other worthy articles in this publication.
One possible, but not insurmountable snag, has been the ignition system. We have been unable to locate the distributor caps and rotors. The Model 148 engine is equipped with a "double dual" ignition system, which means that it has four spark plugs per cylinder for a grand total of 32. These are fired by two distributors. Each distributor fires two plugs at a time and are synchronized on a common gearbox and thus fire all four of a cylinder's plugs at once. Each distributor has its own set of breaker points, but only one is in use at a time, serving both distributors. A double-pole knife switch allows the operator to select which set of points he will use. There is a second switch which also reverses the polarity of the ignition system. A Santa Fe operating bulletin from April 2, 1951, instructed the operator to change the polarity according to whether the calendar date was odd or even, as it was explained that this practice evened-up the wear on the points. The operator was further instructed to change over from one set of points to the other at the middle of the run, so that they would receive the same usage.
No one seems to know whether we had ever had the caps or not, so I delved into the photo archives. I came up with a black and white negative from 1986 of the engine before disassembly, and made an 8 X 10 print. Sure enough, the photo clearly shows at least one distributor cap. Another search was made, which uncovered the name of the former associate who had taken the distributors home to rebuild them, and he was tracked down and interrogated, but this yielded no results.
If we have to, we can have caps made, but they're not going to be pretty. It would be nice if we had an original to copy. I have feelers out for drawings.
On Friday, September 18, I accompanied Gordon Bachlund and Jim Vicars to Caudill Electric, which is rebuilding the main generator for the motorcar. The armature is finished, having been reconditioned and tested. The vendor is just waiting for another infusion of money to finish the job, which includes manufacturing new field windings to replace those stolen many years ago, new brush holders, and reassembling the entire unit. For this we must raise an additional $20,540 (see appeal letter below).
Thanks this quarter to Greg Ramsey, Jim Vicars, Doug Ward, Andy Evans, Doug Stephens, Alan Weeks, Brad Slosar, Greg Gneier, and Gordon Bachlund. There is a lot more to tell about the progress this quarter, but you'll just have to come out and see for yourself!
Hello Friends,
Those of you who have been following the progress of M.177 over the last few years know that 1998 has seen significant progress on the restoration project.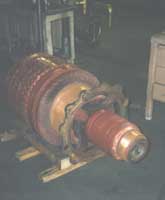 The most noteworthy event has been the return of the original Winton gasoline engine from the rebuilder. Installation of the engine is more than 90 percent complete, and if all goes well, it could be running by the new year. The work on the main generator that goes with this engine is also progressing off-site. The armature (right) is completed after being overhauled and tested; the main generator and excitor housings (below left) have been cleaned and painted. The next step is the fabrication of the four new field winding coils to replace those stolen many years ago, along with some of the interpole windings and brush rigging. Then the unit will be ready for final assembly and testing.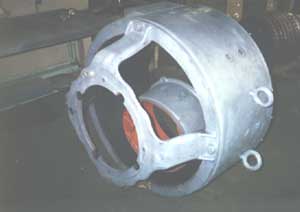 That's the good news. The bad news is that we still need approximately $36,000 to complete the project. $16,000 of that is borrowed from fellow associates and was used to secure the delivery of the engine, and we pay interest on that debt every month. The remaining $20,540 is needed to complete the generator. The windings are of an unusual rectangular cross-section copper wire, which is the reason for the high expense. The motor shop, Caudill Electric, has gone as far as they can without the additional funds. We can avoid any further price escalation due to inflation if we can pay the balance this year.
I hope you will consider donating what you can to keep the work moving. Please be as generous as you can as we near the end of the taxable year.
With the Zoo Railroad now actually under construction, M.177 now has the chance to realize her full potential. Ask your employer if they have a charitable donation plan, or a matching program. We have already spent approximately $80,000 on the project, and we can't turn back now.
Yours truly,
Bryan Reese
M.177 Project Manager
---
By Greg Ramsey, SCSRA President
Have a bias toward action - let's see something happen now. You can break that big plan into small steps and take the first step right away. - Richard Thalheimer

Activity this quarter was notable not due to any major events such as last quarters return of the Winton or Jeff Barrow's Eagle Scout project, but by slow and steady steps on a variety of projects.
The entrance project, delayed a number of times due to El Niņo and soil problems, made significant progress this quarter. Most obvious was the arrival and installation of the entrance canopy and bridge. Less obvious but just as important was a lot of concrete work for retaining walls, foundations, and parking curbs.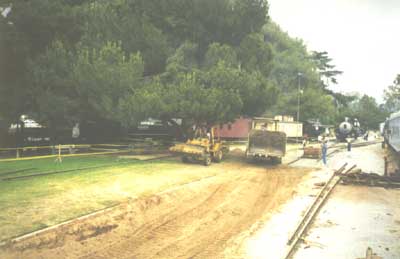 On the tail track front, it may be hard to tell but a lot of dirt has been moved. The area where the LALS outer loop used to be located and a lot of the ROW back towards the parking lot have been cleared. A lot of the dirt has been dumped along the outside of the Travel Town Railroad's east loop in preparation of construction of a shoo-fly to allow the construction of a bridge over CS&CV. Significant obstacles are still slowing us down, though. Principle among them is the oak tree and the old pumping plant. The City has applied for permission to remove or relocate the oak tree, but the wheels of bureaucracy grind exceedingly slowly. They are also still looking for a solution to relocate the pumping plant that will preserve it either within the Park or at another museum.
After the return of the M.177's Winton engine last quarter, progress has also been of the "lots of small steps" variety. The engine returned to us in the "short block" stage, which meant it came back without heads or any of the other sundry piping and manifolds. While the task of locating hundreds of large and small parts and identifying, cleaning, and installing them seemed daunting at first, by methodically and steadily taking them one at a time, the job is getting done. While the parts have been removed from their various hiding places and installed, other hidden storage places are being exposed and more parts are located. And the process repeats. If you watch it from week to week, not much appears to change, but compare the photos from mid June and now, and you will see big changes are happening.
A number of other obstacles face us here also, not the least of which is money. We still have to raise money to pay off Dale and Sue who bought the note from Globe, and to continue to fund the rebuilding of the main generator (see Bryan's fundraising appeal letter). But more immediately, think of what you can do yourself. Consider next time you renew, renew at the next higher level. Also, consider recruiting your friends, family, co-workers, and that railfan you meet down by the tracks. We can always use more associates, both active and armchair.
---
M.177 Operating History
By Mary Jo Hurdle, Historical Research Associate
Ms. Frankie S. Cullison (Cowley County Historical Society, Winfield, KS) sent a newspaper article about the preservation of an 1885 wooden water tower built by Frisco in the town of Beaumont, KS.
A local group, Friends of the Beaumont Water Tower, was organized in 1989. They held many fund raising activities and also received a Heritage Trust Fund Grant. The tank was built to provide water for steam locomotives. It is of cypress stave construction and is one of the few remaining in the U.S. A festival was held in June to celebrate the completion of the $40,000-plus project.
It is so gratifying to see the success of preservation projects! Congratulations from the SCSRA!
---
By Gordon Bachlund, Mechanical Superintendent
Cabeese - No activity during the quarter other than watering the batteries.
Motor Pool - The dump truck lies dead awaiting the Good Samaritan.
Buildings, Equipment, and Grounds - In the last installment we asked for help with weed and debris clearing. On August 8, the writer and Greg Gneier applied more herbicide and insecticide in the Restoration Yard. Andy Evans has made periodic stabs at clutter removal but has been thwarted as clutter seems to grow faster than it can be removed. Bottom line? We need much more help in this unglamorous but very important area, both in cleaning up and in better housekeeping habits on the part of all volunteers.
A few months ago Tim Dulin, who works for United Artists Theatres as a technician, had an opportunity to salvage from a theatre scheduled for demolition some flip-dot changeable message signs. He serviced the largest of the group and programmed it to announce SCSRA train rides and ASRA passenger car tours. With the City's approval, we installed mounting studs on the posts that support the hours of operation sign adjacent to the crossing gates so that the sign can be set up on operating/tour weekends to help advertise our activities to visitors. It's quite an eye catcher. Thanks, Tim!
Work continues on the track 6-7 crossover by the Pensy diner,
clearing first a trench for the road bed.
John Daum (left) and Jeff Pippenger pause for a breather.
Looks like Jeff won the "who's bigger" contest...
---
By Gordon Bachlund
Don Gustavson, President of GP Recreations, the firm that operates the scale train ride and the food service concession, THE DINING CAR, at the Museum, has announced that, effectively immediately, our working volunteers may request a 20 percent discount on food and drink items purchased at THE DINING CAR. Don asks that working volunteers present their valid Associate Passes and some form of photo ID to the cashier when making their order.
We are very grateful to Don for his kindness to the members of "Team Travel Town."
Don't forget Don also allows 10 percent discounts to Associates in the Museum Gift Shop on most items except consignment merchandise from SCSRA and ASRA.
---
By Gordon Bachlund
Three special events punctuated the past quarter, (1) the Annual Steak Fry, with handcar operations and a movie, Kansas Pacific; (2) the annual OktoberFiesta, with all-you-can-eat tamales and handcar operations; and (3) the "Haunted House," which utilized AT&SF snack car 3355 and handcar operations.
The first two were joint ASRA/SCSRA/City-sponsored events, and Linda Barth generously underwrote the Steak Fry salad bar and dessert and the OktoberFiesta tamales. The last was sponsored by our Train Club friends (fiends?), and they did an outstanding job of creating a chilling fright night experience in the Haunted Railroad Car.
While all three events were relatively well attended, it is clear that many of our Headlight, Asrail, and Green Eye readers have yet to experience the camaraderie and entertainment that is available at these after-hours fun fests. If you are one of "them," plan now to attend our 1999 Film Festival. Features to be screened include Emperor of the North in February, The Pink Panther in March, and The Great Train Robbery in April. As usual, flyers will be mailed as reminders, but if the postal service slips up, be sure to check the 1999 SCSRA/ASRA Calendar of Events.
---
By Greg Ramsey, Assistant Mechanical Superintendent, Diesel
With the return of the Winton engine, the Diesel Shops focus has been expanded somewhat to include large gasoline engines and has tried to focus on the reassembly of M.177's prime mover. Our major contribution to the Winton this quarter has been the fabrication of new head gaskets and assisting with the installation of the heads and rocker arms. Please see Bryan's article for the details.
The Charley Atkins did receive some badly needed TLC this quarter. We finally identified the correct harmonic balancer (aka vibration damper) and the team of Doug Ward, Tim Dulin, and Doug Stephens reinstalled it. This greatly reduced the noise but has not completely eliminated it. The search goes on. Charley's fuel pump has required help to start several time this quarter, leading Will Sundquist and I to remove it, so as to allow Tim, Jim Vicars, and Gordon to inspect. The inspection did not reveal any worn brushes or commutators, but we did find several dirty contacts. It worked fine after reinstallation until early September when it again failed to start. This has led our 'trons to theorize that the problem is really a dead commutator bar. Further servicing is being scheduled.
The Baldwin also suffered from fuel pump problems. This time it was not a motor problem, but a lack of fuel pressure. We traced the problem to pinhole leaks on the suction side of the pump. Unlike Charley's heavy 1/2" piping, the Baldwin used thinwall tubing which after 40-plus years of vibration had abraded down enough that it was sucking air instead of fuel. We replaced the affected section of tubing with armored hose that should last longer that the writer cares to consider.
Still available to willing grease monkeys is the removal of the fan shaft and its bearings.
As always, I can be reached at home (805-984-0332), work (805-982-9720), or via the Internet.
---
CHAIRMAN'S MESSAGE
by Gordon Bachlund
At its meeting of July 17, 1998, the Board held an election to fill the expired terms of Directors Bryan Reese and Ed Sikora. Bryan won another term and Joe Barilari won the seat vacated by Ed. Bryan and Joe will serve until July 2003. It is a pleasure to welcome Joe to his first term and Bryan to his second term.

In early August, Founding Director Randy Matus resigned his Board seat due to his transfer by Amtrak to the San Francisco Bay Area. At its meeting of October 16, 1998, the Board elected Nancy Gneier to fill the seat vacated by Randy. Congratulations, Nancy.

In the last issue I asked Associates to consider sharing their time and talents by volunteering to support our admininstrative and supervisory staff. I am sad to report that not one of this publication's over 200 readers contacted us. If you missed my message, eclipsed as it was by the wonderful pictures of M.177's engine being installed, please see the Chairman's Message from last issue. It's never too late to offer to serve.

In the "alumni who made good" department, I'd thought you'd like to know that nine of our Associates work full-time for various railroads or rapid transit agencies including Amtrak (3), Metrolink, Union Pacific, Los Angeles County MTA (2), Roaring Camp & Big Trees, and California Western. Among these, I'm especially proud of Randy Matus who left Metrolink to enter Amtrak's conductor training school only to be selected to attend Amtrak's engineer training school in Wilmington, DE. When he returns to the Bay Area, he will be a full-fledged Amtrak hogger. My heartiest congratulations, Randy!

By the way, anent the third paragraph, of the nine Associates I mentioned above, six have served the SCSRA at various times in administrative and/or supervisory roles.

How about you?!
---
By James G. Hoffmann, Operations Superintendent
Hey, I actually made it for all operating days during this quarter! Thanks to my employer, the Newport-Mesa School District, for letting me work regular hours during the summer months.

The BIG news is that we have SIX students in training! Our three new Associates mentioned last quarter, Tim Dulin, Andy Evans and Doug Ward, joined Nancy Gneier, Dan Price and Jeff Barrow. All are now in Brakeman training except the latter two who have to wait just a little longer. (17 years old seems like forever, eh?) Congratulations to all. Let's keep them coming!

With the increase in crew members available, I am considering two changes for 1999: operation throughout the day and operating two days per month. By splitting the lunch shift and operating through the period I hope to reduce the "after lunch rush" which plagues us between 1:30 and 2:30 in the afternoon. What I am contemplating is dividing the day into two working shifts, morning and afternoon, and overlapping the shifts through the lunch break. Each shift will be further divided into two or three crew rotation shifts.

As for two day per month operations, two choices have been considered: first Saturday/first Sunday, or first and third Sundays. I will be polling qualified crew members via newsletter shortly to determine which plan is better.

Our public operations were held July 4, July 5, August 2 and September 6. The July 4 Saturday operation was a bit disappointing; perhaps people were spending the day with their families at home and then visiting us on Sunday.
| | Passengers | Donations |
| --- | --- | --- |
| Saturday, July 4 | 379 | $ 202.60 |
| Sunday, July 5 | 602 | $ 401.47 |
| Sunday, August 2 | 570 | 401.48 |
| Sunday, September 6 | 726 | 455.06 |
| Total: | 2,277 | $ 1,460.61 |
| Total to date: | 72,162 | $29,939.72 |
Operating Days: 108

And now for this quarter's Honor Roll. Due to Greg Ramsey's meticulous record-keeping, I am hereafter breaking it down by categories. Those with recorded times included the following (drum roll, please):

Instruction and Pilots - Gordon Bachlund, Jeff Barrow, Dale Brown, Tim Dulin, Andy Evans, Jim Hoffmann, Brian Moore, Dan Price, Chris Rippy, Ed Sikora, Jim Vicars, and Doug Ward.

Switching - Gordon Bachlund, Jim Hoffmann, and Greg Ramsey.

Revenue - Gordon Bachlund, Jeff Barrow, Bob Bennett, John and Margaret Daum, Tim Dulin, Andy Evans, Mike "Oatmeal" Flaharty, Charles Forsher, Tom Graham, Jim Hoffmann, Dan Price, Greg and Yvonne Ramsey, Chris Rippy, Ed Sikora, Will Sundquist, Jim Vicars, Doug Ward, and Alan Weeks. Thanks to all!
---
by Gordon Bachlund
We received a matching gift of $500 from Microsoft Corporation, a result of Ted McConville's generous contribution to Project M.177 several months ago, that brings our total to $17,337.50.

Meanwhile, we are launching another fundraiser for the rebuilding of the main generator and exciter, and you will read about that under Doodlebug Notes and in Bryan Reese's letter. We're getting closer to completion with every month, thanks to Bryan's devoted leadership and the generosity of our supporters and volunteers. As Bryan says in his letter, please be as generous as you can, as you look forward to the end of the taxable year.
---
Hardcopy printing for the Headlight was generously donated by
MINUTEMAN PRESS
"For the job you needed yesterday"
Multicolor printing
High-speed copying
Expert desktop publishing
Free, professional advice
Minuteman Press
3165 Sherman Way
North Hollywood, CA 91605
(818) 764-6091
Toll Free: (888) 66-PRINT
---
---
The Editor recently unearthed the following letter sent to associate Alan Weeks from her files, and regrets it took this long for it to be shared with all the associates:
August 26, 1996
Dear Alan: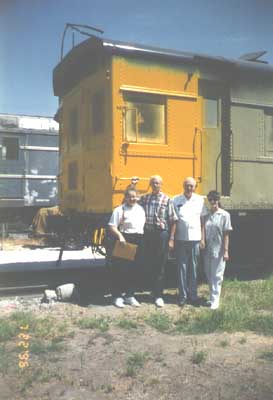 Thank you so much for providing us with such a wonderful tour during our visit last month to see the M.177. All of us enjoyed it very much and it was special to me to again see something of so many years ago.
We appreciated the refreshments and time you spent to update us on your plans for the M.177. We do hope it can be worked out to make the run from Travel Town to the Zoo.
I do plan to write a brief article for our local newspaper telling about the progress and plans you are working on for this unique train. I congratulate you for all the fine, hard work you have thus far done. Your patience with details is obvious and so important in a project like this.
Thank you for taking time with us to view and learn more about the M.177.
Sincerely,
Robert Benortham
Carbondale, Kansas
---
THE HEADLIGHT
is published quarterly at Los Angeles, California, and is the official publication of
THE SOUTHERN CALIFORNIA SCENIC RAILWAY ASSOCIATION, INC.
P.O. Box 39727, Griffith Station, Los Angeles, CA 90039-0727
(323) 667-1423 and via the World Wide Web at http://www.scsra.org/
A California Nonprofit Public Benefit Corporation, Incorporated January 4, 1984
IRS Tax Exemption No. 95-3947766
Any article or feature published in The Headlight may be reprinted in whole or in part provided that proper credit is given the source.
---
BOARD OF DIRECTORS
Chair, Gordon Bachlund (term expires January 2002)
Members, Joe Barilari (January 2003)


Linda Barth (January 2002)
Nancy Gneier (October 2003)
Tom Graham (January 2002)
Ted McConville (January 2000)
Greg Ramsey (January 2002)
Bryan Reese (January 2003)
Jim Vicars (January 2001)

CORPORATE OFFICERS
President, Greg Ramsey
Secretary, Greg Smith
Treasurer, Tom Graham
APPOINTED OFFICERS
Vice President, Corporate, Gordon Bachlund
Vice President, Museum Services, Linda Barth
Vice President, Railroad Relations, Bryan Reese
APPOINTED SUPERINTENDENTS AND MANAGERS
General Superintendent, Greg Ramsey
Mechanical Superintendent, Gordon Bachlund


Asst. Supt., Gas & Diesel Locos, Greg Ramsey
Asst. Supt., Steam Locomotives, vacant
Asst. Supt., M.177 Project, Bryan Reese
Asst. Supt., Electrical/Communication, Jim Vicars


Operating Superintendent, Jim Hoffmann


Asst. Superintendents, Gordon Bachlund, Greg Ramsey, Jim Vicars
Rules Examiner, Tom Graham
Inspectors Gordon Bachlund, Randy Matus, Jim Vicars
Instructors Brian Moore, Tom Graham, Chris Rippy

Maintenance of Way Superintendent, Joe Barilari


Asst. M/W Supt., Motor Vehicles vacant
Asst. Supt., Signals, Ed Sikora

Bridge and Buildings Superintendent, Tom Graham
Assistant Treasurer, Jim Vicars
Safety Officer, Ed Sikora
Fund Raising Manager, Linda Barth
Historian/Archivist/Library Manager, Jim Vicars
Historical Research, Mary Jo Hurdle
Merchandise Sales Manager, Yvonne Ramsey
Public Relations Manager, Steve DeVorkin
Publications Manager, Sue Kientz
Dining/Hotel/Commissary Manager, Yvonne Ramsey
Key Control Officer, Jim Vicars
Recycling Manager, Alan Weeks
Acquisitions Manager, Jeff Pippenger
Webmasters, Sue Kientz, Ted McConville
Website Design, Kevin Tam
Associates with inquiries regarding project work schedules
may contact any of the above by leaving a message at (323) 667-1423.

---
Questions and comments to Sue Kientz, SCSRA Publications Manager