The Headlight
---
Southern California Scenic Railway Association, Inc.
Serving the Travel Town Museum and the Crystal Springs and Cahuenga Valley Railroad
Volume 12, Number 1............................................................................Spring 1997
---
---
By Bryan Reese, M.177 Project Manager
As 1997 got underway, a lot of small but important things occurred with M.177. Installations in the engine room included the lube oil tank and piping, and the lube oil filter housing. Also installed on the roof was the lube oil cooler, which was an opportunity to seal up another roof penetration against the rain. The boards that were installed some years ago to cover up the openings for the cooling fans were removed, and the air intake chamber was cleaned and prepped for the installation of the cooling fans and motors.
The cooling fans were rebuilt quite some time ago (and quite professionally, I might add) by Jim Vicars, Ted McConville, and Cliff Bornschein and have sat all the intervening years under the table in the RPO section of the car. As I mentioned last time, we experienced a premature and somewhat dramatic failure of the new paint on the roof. A little research on my part has identified a name-brand polyurethane top-coat which the manufacturer promises should do the job with a bare minimum of additional preparation.
One rather visible milestone has been the reassembly of the roof-top radiators, thanks to Greg Ramsey. The process started with the sandblasting of the end castings, courtesy of Doug Stephens, which were then painted by Alan Weeks. Alan applied a coating of glyptal, a heavy machinery preservative paint to their insides. This will seal the pores of the metal exposed by the blasting and ensure the continued trouble-free life of the radiators. Greg obtained a large sheet of gasket material and began making gaskets for where the shells meet the cores.
One by one Greg bolted the shells to each end of the cores, with the gaskets liberally coated with sealant. After each unit was assembled, it was tested for leaks. These radiators were designed to operate at atmospheric pressure, so we didn't want to over-stress them, just for the sake of testing. Greg came up with a method of plugging the openings and attaching a ten-foot piece of ABS pipe to provide a vertical column of water. A 10-foot column of water will provide a pressure of about a third of an atmosphere or about five pounds. Using this method ensured that we would not over-pressurize the radiators. Fortunately, all have passed this leak test.
Next we will paint the engine room roof and in one operation install the cooling fans and place the radiators on top. This should add considerably to the car's appearance.
Along the lines of appearance, the pilot (known to many as the cow-catcher) received considerable attention. Battle-scarred from years of faithful service warding off who-knows-what objects, it has received quite a face-lift in terms of straightening, sandblasting, and painting. This was done at the request of our fundraising committee in order that we might produce an attractively dramatic photo of the nose of the car to go with the appeal for funds. Placement of the radiators, headlight, and a few other decorative items will complete the effect. Watch this space in coming issues.
All that of course is leading up to the delivery of the Winton Engine, and Linda Barth was accompanied by yours truly to a meeting with Globe Bearing, the Engine's rebuilder.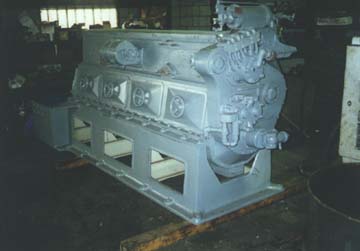 While there are still financial issues to be resolved with respect to the delivery of the now completed engine, the meeting went very well and the subsequent response was positive.
Need I remind you what our number one challenge is for the M.177 project? Three items: 1. money. 2. Money. 3. MONEY!
At the risk of sounding like one of those highly annoying Public Broadcasting pledge drives - we need your support. We have crested the hill, and now we have the finish line in sight. I am going to break with tradition and instead of urging you to come out to spend your time on the equipment itself, to direct your efforts (at least for a while) to our fundraising drive. Yes, we are planning to go after grants and corporate sponsors, but no effort can be truly effective without your involvement. I know that most of you have more time than money, but time is what is needed to go after those grants and corporate sponsors. If you have the time, please let me know.
In closing, let me mention the names of those individuals who, in addition to those previously named, have contributed to M.177 this quarter. They are Brian Moore, Joe Barilari, Kevin Tam, Steve DeVorkin, Daniel DeVorkin, Kevin Simons, Thomas Seal and Scott Muir. Thanks as always.
---
By Albert J. Di Paolo, Assistant Mechanical Superintendent, Steam
Because of my very busy schedule, I've finally committed to making the first Saturday of every month "Steam Day." With that said, March 1st was the first of what I hope will be some very productive work days. Prior to that Saturday, I had helped relubricate some of the engines that had already been moved. The track crew needed to start work on the switch that the Conrock engine was sitting on. So, that engine needed to be "reminded" that it was rolling stock and not a static piece. Before this engine could be moved, however, some room for it had to be made in the form of freeing the space occupied by the SP 20 and one of the L.A. Harbor engines and its dump car.
All three of the engines rolled freely with only a minimal amount of work due to their already having been lubed and moved many times over. Just some swabbing of their crosshead guides and piston and valve rods with some kerosene soaked rags was enough to clean the dirt and grit accumulated from after the last move. Of course, the valve gear of each engine was also reacquainted with an engineer's oil can.
After all the above equipment was moved, I was told that the track on which the Santa Maria Valley #1000 was sitting will soon need to be vacated. This, obviously, introduces the next project to be worked on.
Santa Maria Valley #1000 was built in 1920 by the American Locomotive Company (ALCO) at their Schenectady Works for use on the Hetch Hetchy railroad. The Hetch Hetchy was a construction railroad used to build the Hetch Hetchy dam that provides water and hydroelectric power to the city of San Francisco. After the dam project was completed, the locomotive was sold to a logging company in Washington state for a few years. I'm not sure when, but later the engine was sold to the Santa Maria Valley railroad in Santa Maria, California. (This railroad still exists as a subsidiary of the Southern Pacific, I'm told.) She finished out her career in Santa Maria before being donated to Travel Town. It's interesting to note that our very own Heisler (Pickering #2) was also built for use on the Hetch Hetchy railroad.
The 1000 is a perfect example of a typical shortline railroad powerhouse: a big, porky boiler mounted over "small" (48") drivers. It is a compact design that packs a lot of power in a flexible 2-8-2 wheelbase. It was perfect for hauling heavy trains on steep grades or tight curves found on most mountain shortlines (or any demonstration railroad, hint, hint!)
Fortunately for us (me) the SMV 1000 has been equipped with Alemite fittings for both its hard grease and soft grease lubrication points. In one day I was able to force soft grease to all the lube points on the fireman's side valve gear. It's kind of fun to watch the old grease ooze out of the bearings as I forced in new grease. The old grease, by the way, still looked good after being in its cocoon of many coats of paint. The biggest pain in lubricating this engine looks like it's going to be the journal box on the fireman's side of the trailing truck. We can thank the well-meaning children of Los Angeles for servicing it with many handfuls of sand.
And now a bit of interesting historical trivia: I was recently invited by fellow associate and good friend Joe Siemons to spend a few days working with him in the roundhouse at Railtown State Historic Park. Railtown is the site of the Sierra Railway at Jamestown, California. While there, I helped Joe and the volunteer docent forces at Railtown reassemble Sierra #28 (a Baldwin 2-8-0 from the early 1920's). Joe told me that both the Pickering Lumber Company and the Hetch Hetchy railroad, which both interchanged with Sierra, would send their engines to the Jamestown roundhouse for heavy repairs. I thought it was interesting that I had been working in the same shop where two of our exhibits had once been sent for repairs and now both engines still survive and live in the same collection. Dare I say it's a small world?
---
By James G. Hoffmann, SCSRA President
The year 1997 promises to be a banner year for our organization and the City. With funding virtually assured for the Train Shed, groundbreaking should occur before the end of the year. Preliminary work continues on the Zoo railroad project also.
Fundraising for the M.177 has been on the front burner for the past several months. Linda Barth prepared an appeal package, with inputs from Bryan Reese, Gordon Bachlund, Steve DeVorkin, and Jim Vicars. Two versions will be used, one tailored toward large corporate sponsors and one directed to the railfan community. Cosmetic work continues on M.177's front end to prepare for a color photo that will be printed postcard size and included in the appeal. In my column in the last issue I asked for a volunteer to help with fund raising, but to date there has been a deafening silence. I again appeal to any Associate with a desire to help in this most important management area to please call me or Linda. Don't be afraid to get involved; the rewards are immense! Anyone? anyone?
The track gang has begun rebuilding the crossover between Tracks 6 and 7, assisted by the "morphodite" dump truck whose story is related in Joe Barilari's column. The signal troops, as you will also read, got the recently installed Magnetic Flagman ("Wig-wag") to operate automatically on a track circuit, adding interpretive depth to our monthly train operations. As if this weren't enough, the north crossing gate at the Loading Platform was connected up and now operates along with the south gate, making for quite a spectacle during train time! Wanna get in shape? Join "Our Gang" and keep "on track" physically! The Operating Department's training curriculum has been undergoing changes also, as detailed in my Operations Report on page 7. If you have a hankering to get on board as a trainperson, please see me or the Rules Examiner.
As you know, several Associate levels are available, from the basic $25 per year through $500 for lifetime, each with its own set of perks. At all levels you should receive, in addition to The Headlight, the Travel Town Museum's quarterly Green Eye. If you aren't receiving one or both, or if you have any question about levels or perks, please write the General Superintendent at the address on page 8 or leave a message at (213) 667-1423 and we'll get back to you.
I believe 1997 is going to be a great year for the Travel Town Museum and its volunteer Partners in Progress. If you are not already involved, please consider lending a hand. The back page of The Headlight lists our various superintendents and managers. Why not select an area that appeals to you and contact the corresponding person, or write me. There are great perks associated with hands-on participation, too!
---
M.177 Operating History
By Mary Jo Hurdle, Historical Research Associate
This sixteenth report of the research efforts covers the quarter ending February 28, 1997.
W. Allen Edgington of Theodosia, MO, has been in contact with us through our website at http://www.scsra.org/~scsra/. When he first found mention of M.177 on the website, he e-mailed Kevin Tam, our webmaster, "Is it possible? I rode on the Little Ranger in 1950 from Topeka, KS to El Dorado, KS." Kevin responded that yes, this was the same M.177. Mr. Edgington then replied, "I couldn't belive my eyes! I rode the Little Ranger in 1950 from Topeka, Kansas to El Dorado, Kansas, when I was 7 years old. I had found pictures of her in the Butler County museum in El Dorado, Kansas, but no one knew what had ever became of her. I am glad that the Little Ranger is being restored. It was the first ride I ever had at that time on the railroad. If you are interested in more of her history you might find some with the Butler County Historical Society."
Mr. Edgington continued in a subsequent e-mail, "A few years ago, I visited the Butler County Museum in El Dorado, KS, and they had old pictures of the Little Ranger, but no one knew what had become of it. I am really pleased that you all are restoring it to running condition! I remember well seeing her run in the 1940s and early 50s. The Little Ranger was a bit of a novelty in a time of Steam Locomotives.
"My family had a dairy farm 1/2 mile from the AT&SF RR and I would watch for the Little Ranger as it made its twice daily trips by our farm. I know for sure that it ran from Topeka to Wellington, KS, and when I was 7 years old I had my tonsils removed in a Topeka hospital, and my mother and I rode the Little Ranger home to El Dorado.
"Although I was not feeling well, this was my first 'train' ride! It was a memorable experience for me in 1950. I remember she had been converted from a 'Mail car' to hauling baggage and the leather covered seats in the passenger compartment which I rode. If I get the opportunity to visit Travel Town, I look forward to seeing her again. Best regards, W. Allen Edgington."
---
EDITORIAL FROM THE CHAIRMAN
By Gordon Bachlund
1997 National Railway Preservation Symposium - In a continuing tradition, the California State Railway Museum and the CSRM Foundation hosted the 1997 Symposium in Sacramento on March 21-23, 1997. Representing the Travel Town Museum were Linda Barth and Tom Breckner. Representing SCSRA and ASRA were Gordon Bachlund and Nancy Gneier. The sessions this year covered the Art of Interpreting Railroad History and Technology. While much discussion centered on the elements of interpretation, the role of the volunteer docent was shown to be a centerpiece of interpretive work. It was noted that the docent is the first person a visitor talks with, and first impressions are lasting ones. Given that the best advertising is "word-of-mouth," its easy to see how important the docent role really is. Why do I mention this? The answer lies in who the first person our train riders see and talk with. I know you'll answer, "the Car Attendant."
As part of the program, symposium attendees were treated to a ride on the CSRM demonstration railway. Each car was in the capable charge of a docent (car attendant) who looked after passengers, gave the "speil," and answered questions. In addition to the on-board docents, countless museum docents interface with the visiting public, all uniformed to represent a railroad craft or position from kindly conductors to curmudgeonly engineers. What a wonderful experience for the visitor, an experience certain to evoke fond memories of the museum and to ensure good word-of-mouth.
As I compared the CSRM approach to our own more casual approach, I have come to believe that we have much to learn in the area of visitor relations! Accordingly, I shall work with Jim Hoffmann to develop some guidelines for our own docents, along with appropriate recognition for docent service, to the end that we may upgrade our own service in the coming months. Nancy, who is way ahead of us in docent training, has volunteered to help. We shall make the car attendent position a very special one, and I solicit your help by joining in our upcoming docent programs!
---
By Gordon Bachlund, Mechanical Superintendent
Cabeese - The radio in SP 4049 had some problems as noted in the last issue. They were traced to a slight frequency shift in the receiver. Jim Vicars made the appropriate adjustments, did some minor cleaning and TLC, and all is well again.
Thomas Seal and Scott Muir continued leveling the center aisle floor in ATSF 999110 in preparation for new linoleum.
Buildings and Equipment - Sorting and stacking of stored signal materials continued thanks to Our Gang, which stalwart group also started filling in the low spots in the southwest corner of the Restoration Yard.
The heavy rains during the quarter produced a bumper crop of new and robust vegetation, and abatement measures were begun again by Dan Price and Jeff Barrow. The rains also caused many fallen branches and these await cleanup. Anyone? The crossing over the Connecting Track at the Restoration Yard vehicle entrance was rehabilitated with help from Brian Moore, Dan Price, Jeff Barrow, and Doug Stephens.
Energizer Bunny Update - In the Spring 1996 issue I advised that we had installed devices called "Solargizers" on the cabooses for the purpose of enhancing the life of their lead-acid batteries through abatement of plate sulfation. Since they seem to have performed as advertised, we asked Linda to provide similar devices for the locomotives' batteries. This she did, but when we installed them we discovered that their "triggering" voltage was higher than the actual battery voltages on the locomotives, 34 volts for Charley and 68 volts for the Baldwin. The manufacturer was contacted, and through their kindness these devices were replaced with more up-to-date devices with the proper voltage rating. We are grateful to Michelle Segal of PulseTech Products Corporation in Irving, Texas, for facilitating this exchange.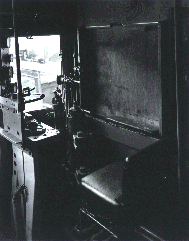 M.177's cab
---
By Greg Ramsey, Assistant Mechanical Superintendent, Diesel
As I mentioned last issue, Charley's #1 engine was not going to be finished by the end of the school semester, so there was a shutdown of work over the winter break. As of this writing, the engine is complete to the short block stage. We are essentially only waiting for the head.
Unfortunately, the head donated by Golden West College has proved to have too many cracks to be cost effective to repair. Therefore, I am actively seeking donation of a new head somewhere, so we don't end up buying a rebuilt head at around $900. If anyone happens to have a serviceable 2-valve 6-71 head lying around, please give me a call.
Back at the Park, the Diesel Shop has put most of the diesel projects on hold while we redirected our efforts to the M.177. As I'm sure Bryan will touch on in his article, we have been concentrating on the M.177 radiators and have been cleaning, reassembling, pressure testing, and preparing them to return to the top of the motor car. By the time you read this all 6 should have all been reassembled and with luck a couple will be on the roof.
During routine inspections, I did discover one problem with Charley's #2 engine. The number 6 injector had a minor fuel leak which was dumping diesel fuel into the lube oil. This was indicated by the decrease in the oil pressure and an increase in the oil level. The leak was fixed and the oil changed. Jim Vicars continued the routine servicing of the batteries and the electrical systems.
Staffing the Diesel Shop this quarter in addition to the above included Gordon Bachlund, Doug Stephens, Alan Weeks, and Gregory Ramsey II.
As always, I can be reached at home (805-483-1552), work (805-982-9720), or via the Internet.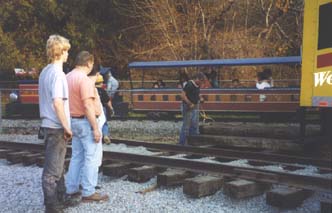 Visitors watch "our gang" at work
---
By James G. Hoffmann, Operations Superintendent
As usual during this period, my job made it impossible to get to Travel Town except for the operating days in January and February.
The biggest change during the quarter was the institution of Time Table No. 1. As our operations have matured over the years, we have more or less settled into a ten-minute headway between trains. With the outlook for future track expansion becoming noticeably brighter, I felt it was time to begin operating on a regular schedule. This adds one more facet to a demonstration of prototypical railway operations. In addition, it will be much easier in the future to coordinate train operations with maintenance work, and enable us to operate more than one train at a time. Yes, we do look forward!
Our training curriculum has been undergoing changes also. The rules test has been expanded and is now available in multiple versions like the DMV's written test, assuring that trainees who need to "have another go at it" will not be repeating the same test. Two of our safety manuals are now out of print, so an SCSRA safety booklet is being prepared along with an introductory safety video which Steve DeVorkin has been filming during recent operations. This, complemented by a new Santa Fe safety video and an edited version of the Air Brake video, will be in use by mid-year.
Our public operations were held December l, January 5 and February 2. There was no charter operation during the quarter.
| | Passengers | Donations |
| --- | --- | --- |
| Sunday, December 1 | 742 | $ 265.76 |
| Sunday, January 5 | 720 | 322.00 |
| Sunday, February 2 | 973 | 353.25 |
| Total: | 1,809 | $ 852.78 |
| Total to date: | 57,271 | $21,449.27 |
Operating Days: 88
I have set up a series of spreadsheets on my computer which keep track of passenger counts submitted by the car attendants. The accompanying charts show an interesting hourly profile. Yep, we weren't just imagining a huge rush right after lunch! I have the figures going back to January 1996 if anyone really wants it.
For various reasons, staffing is getting to be a problem once again. In February it was necessary to keep the SP caboose closed during much of the morning. We still need your help in this most important part of our public relations work! If you are not qualified yet, get into training! If you are qualified, where are you?
As always, THANK YOU to our ever-faithful operating crews and everyone who kept the trains running and our guests happy! Those with recorded times include Gordon Bachlund, Jeff Barrow, Dale Brown, Bob Daum, John Daum, Margaret Daum, Steve (Santa Fe Claus) DeVorkin, Mike (Oatmeal) Flaharty, Charles Forster, Tom Graham, Brian Moore, Dan Price, Greg and Yvonne Ramsey, Chris Rippy, Kevin Simons, Jim Vicars, and Alan Weeks - and anyone else I missed!
---
By Joe Barilari, Maintenance of Way Superintendent
Signals - Thank you's should swing side to side between Ed Sikora and Tom Graham for getting Travel Town's wig-wag signal fully operational, with a track circuit no less! This is record time for such a complex project. Many other thanks should go to Dan Price, Jeff Barrow, Jeff Pippenger, Bob Bennett, Julio Mancia, Kim Mancia, and Brian Moore for assisting in myriad ways.
This process started by burying a battery box (we thought it appropriate to sing "Amazing Grace," so we did) and drilling the holes necessary for the bonding wires using a rather unique looking hand drill. The wig-wag case and mast were installed during the last quarter as was the orange high-tension cable used to power the battery chargers. With the bonds installed using the great persuading tool, a couple of insulated joints had to then be installed. Andrew Hoskins provided some technical expertise to compliment Ed's persistence and Tom's enthusiasm, which really has produced a great project in very little time. Thanks again to Tom and Ed.
Dump Truck - The dump truck has received a lot of attention during the quarter. With the help of Kevin Simons and Jeff Pippenger, mirrors were installed that compliment the paint (though placement will have to be adjusted), which come to think of it was applied during this quarter as well. The prime and paint process was pushed along by the diligence of Kim and Julio - as well as Mike Armstrong, Kevin Simons, John Daum, Margaret Daum, Steve DeVorkin, Dan Price, and "The Usual Suspects." The preparation process took several Saturdays and the end result as a political statement against rust. Many thanks to our mixologist, Mech. Supt. Gordon Bachlund, for providing the technical expertise necessary to have a Dodge truck free of paint defects!
After going several rounds with the fuel system and carburetor, we decided to replace the stock Stromberg with a more up-to-date Carter four BBL unit, and this entailed replacing the intake manifold and relocating the coil to the firewall where it belongs. We teamed a few things about the engineers at Chrysler in the process. For starters, Dodge was definitely on the late freight when it came to small block design. They waited 'til '67 to manufacture all 318s worldwide in their current configuration. This means if you have a mid sixties Dodge small block and want to upgrade to performance anything, you're going to pay the obsolete tax on parts. I was able to purchase an intake manifold for a reasonable sum to accept a late model carburetor I donated from my supply. Some may ask why those changes were necessary so here it goes. Early heads had a distribution problem endemic to the intake port position which culminated in many dual or triple carb setups from the factory. Modern designs resulted in the X-type manifold, with two intake ports siamesed, which serve all three auto manufacturers to this day. This ensures equal runner length and volume to all cylinders thereby balancing power input to the crank without timing irregularities (a la Volkswagen). Moving the ignition coil to the firewall should eliminate vibration-induced breakdown and clutter on top of the engine. The result of all this should be reliability and maintainability. All that remains is the fitment of a proper air cleaner which might be the washable style from K&N fitters. Many a Flintstone dittos to Jeff Pippenger, Darren Shifflet, Edward Sikora, Jim Vicars, and Kevin Simons for help in making this truck go and stop without resorting to Fred F.-like behavior.
The front brakes' slave cylinders were treated to a liberal swabbing (the only good place for liberalism, I might add) with the hone and new hardware. And boy, was this overdue. The truck's brakes were a little too effective owing to the rust and water found in the cylinders. They would apply just fine but release left something to be desired. The shoes, being in good shape, were reinstalled and adjusted. In the coming months the rears will probably want the same treatment. It's very nice to go down to the NAPA dealer and not hear cries of laughter when requesting parts these days. Tires were again a bit of a bug-a-boo. Jeff and I traced one down at a yocal tire shop and had another one repaired. Most people don't realize that tires wear out faster when they're not in use. The effects of sun and ozone are especially devastating to heavier vehicles as the rims put tremendous pressure on side walls if allowed to run flat untreated. Thanks again Greg for loaning us the cab, chassis, and drivetrain.
Next quarter will see the completion of the tailgate, time permitting, and perhaps someone will take an interest in the truck's distributor. Also on the list is lighting, gauges, and maybe the door latches.
Tractor - Travel Town #2 has received some attention this quarter in the form of lifting eyes and bucket teeth. The teeth were procured from Industrial Metal Supply in Burbank, and installed by the writer. While these teeth are a bit ugly they seem to be very effective on our granite soil. The eyes were manufactured on site from stock in our scrap pile. The filters collectively were changed by Jeff P. as were those for the signal truck, air compressor, and welder.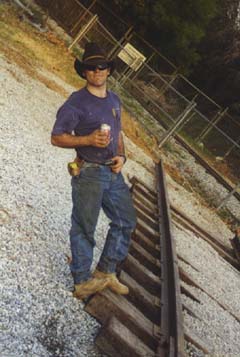 Track Work - In February the 6/7 crossover was unspiked and unbolted by Dan Price, Jeff Barrow, and Brian Moore in preparation for a total rehabilitation. Also assisting on these projects were John Daum, Margaret Daum, Doug Stephens, Gordon Bachlund, and Michael Armstrong as the Beaver. The objective here will be to remove the S-curve from the crossover therein correcting the geometry of the tail of two switches. In general the exit from a frog should be a straight line through, not to, the following heel. Since our track spacing is a bit wide to accommodate the museum setting, the distance from heel to heel for two switches with #5 1/2 frogs would be appropriately 80 feet. Our crossover was built with about 40 feet which plays hell on the equipment. Flanges grind as wheels do the sideways slide across the rails and that's when it's raining. When dry, everything simply grinds, to a halt. The ties were nothing to write home about and most of the plates missing or literally rusted into two pieces. The rail needs replacing but will go back in for lack thereof. When done the project will connect north to south, ends of the park that is, and as an aside, this will be the point by which more than half of Travel Town will have been rebuilt. Yes, that's right, folks - we've been so busy working, the milestone nearly passed us by, but the long-awaited dream of seeing the Baldwin on the 0-6-0 track could be reality very soon. As yet the track has been removed and the earthwork is well under way. The project will involve breaking out asphalt some five feet (at the widest spot) into the area adjacent to the Pennsy diner. This constitutes an additional day of excavation and generates about five more dump trucks full of dirt - anyone terracing their backyard?
Some have inquired with much curiosity as to the depth that we dig for trackwork at TT. I set the depth for each dig based on a formula from an engineer who was kind enough to donate his time to our first major track project. The standard for our subgrade is 8" of ballast with an additional 8" for covering the ties, or a total of 16" from the foot of the rail. The depths are adjusted to protect utility lines or provide additional capacity when drainage varies. Any time the water has to stop and daylight, such as track projects that abut old work on the downhill side, the depth of subgrade usually goes up to 12 or 14 inches. When drainage is exceptionally good, as little as three inches might be appropriate but that is rare indeed. Our soil at Travel Town is rock hard and that means water is not easily absorbed by the area around our track. The good side is that by scarafying and recompaction any holes we dig are easily fixed without undue worry about subsidence. I think it's safe to say that you could put a freeway on our subgrade without upgrade.
Again I say that there are a multitude of opportunities to learn at Travel Town. This quarter, Maintenance of Way will provide more than usual. If you are interested in starting with us or rejoining our efforts, please do not hesitate to come out any Saturday.
---
By Greg Ramsey
By now most of you on the Internet have heard about or visited the SCSRA's website, maintained by Kevin Tam, at http://www.scsra.org/~scsra, but did you know there is also an electronic mailing list dedicated to the SCSRA and Travel Town? It is called Travel Town Today and grew out of the regular musings Dale Brown used to send his friends on e-mail about his adventures at Travel Town. It is a very low traffic list averaging 1-2 posts per week, usually discussing the days happenings at Travel Town, written by myself, Jim Vicars, and others.
To subscribe, send an e-mail to listserv@roundhouse.com and include in the body of the message:

SUBSCRIBE TTOWN-TODAY yourfirstname yourlastname
When your subscription is approved by the list-owner (me), you will receive a short e-mail telling you what is approved on the list and how to send postings. The list is open to all friends of Travel Town including SCSRA, ASRA, and others. Hope to see your keystrokes soon!
---
Hardcopy printing for the Headlight was generously donated by
MINUTEMAN PRESS
"For the job you needed yesterday"
Specializing in

Multicolor printing
High-speed copying
Expert desktop publishing
Free, professional advice
Minuteman Press
3165 Sherman Way
North Hollywood, CA 91605
(818) 764-6091
---
NOTE: All SCSRA caboose train operations and ASRA passenger car tours take place at Travel Town during regular park hours, which are 10 a.m.-5 p.m. standard time and 10 a.m.-6 p.m. during daylight savings time.
April 12 Movie Night: Tough Guys
April 19-20 ASRA Passenger Car Tours
May 4 SCSRA Operations (caboose rides)
May 17-18 ASRA Passenger Car Tours
June 1 SCSRA Operations (caboose rides)
June 7 SCSRA Associates Annual Dinner
June 21-22 ASRA Passenger Car Tours
July 6 SCSRA Operations (caboose rides)
July 26 ASRA Annual Meeting
Aug 3 SCSRA Operations (caboose rides)
Aug 23 Steak Fry and Handcar Trials
Sept 7 SCSRA Operations (caboose rides)
Sept 20-21 ASRA Passenger Car Tours
Oct 5 SCSRA Operations (caboose rides)
Oct 11 Oktoberfiesta and Handcar Race
Oct 18-19 ASRA Passenger Car Tours
Nov 2 SCSRA Operations (caboose rides)
Nov 15-16 ASRA Passenger Car Tours
Dec 7 SCSRA Operations (caboose rides)
Dec 13 Holiday Party and Movie Night
---
THE HEADLIGHT
is published quarterly at Los Angeles, California, and is the official publication of
THE SOUTHERN CALIFORNIA SCENIC RAILWAY ASSOCIATION, INC.
P.O. Box 11216, Glendale, CA 91226
(213) 667-1423 and via the World Wide Web at http://www.scsra.org/~scsra
A California Nonprofit Public Benefit Corporation, Incorporated January 4, 1984
IRS Tax Exemption No. 95-3947766
Editor: Sue Kientz
Send your letters to the editor to the park address above or at the E-mail link below
Any article or feature published in The Headlight may be reprinted in whole or in part provided that proper credit is given the source.
---
BOARD OF DIRECTORS
Chair, Gordon Bachlund
Members, Linda Barth,


Tom Graham
Randy Matus
Ted McConville
Greg Ramsey
Bryan Reese
Ed Sikora
Jim Vicars
CORPORATE OFFICERS
President, Jim Hoffmann
Secretary, Tom Pyle
Treasurer, Jim Vicars
APPOINTED OFFICERS
Vice President, Corporate, Gordon Bachlund
Vice President, Museum Services, Linda Barth
Vice President, Railroad Relations, Bryan Reese
APPOINTED SUPERINTENDENTS AND MANAGERS
General Superintendent, Greg Ramsey
Mechanical Superintendent, Gordon Bachlund


Asst. Supt., Gas & Diesel Locos, Greg Ramsey
Asst. Supt., Steam Locomotives, Al DiPaolo
Asst. Supt., M.177 Project, Bryan Reese
Asst. Supt., Electrical/Communication, Jim Vicars
Asst. Supt., Inspections/Records, Bryan Reese

Operating Superintendent, Jim Hoffmann


Asst. Superintendents, Gordon Bachlund, Greg Ramsey, Jim Vicars
Rules Examiner, Tom Graham
Inspectors Gordon Bachlund, Randy Matus, Jim Vicars
Instructors Brian Moore, Tom Graham

Maintenance of Way Superintendent, Joe Barilari


Asst. M/W Supt. Ed Sikora
Asst. Supt., Motor Vehicles, Jeff Pippenger
Asst. Supt., Signals, Ed Sikora

Bridge and Buildings Superintendent, Tom Graham
Assistant Treasurer, Ted McConville
Safety Officer, Ed Sikora
Fund Raising Manager, Linda Barth
Historian/Archivist/Library Manager, Jim Vicars
Historical Research, Mary Jo Hurdle
Merchandise Sales Manager, Yvonne Ramsey
Public Relations Manager, Steve DeVorkin
Publications Manager, Sue Kientz
Dining/Hotel/Commissary Manager, Yvonne Ramsey
Key Control Officer, Jim Vicars
Recycling Manager, Alan Weeks
Associates with inquiries regarding project work schedules
may contact any of the above by leaving a message at (213) 667-1423.

---
Questions and comments to Sue Kientz, SCSRA Publications Manager