The Headlight
---
Southern California Scenic Railway Association, Inc.
The mission of the Southern California Scenic Railway Association is to provide and administer volunteers and to raise and manage funds to support the mission of the Travel Town Museum and its Master Plan
Volume 15, Number 2............................................................................Summer 2000
---
---
By Bryan Reese, M.177 Project Manager
The lazy days of summer produced the not-unexpected decline in activity on M.177, but despite that, some important tasks were accomplished.
Alan Weeks acted on his concerns that the battery boxes under the car were weathering unacceptably and applied a fresh coat of primer paint, and finished it off with a nice finish coat of semi-gloss black. Thanks, Alan, for identifying this problem, planning and then following through to completion. Shortly after the completion of the painting, Dan Price, Tim Riley, and Gordon Bachlund serviced the batteries in M.177, as well as the cabooses. Altogether, these batteries consumed a phenomenal 30-plus gallons of distilled water, which only shows the importance of the regular maintenance required to preserve these costly assets. Gordon found that the charger in the motorcar had not been reapplied after the various activities that the car was involved in the last few months. As of this writing, he tells me he plans to rectify (get it?) the situation shortly.
Meanwhile, Doug Stephens has completed the new ignition coil. You will recall that the original coil didn't seem to provide much output from two of the four high-tension terminals. The engine seemed to have no problem running without a load in this manner, but it undoubtedly would do better to have all four plugs per cylinder firing as intended. The new coil is composed of four automotive spark coils lashed up in parallel. It will be a simple matter to construct a housing for the coils that will resemble the original coil assembly. It's possible that the original coil could be repaired at some time in the future, but that is by no means certain.
The other event that took place this quarter was the Winton engine's very first oil change. As anticipated, a lot of 50-year-old black sludge was removed with the oil. The engine has an exterior lube oil filter that the Santa Fe installed at some point, and prior to the first operation of the engine, I found a large paper filter cartridge in the box car. I assumed it was one of the spares for the Baldwin diesel engine, and was happy to find it fit perfectly. After draining the oil and removing this spent filter, I discovered that the spare Baldwin filters were altogether different, and another of the type needed was not to be found. I located a Farr part number on the cartridge, but that manufacturer was unable to reference the number.
A visit to the Amtrak roundhouse yielded the answer. The cartridge is still used on modern EMD locomotives, and is available from a company named Clark Filter. With the oil drained from the engine, I took the opportunity to correct some minor oil leaks. A lot of the piping is original, and the seals at the joints is not all that good anymore. This involved taking the joints apart, cleaning them really well and carefully putting them back using lots and lots of sealant. Keep you fingers crossed, as I have not yet run the engine again with fresh oil. If the leaks are fixed, Alan Weeks will again take up his paint brush and freshen up the color coding on the engine piping.
Lastly, the search continues for funding for the generator. Several good sources have been identified, and I am now awaiting a cost estimate from our current vendor. This has proven difficult owing to the extreme age of the components. There are several items that are not readily available and will have to be specially manufactured. Stay tuned.
---
By Sue Kientz, SCSRA President
We are still waiting for word (promised to be coming sometime in August) from the City on the last Track Plan submitted for a number of track projects. As we wait, I'd like to go over a number of important concerns that have come up or been voiced over the past few months:
Staffing Operations — The summertime bringeth the hot weather with one hand, and taketh away Nancy's high school docents with the other. Consequently, we need YOU to help with Operations during these months. We especially need to be fully staffed for Ops because the City now requires us to have two flagmen covering the pedestrian walkway when the caboose train is leaving or departing. We are already short of staff for docents as car attendants, but if we are short of flagmen, we must delay or cancel train rides, which I personally do not want to happen. So as the Photo Section on pages 4 and 5 asks, come on out and have fun at Operations! Let us know if you can cover one or more shifts on either Operating day in September by e-mailing me. Thanks!
Parking — Please remember NOT to park inside the Park grounds. Most people are following this policy, but I was asked to again remind all associates that you must park in the Museum parking lot, and not on the actual park grounds, when you come out to visit or volunteer.
LOCK IT UP! — It's come to our attention that at times train cars and storage areas are not secured before the last person leaves the park. A sign is now posted on the inside of the Volunteer Area gate that is a reminder to all: DID YOU LOCK IT UP? Please think when you see that sign, and if you are unsure about any equipment or area, double-check it before you leave, especially if you are the last person to leave the park that day.
Good Idea? Share It! — If you have an idea or a suggestion that will involve moving equipment at Travel Town, or which would entail visiting the park during off-hours, the best course of action is to contact me or Bryan Reese, our newly elected SCSRA Board Chairman, to find out what the procedure is to make it happen. For example, if you think that we should be providing some service to a special event scheduled at the park, Bryan or I can make sure we get the necessary approvals from the City, obtain a crew (if needed), and let the appropriate SCSRA superintendent know about the event.
Don't Forget to Sign In — It's an old policy, but we haven't been following it too well: you must sign in at the Museum Office (right next to the Gift Shop) when you visit Travel Town on days OTHER than Saturday or Operations Days. There's a sign-in clipboard right by the office door. Please sign in, and then SIGN OUT when leaving. This also applies to regularly scheduled training days on Friday evenings, even though those training sessions have been arranged with the City for the rest of this year.
Direction of the City — I've been asked to remind everyone that whenever a City employee at Travel Town makes a request of an SCSRA volunteer, we are bound by our permit to follow that request. Even if you happen to disagree with the request, we must follow the City's direction when volunteering at the park. You are within your rights to report any disagreement you may have to the on-site SCSRA superintendents or other SCSRA officers at a later time, and if a request was inappropriate, your SCSRA president will deal directly with the City about that matter.
Thanks for the Memories! — Lastly, thanks to outgoing chairman Gordon for many years of fond Board Meeting memories. Gordon passed on his "call-to-order bell" as well as his title to Bryan Reese at the last board meeting. "It worked for him about as well as it did for me," he was heard to say later. You made many a hot (in summer) and freezing cold (in winter) meeting in the party cars bearable with your firm conduct of the meeting and your impish sense of humor.
---
SCSRA SCRAPBOOK: Operations is Fun!
Operations is fun for the public and for those who work the trains — but you knew that, didn't you? Photos by Charles Forsher

All Aboard!

Jim Vicars In the SP

Darlene Sexton in the Cab

High School Volunteers Kyle and Ashley

Charity Lawrence, Brakeman

Yvonne Operating Charley

Dan Price, Brakeman
Nancy Gneier, Brakeman

Mike Vitale and High School Volunteer Michelle

Operations Lunchbreak

At Operations, you get to meet new friends and see old ones
Also see Movies of Operations taken by Sue Kientz
---
"Little Ranger - Railroad Restores Passenger Service" Part 2 of 5
By Gail Martin, reprinted from the El Dorado Times
This article, originally written in 1995 for the 50th anniversary of The Little Ranger, is reprinted with permission. This segment covers El Dorado's celebration of the Little Ranger's First Anniversary
The big day arrived on Saturday June 15, 1946 when El Dorado hosted all its neighbors and friends up and down the rail line, as well as honoring the employees and families of the Santa Fe's The Little Ranger and Missouri Pacific's Sunflower. Rolla Clymer stated in his editorial in the Times, "The program as outlined will be modest and hardly up to standards of some of El Dorado's past community events — notably the Kafir Corn Carnivals of long ago."
We must remember our country was still at war. The railroads began the day-long activities with exhibits set up along the Gordy Street track and in Gordy Park. Santa Fe brought a miniature freight train that operated around the park and downtown streets giving the children opportunities to ride to their heart's content, which Dorene Lehr remembers vividly.
There were receptions and speeches at Hotel El Dorado and ceremonies when The Little Ranger and The Sunflower arrived. A parade was held downtown. As escorts for the visitors, the Order of Mapira was revived with the Knights wearing their trademark orange fezzes and carrying canes. Train crews gave entertaining contests of spike driving and hand-car racing. Rounding out the festivities in the evening was a big basket supper and a concert by the incomparable Santa Fe Shop Crafts Band from Topeka, at the beautiful Musicorium in Forest Park, that had been built 1938-1940 as a relief effort. The names on the list of committee chairmen were a regular Who's Who of El Dorado with everyone of distinction "pitching in" to do the job that showed the unique spirit of unity which this town possesses.
Santa Fe had been part of the south Gordy scene for many years. In 1918 they had a small ticket agency on the corner of Pine and Gordy with entrance at 127 West Pine and a freight depot further south at the southeast corner of Gordy and Locust. By 1923 they had built the big station at 204 Gordy.
The very first motorcar on The Little Ranger run carried the number M.177. The motorcar made connections possible with all the small towns along its route. It even could be flagged down to send cream and eggs to town for sale at the creamery or just ride into the nearest town.
In the early 1950s M.131 was the designated motorcar. Trainmen referred to the south bound train as #25 and when it was north bound it became #26. The Pine and Gordy depot was used by bus and train, depending on what was running at that time.
Finally in the 1955 city directory the depot address is shown as vacant. The Little Ranger would stop at the freight station for the next three years as passenger service fell to just a handful daily. Roads improved after the war, gasoline and tire rationing were finally discontinued, and everyone soon had their own individual means of transportation. Santa Fe did the only thing left to do. They discontinued The Little Ranger's service on October 25, 1958.
In the book Doodlebugs by John B. McCall is a picture of the last run of The Little Ranger M.176 on the Gordy Street tracks with the Locust Street marker plainly visible in the foreground. The Santa Fe freight station is shown on the left and the elevator standing tall in the background.
On March 20, 1959, Santa Fe presented their Gordy Street station to the City of El Dorado. In 1961 John Hogobloom bought the building and moved it west of town, where it still stands today minus the brick veneer that was on the walls. Now a city parking lot stands where Santa Fe reigned supreme so many years. The freight station still stands, but all the tracks have been removed, leaving only a right-of-way curving out of sight at the south edge of town.
In Cassoday the railroad station has been moved from the original spot by the tracks and is now the home of that small community's museum. Chet Unruh, retired Santa Fe employee, is currently curator of the museum. There is no trace of the Winfield Station left after it was demolished around 1984.
But wrecking crews and 50 flitting years couldn't destroy the memories of all those people who came in contact with The Little Ranger and its crew so long ago. Their varied experiences have made The Little Ranger's story come alive....
Next Issue: Riders of The Little Ranger recount their memories
---
By Jerry Price, General Superintendent
After a period of great leniency, all SCSRA Associate memberships will be carefully reviewed as to their dues' current status. All Associates are encouraged to immediately bring their membership to a current status.
Any membership that is six months past its dues renewal date shall be placed in temporary suspension until it is brought current.
Any membership that is one year or more past its dues renewal date shall be deemed as suspended with any and all rights of membership revoked until the account is brought current.
A Final Notice will be sent to those Associates who do not bring their account to a current status within the next 90 days.
After that notice and ensuing 90-day period any unpaid dues will cause permanent cancellation of the Associate's number and all seniority rights will be immediately terminated.
If you fall into one of the above mentioned categories, please come back aboard. The SCSRA has an active agenda ahead and we will appreciate the full financial and volunteer support from all of our Associates. Thank you.
---
By Gordon Bachlund, Mechanical Superintendent
Battery Servicing - Dan Price, Tim Riley, and the writer serviced the caboose batteries and the M.177 batteries in late June.
---
By Greg Ramsey, Assistant Superintendent, Diesel
The author still spent a lot of this quarter on travel again, but we continued to keep our small fleet running.
We completed the oil change on Charley early in the quarter, and it appears we are getting a little too much fuel dilution. The normal cause of this is loose fuel jumpers under the valve covers. Went through and tightened them. Will have to watch the oil viscosity to see if it is still a problem.
Bryan Reese has been using the Baldwin periodically as a source of air to start and spin the Winton's gas engine and pointed out that it appeared to have dirty fuel filters. Doug Stephens disassembled and cleaned the suction side strainer, which helped a lot. The discharge filters are cotton wound filters, but despite several attempts, I was not able to obtain an exact replacement. The housing was the same size as the ones we were using on Charley so I took the elements I had just purchased for it, and attempted to install them on the Baldwin. Turns out the housings are the same size, but the internals are configured for different lengths. Not a problem. I had an excess of the filter housings from my boat that I had used supplement Charley's, so I dug into the supply to update the Baldwin. The housing seals differently so I could not just replace the whole thing, but they used a similar internal mounting rod so it was easy to update. So far, I've only done one of three filters. Now I need to get back to the others.
We have had some problems with the batteries in Charley indicating that they were starting to fail. The batteries were installed about two years ago, and as you might guess, they had two-year warranties on them. The city has ordered replacements, and by the time you read this, they should have been del>
---
Transfer interrupted!
can be reached at home (805-984-0332), work (805-982-9720), or via the Internet.
---
CHAIRMAN'S MESSAGE
by Gordon Bachlund
Board Changes — Nancy Gneier resigned her board seat on May 31 and Linda Barth resigned her board seat on June 20. At the July 21 Board Meeting Sue Kientz and Jerry Price were elected to replace them. They will serve until July 2005. Welcome aboard, Sue and Jerry!

Officer Change — The term of our CFO, Tom Graham, expired in July. Mike Vitale was elected the new CFO and will serve for the next three years. Please join me in thanking Tom for his efforts during his term, and in welcoming Mike to the position. Tom and Jim Vicars will assist Mike in getting up to speed.

Farewell and Thanks — This will be my last article for The Headlight as Chairman of the Board. I resigned that position at the July meeting out of frustration with some recent Museum management decisions that negatively impact the Association.

I am pleased to announce that Bryan Reese was elected to replace me, and I wish Sue, Bryan, and the Board the best of luck in dealing with this unfortunate legacy.

I will continue to serve the Association as Mechanical Superintendent, and to contribute to The Headlight in that capacity.

As I reflect on the past 14 years, I am amazed at how far we have come since that first Saturday of February 1886 when Hal Hoadley, our first President, and I opened up the M.177, swept it out and lubed the baggage door tracks.

It is my sincere hope that the next 14 years will see continued steady growth, both of the SCSRA and of Travel Town itself as it wrestles with the agonizingly painful metamorphosis from kiddie playground to real museum.
---
By Tim Riley, Motor Pool Manager
It's hard to believe that summertime is already here. It seems like it was only yesterday that I joined the SCSRA and as I look back at all of the accomplishments of the small group of regular Saturday volunteers, it makes me feel like we've done miracles.

To start off, the horn on the forklift was replaced and the seat belt was reinstalled. There is still some minor problems with corrosion in the horn contacts in the steering column, but nevertheless, the horn works strong. At the end of the quarter, Gordon Bachlund, Darlene Sexton and Daniel Price reported that they went to United Rental to refill the propane tank for the forklift and they were unable to because the tank was too old and it had to be recertified. I asked Daniel Price to e-mail Sue (since I don't currently have access to e-mail) and update her of the situation.

As of this date, the tank was refilled by the City and I'm waiting on information in regards to this issue. Greg Gneier has since stated to me that ASRA would be willing to pay for half of the cost since they use the forklift and I'm still waiting for a decision to be made. The dump truck P.T.O. shaft "O" ring has been replaced and the new problem is that the P.T.O. won't engage. I'm now in the process of removing the P.T.O. case from the transmission to make sure that the fork that engages it is properly aligned with the shaft. The new temperature gauge has been connected but is awaiting permanent installation on the dash. There are no new problems to report with the city loader at this time. One positive note is that the city reinstalled the Fire Extinguisher that they removed last quarter. The compressor trailer is still operational but needs an adjustment to reduce the amount of compressed air. There is no new progress to report on the 6X6 truck.

It seems to have been a slow quarter for the SCSRA and I hope that things move along a little better next quarter. I would like to thank everyone who helped me with motor pool tasks this quarter.
---
ANNUAL DINNER REPORT
by Sue Kientz
Last issue we had Annual Dinner pictures but no report. Here at last are the details of this year's annual dinner meeting.

After enjoying a fine dinner once again provided by Roundhouse Catering, the Dinner Program began as Dan Price and Jeff Barrow were honored for their recent graduation from high school. At the same time, Dan's mother Sharon Price and Darlene Sexton were also asked to come up for "Graduation" balloons to mark college degrees they were just awarded. One of the dessert cakes (seen in last issue) carried on the "graduation" theme.

Hour awards came next. Andy Evans, Darlene Sexton, and Jim Fontenot were presented with 300 hour awards, Jeff Barrow achieved 1,000 hours, and Yvonne Ramsey and Dan Price each received 3,000 hour awards.

Some impromptu recognition was given to the Maintenance of Way department by Tim Riley, specifically for the Track 7 work. President Sue Kientz also gave special certificates to Jeff Barrow for arranging for the Boy Scouts to help with Track 7, and to Greg Gneier for his work on the culvert, drainage, and retaining wall.

The Ridenour Award winner this year was Bryan Reese, who was unfortunately not in attendance. Congratulations to Bryan and to all award winners this year. Your achievement helps us all, and we're proud of you!

Here are the lucky ones who won door prizes this year:
| Door Prize | Donated By | Winner |
| --- | --- | --- |
| Book: History of N. Amer RR | Sue Kientz | Gordon Bachlund |
| Video: Above SoCal Rails | Pentrex | Greg Ramsey |
| Pullman Notepad and RR Coasters | Bob Bennett | Priscilla Lane |
| Santa Fe Hard Hat | Sue Kientz | Lyubchic Nickerson |
| Microsoft S/ware | Ted McConville | Jetta Kinbrough |
| ATSF TimeTables | Bob Bennett | Charity Lawrence |
| Book: Along the Rails/OSH Cal. | Bob Bennett | Andy Evans |
| Book: Along the Rails/OSH Cal. | Bob Bennett | Doug Ward |
| Book: Orient Express | Sue Kientz | Jim Fontenot |
| Video: Above 3751 Over Cajon | Pentrex | Danny Majid |
| Microsoft S/ware | Ted McConville | Bill Doran |
| Food Basket | Sue Kientz | Mark Nickerson |
| Book: Amer Locos in Photos | Bob Bennett | Steve Barrow |
| $25 Cert. for Train Shack | Price Family | Jenny Ramsey |
| $25 Cert. for Orig. Whistle Stop | The Original Whistle Stop | Matthew Nickerson |
| Microsoft S/ware | Ted McConville | Bohdan Nickerson |
| 2001 Dinner Certificate | Roundhouse Catering | Darlene Sexton |
| Train-themed Afghan | The Travel Town Museum Gift Shop | Yustina Nickerson |
REMINDER! Those of you who won Microsoft software prizes, contact Ted McConville to receive your prize. E-mail him at the address on your coupon — he has yet to hear from anyone.
The dinner program ended with Jim Fontenot again inviting all the workers who helped on Track 7 to come up for one last round of applause. The evening truly ended on an ultra high note, and it was good to see everyone enjoying themselves so much.
My thanks to Greg Ramsey for arranging and printing the 300 and 3,000 hour awards and for obtaining the frames, and Gordon Bachlund for the Dinner's great sound setup, arranging for the Ridenour Award, and for his many encouragements over the last year, not only in helping me get ready for the Dinner Program, but for help surviving the pressures of the SCSRA presidency!
Thanks especially to Yvonne Ramsey and Roundhouse Catering, who in turn sends thank-yous to all who helped with preparation, food service, and cleanup:
Friday Prep-work: Mary Ramsey, Greg Ramsey, Nancy Gneier, Tammy Jones
Saturday Prep: Greg Ramsey, Tammy Jones
At the Dinner and Cleanup: Greg Ramsey, Mary Ramsey, Tom Pyle, Caroline Pyle, Todd, "Mother" Pyle, The Barrow Family, and Sharon Price
Thanks to Linda Barth for the use of the Snack Bar and to John Coughlin of the Museum staff who did all the running around to find tables and things we could use.
And lastly, thanks to the many others not mentioned here or missed. We appreciate all of you!
---
The SCSRA has received a generous monetary donation in memory of Bruce J. Nelson, a.k.a. BZM, from his brother, longtime SCSRA Associate Paul Nelson. The Board of Directors accepted the donation with great appreciation and honor and has directed the funds to the M.177 restoration project.
---
By Dan Price, Maintenance of Way Foreman, Track
Track — The West End of the Station Track (outside the Operations area) was finished and the Heisler was replaced to its former location. We have received and are in process of installing compromise joint bars for the West End of the Station Track. This should provide a slightly smoother ride over the crossing.
Signal — During this quarter, Jim Fontenot and friend Randy Muenzberg replaced the South gate arm at our public crossing with one that had much better reflective material on it. The improvement in appearance was substantial. The lights were also replaced with hanging lights that pivot as the gate arm raises, a very nice, old-style touch. The crossing gate boxes were also rewired and bell cutouts were activated. This shuts off the bells when the gate arms are down, much to the relief of everyone nearby. While this is a typical installation (the bells turning off), in many places it is rare in the Los Angeles area. As a result, train crews have noticed a minor increase in people trying to go around the gate arms. Steps are being taken to correct this for the August operations; if this fails, the bells will be reactivated for September or October operations.
---
Bryan received the following letter, excerpted below, and comments, "Seymour is located about 60 miles north of Melbourne. I guess we can now call it the 'World Famous' M.177."
Dear Mr. Reese,
Greetings from Australia to you and your organization...
We were interested to read of your M.177 project in various back issues of The Headlight and thought you might like to hear of our 58RM. It was one of nine such units built at Victorian Railways Workshops following successful trials of a pattern car imported from the U.S. in 1928.
Originally powered by Winton petrol engines and known as "PERMs" (Petrol Electric Rail Motors), they had GM diesel engines installed in the 1950s (thus becoming "DERMs") and continued in regular service with the Victorian Railways until about 12 years ago...
We would certainly like to hear more of M.177 and its rebuild.
David Watson
Seymour Railway Heritage Centre,
Seymour, Victoria, Australia
---
By James G. Hoffmann, Operations Superintendent
One more quarter has gone by, and again I was unable to attend due to my job requirements and health problems. I promise to be out soon!
Last quarter I discussed a possible shift to running through the lunch break. At present, due to staffing problems, we have decided to delay implementing this for a while longer. Timetable No. 3, which was to be in effect in July, will not be issued at this time. Unfortunately, this also delays addressing the problems with the Special Instructions as noted previously.
I am pleased to announce that Darlene Sexton was qualified as Dispatcher and that Andy Evans was qualified as a Locomotive Servicing Engineer.
Think Before You Act — An unfortunate incident occurred this quarter, which has had repercussions throughout our Association. One of our Instructors decided to expedite a Friday night training session by bringing CS&CV No. 1 "Charley Atkins" out of the Restoration Yard and couple it to the cabooses.
Unfortunately, this occurred before Travel Town closed for the night, and the movement was performed single-handedly with no ground protection. As a result of this momentary lapse of good judgment, the safety of the Associates and the public was compromised. The City required that immediate action be taken to prevent further occurrences. Friday night training was promptly suspended (since reinstated under strict guidelines). The offending Instructor was suspended for six months. The City has since imposed restrictions upon our operations, which may affect our ability to operate without enough staff to provide two flagmen at the crossing in addition to a full train crew.
The gist of this editorial is this: Before you perform any task, ask yourself three questions:
Can this action be harmful to myself or other Associates?
Can this action be harmful to the public?
Can this action be harmful to the Association as an entity?
If your answer to any of these questions is "yes" or even "maybe," DON'T DO IT!

Our public operations were held April 1st and 2nd, May 6th and 7th, and June 3rd and 4th.
| | Passengers | Donations |
| --- | --- | --- |
| Saturday, April 1 | 466 | $ 108.02 |
| Sunday, April 2 | 552 | 94.75 |
| Saturday, May 6 | 387 | 230.80 |
| Sunday, May 7 | 551 | 341.01 |
| Saturday, June 3 | 372 | 45.49 |
| Sunday, June 4 | 404 | 161.10 |
| Total: | 2,732 | $981.17 |
| Total to date: | 93,722 | $41,379.15 |
Operating Days: 149
On June 4th we started a bit late due to lack of staff. Guess everyone had a good time at the Associates Dinner!
And now for this quarter's Honor Roll. Those with recorded times included the following:
Docents — Annette Sevigny, Sue Kientz, Laurie Vanwagenen, Jessica Vicaro, Ashley Wolseter and Melinda Wyly. Once again, thanks to our high school students who are earning Community Service hours. Hope I got your names spelled right!
Operators — Gordon Bachlund, Jeff Barrow, Andy Evans, Mike Flaharty, Jim Fontenot, Nancy Gneier, Tom Graham, Charity Lawrence, Dan Price, Greg Ramsey, Yvonne Ramsey, Tim Riley, Darlene Sexton, Jim Vicars, Mike Vitale and Alan Weeks.
Thanks to all of you and to anyone whose name I missed!
---
By Greg Ramsey, Acquisitions Manager
The Crane continues to reside in Hawthorne adjacent to Somerville plywood and the construction which got us excited last quarter is now proceeding in earnest on the new Costco that will now be along Rosecrans. We will have to move the crane before long or truck it from where it is now. Even if that happens, that may not be a big problem since the major cost in the trucking portion will be the loading and unloading.
With the help of Yvonne, Annette, and Greg Gneier we have made significant progress on the inventory and have identified most everything that is "outside." We are starting on the building and containers now and expect to be coming across most of the privately owned tools and equipment. If you have personal property at Travel Town, please ID your stuff and give me an inventory of your property now. If you don't, you run the risk of it being "accessed" to SCSRA and then used or disposed of, as we need. Your inventory doesn't need to be on my forms; any complete listing of the property will do for now. Make two copies, and then have Gordon, Sue, or me sign it acknowledging it as your property. If there might be any question as to ownership, be prepared to show documentation to prove ownership, especially if it is RR related.
I will be leaving copies of the inventory in the Shop Building. Please take a look through it and see if I have misidentified anything. If you need a copy, let me know electronically.
---
By Charles Forsher, Associate No. 241
July 18th, Monday, found me with a desire to Metrolink.
So it was that I arrived at Union Station about 11 a.m. and made my way to the Metrolink Information Window to choose an interesting jaunt.
While in process of being helped by a big, friendly lady behind the window-counter, three Los Angeles Police Officers approached the window and one of them verrrry quietly asked to use the phone. He was quickly ushered into the Information Office. Then, as I was purchasing my ticket, I overheard something about a bomb.
The ticket came down into the lit-up place of the Ticket Machine. I grabbed it, then turned to look at the object of suspicion. Three plain cardboard boxes were balanced on a luggage cart, something obviously left behind by accident by an Amtrak patron.
The doors to Train #304 for San Bernardino opened as if by magic as I approached. I scrambled in and found one of the typically clean, comfortable seats by a window, with its small table where I could rest my ever-present clip board.
At departure time the Car Attendant announced that there would be a slight delay because of a Bomb Scare. But Train #304 was allowed to proceed soon afterwards. My destination for the day was Cal State, a 10-minute journey.
As #304 picked up speed, I imagined I was on the projected train to the Zoo from Travel Town, although I don't think our road will ever allow the speed at which #304 was moving.
In 1888 the San Gabriel Rapid Transit Company ran between Los Angeles and Monrovia (located on current maps as being to the right of Pasadena), a narrow gauged steam road, which was later standard gauged and electrified under the Pacific Electric, which also expanded to San Bernardino.

In 1941 passenger service for the P.E. was cut back to Covina, a mere five stops out of Los Angeles, and in 1950, all passenger service was terminated.

Southern Pacific still hauled freight along the line, and Amtrak briefly carried passengers to San Bernardino.

In 1994, Metrolink revived the old Pacific Electric route to San Bernardino.
The layover at Cal State was a half-hour — enough to walk around a little and discover the plaque displaying the information just given. Train #317 from San Bernardino came westbound from around a bend on time, and must have been traveling like a bad out of hell because in mere seconds it had come a good half-mile distance to a smooth stop. I had to run to get on board, and shortly after scrambling up and into the lead car, Train #317 resumed its speedy course.
I had to assume the Bomb Scare was over since the inbound train did not stop anywhere short of Union Station. Nobody was forced to walk or take buses near the L.A. River.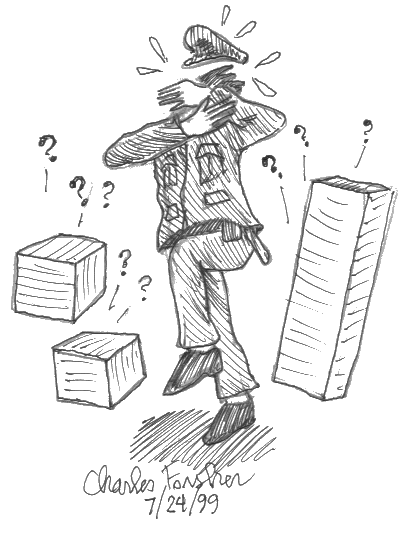 However, after Train #317 arrived, the Car Attendant asked everybody NOT to panic, but we were not being allowed to exit the train. No reason was given.
Then suddenly it was okay to exit, but only if we walked to the right (track's end) and took the long way to the station entrance. The main tunnel under the tracks was sealed off to pedestrian traffic.
I followed the crowd. A passenger jet flying overhead caught my attention, making a slow turn in the midday clouds, almost floating.
By taking a flight of concrete steps I found myself, with the others, walking past the place in Union Station where the Amtrak Ticket Windows are located. So I reentered the building. No yellow tapes were up, and I found myself where I had started just hours before.
A couple of men were staring down, from a safe distance, at a pile of clothes covering the luggage cart, the three cardboard boxes having been cut open.
The Great Clothing Scare was over.
---
---
THE HEADLIGHT
is published quarterly at Los Angeles, California, and is the official publication of
THE SOUTHERN CALIFORNIA SCENIC RAILWAY ASSOCIATION, INC.
P.O. Box 39727, Griffith Station, Los Angeles, CA 90039-0727
(323) 667-1423 and via the World Wide Web at http://www.scsra.org/
A California Nonprofit Public Benefit Corporation, Incorporated January 4, 1984
IRS Tax Exemption No. 95-3947766
Any article or feature published in The Headlight may be reprinted in whole or in part provided that proper credit is given the source.
---
BOARD OF DIRECTORS
Chair, Bryan Reese (term expires January 2003)
Members, Gordon Bachlund (January 2002)


Joe Barilari (January 2003)
Tom Graham (January 2002)
Sue Kientz (July 2005)
Ted McConville (January 2005)
Jerry Price (July 2005)
Greg Ramsey (January 2002)
Jim Vicars (January 2001)

CORPORATE OFFICERS
President, Sue Kientz (July 2002)
Secretary, Greg Smith (July 2001)
Treasurer, Mike Vitale (July 2003)
APPOINTED OFFICERS
Vice President, Corporate, Gordon Bachlund
Vice President, Museum Services, Linda Barth
Vice President, Railroad Relations, Bryan Reese
APPOINTED SUPERINTENDENTS AND MANAGERS
General Superintendent, Greg Ramsey
Mechanical Superintendent, Gordon Bachlund


Asst. Supt., Gas & Diesel Locos, Greg Ramsey
Asst. Supt., Steam Locomotives, Chris Rippy
Asst. Supt., M.177 Project, Bryan Reese
Asst. Supt., Electrical/Communication, Jim Vicars


Operating Superintendent, Jim Hoffmann


Asst. Superintendents, Greg Ramsey, Jim Vicars
Chief Instructor, Gordon Bachlund (acting)
Rules Examiners, Tom Graham, Alan Weeks
Instructors, Andy Evans, Tom Graham, Darlene Sexton

Maintenance of Way Superintendent, Joe Barilari


Foreman, Track, Daniel Price
Foreman, Signals, Jim Fontenot

Motor Vehicles Manager, Tim Riley
Bridge and Buildings Superintendent, Tom Graham
Assistant Treasurers, Jim Vicars, Tom Graham
Fund Raising Manager, Sharon Riley
Historian/Archivist/Library Manager, Jim Vicars
Historical Research, Mary Jo Hurdle
Merchandise Sales Manager, Yvonne Ramsey
Public Relations Manager, vacant
Publications Manager, Sue Kientz
Dining/Hotel/Commissary Manager, Yvonne Ramsey
Key Control Officer, Jim Vicars
Recycling Manager, Alan Weeks
Acquisitions Manager, Greg Ramsey
Community Service Coordinator, Darlene Sexton
Webmasters, Sue Kientz, Ted McConville
Website Design, Kevin Tam
Associates with inquiries regarding project work schedules
may contact any of the above by leaving a message at (323) 667-1423.

---
Questions and comments to Sue Kientz, SCSRA Publications Manager