---

The Headlight
Southern California Scenic Railway Association, Inc.

---


The mission of the Southern California Scenic Railway Association is to provide and administer volunteers and to raise and manage funds to focus public awareness on Southern California rail history and promote railroad safety

---

| | |
| --- | --- |
| Volume 17, Number 2 | Summer 2002 |
---
Drawing over 35,000 visitors on the weekend of May 4-5, 2002, the fourth Fullerton Railroad Days festival, organized by the Fullerton Railway Plaza Association, Inc. (FRPA), broke its previous attendance record and was hailed by all as an unmitigated success.
And SCSRA was there this year, manning a great booth organized by Booth Chairman Gordon Bachlund. It was fully staffed both days, and Safety Officer Tim Riley led an overnight security detail that not only protected SCSRA's valuable assets, but ended up overseeing nearly all the railfest's booths! See both Tim and Gordon's accounts of Railroad Days in their respective articles.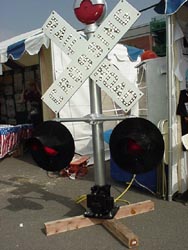 If that weren't enough to highlight our participation, the real surprise came when the Grand Canyon Railroad had to pull out of participation at the last moment. No one could anticipate this, but SCSRA was already prepared in case such an event occurred. Director George Engelage, owner of Coast Rail Services, had offered to loan SCSRA the use of one of his pristine cupola cabooses plus a switcher, for us to provide interpretive tours.
Before Grand Canyon Railroad had to bow out, there had been no room for such a display, and no reason to expect that there was any chance for us to take George up on the offer. But with less than a week's notice, FRPA gave us the word that room was available, and George and his company made all the arrangements to put SCSRA's name on a first-class pair of cars. Yes, there alongside Metrolink and Amtrak, was rolling stock labeled Southern California Scenic Railway Association., Inc.!
See pictures of our booth and the caboose and diesel locomotive from Coast Rail Services. Also see the Slide Show of SCSRA at Fullerton Railroad Days
---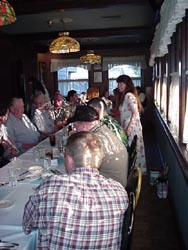 Our annual get together at Edward's Steakhouse in El Monte on June 15 was, by all accounts, the best annual dinner ever.
Nearly 30 people attended the dinner and enjoyed either steak, chicken, or fish from Edwards' large banquet menu. Afterward, as usual, came the Annual Dinner program, where first hourly and special achievement awards, then the Ridenour award, were followed by door prize drawings. Everyone went home with something either large or small this year, as you can see from the long list of prize winners.
Award winners this year were Jerry Price, for achieving more than 300 hours of service, and Bob Bennett, for reaching the milestone of over 3,000 hours of volunteer work. The City of Los Angeles recognized those who donated a total of 1,000 hours to the Travel Town Museum; those recipients were Jim Hoffmann, Sue Kientz, Darlene Sexton, and Greg Smith. Those certificates were mailed to them.
Dan Price and Doug Stephens were specially recognized for their steadfast efforts in the last year, specifically, Dan in the herculean track relocation, which took up months of time, not including blood, sweat, and tears, and Doug for his faithful devotion to M.177 and continued monitoring of our interests at Travel Town.
Despite stiff competition in opportunities for SCSRA heroics this past year, the Ridenour Award was presented to the exceptionally well deserving Jeff Barrow. Jeff has not only served hard and well this past year, but for all years. A full-service engineer, M/W Superintendent, Key Control Officer, and keeper of Dan's sanity (if you'll believe such a thing really exists), Jeff has proved time and again to be a leader as well as a doer, in both good times and bad.
Congratulations to all the winners! See, as promised in the printed Headlight, all the photos taken at the dinner (and boy there were a BUNCH!).
DOOR PRIZE
LUCKY WINNER
Vintage Train Pot Holders
Alan Weeks
Caboose pin and Cable Car keychain
Elliot Alper
Pretty pink baby crib design loco planter
Dan Price
(he quickly gave it to Jeff)
Bear engineer stuffed animal donated by Bob Bennett
Tim Riley
Video: Historic Hot Spots, Pasadena, donated by Pentrex
Mike Vitale
Book: The First Transcontinental Railroad
Charles Forsher
Train-themed apron
Kimberly Bennett
Train whistle
Dennis Stephens
Video: From Mt. Lowe with Love, donated by Pentrex
Chris Rippy
Railroad Magazine, July 1946
George Engelage
Faux Limoges locomotive
Mary Jo Hurdle
Train-themed computer paper
Greg Smith
RR crossing signal tie tack
Carol Bennett
Video: Historic Hot Spots, So Calif, donated by Pentrex
Darlene Sexton
Book: Eight Great American Rail Journeys
Jerry Price
Faux Limoges Cable Car
Steve Barrow
SCSRA T-shirt donated by The Price Family
Mike Vitale
Go By Train to Europe timetable
Charity Vitale
Video: Fullerton Railroad Days 2001
Jeff Barrow
Book: High Tech Trains
Joyce Barrow
Faux Limoges locomotive
Doug Stephens
Two 2003 Dinner Certificates donated by SCSRA
Gordon Bachlund
SCSRA Hat donated by The Price Family
Gordon Bachlund
(yes, he paid for two dinners!)
Book: Railroads, the Great American Adventure
Sharon Price
Fullerton Railroad Days Illustrated Envelope, framed
Will Sundquist
Thanks to Pentrex, Bob Bennett, and the Price Family for their donations. Also a big thank you to Gordon Bachlund for arranging the Ridenour plaque.
* * * MEMBERS AND GUESTS ONLY EVENT * * *
SCSRA STEAK FRY
Saturday, August 17, 2002

Fun and Games, 3 p.m., Fry 5 p.m. at
Sue Kientz/Ron Baalke Residence
Bring your favorite steak, hamburger, or hot dogs and we'll cook 'em up for you. Salads and drinks provided.
We'll also screen the excellent 2002 Fullerton Railroad Days video
RSVP by August 13

Hope to see you there!
---
PART FIVE: The Cabooses Don't Stop Coming!
In the previous installment, we read some of the many stories collected by Red Caboose Motel owner Donald M. Denlinger of Soudersburg, PA, relating how guests reacted to his unusual accommodations. But Mr. Denlinger's adventures didn't stop there, as you will read in this final installment:
Widow Caboose Over the Bridge
One day Don Denlinger got a desperate call from a woman whose deceased husband had operated a catering business in a caboose. It seemed she had a caboose sitting on a railroad siding in Gloucester, New Jersey, and would have to pay railroad fines if she did not move it.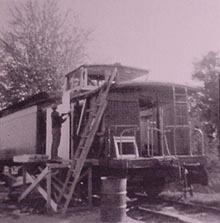 The token price that she asked Denlinger to pay for the caboose was only the start of a sequence of nightmares that would follow.
"We contracted a local mobile home moving company who had a 20-ton crane and six-wheel mobile home trailer, and I drove the three-quarter-ton stake body truck to haul the caboose wheels," Denlinger recalled. The convoy arrived around noon in Gloucester, NJ, and set up the crane to lift the body off its wheels. Denlinger loosened all the brake chains and the crane lifted the body up. The light mobile home trailer backed underneath it. Denlinger asked the mobile home owner if the trailer would hold a 30-foot caboose body, to which he received the confident answer, "Piece of cake. We're used to hauling 50-foot homes on that trailer."
As the weight of the caboose came down on the wheels, the trailer springs flattened out and the shackle bolts sheared off with a bang, putting the entire load on the axles of the trailer.
With that the confident mood of the mobile house mover changed considerably, and he shouted, "I'll be damned if we're going through Philadelphia like we came. We are overweight, over width, and over height. We have only one other choice—go down New Jersey to the Commodore Barry Bridge and cross over into Pennsylvania!"
The crane, trucks, and caboose trailer convoyed through towns and red lights to the approach of the Commodore Barry Bridge. As they approached the bridge toll booths, officers came out and motioned them over for questioning.
"As soon as I heard the officer ask the crane driver for his permits, I knew he would send him up the lead truck and I would be in big trouble," Denlinger remembered.
"I only had time to pray, 'Oh God, direct me out of this impasse.' "Before I could say, 'Amen.' the officer bellowed, 'Where is your paperwork?'"
Denlinger remembers timidly replying, "What paperwork?"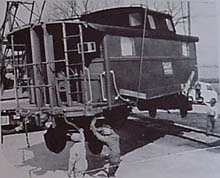 The officer ordered him out of the truck and told him he would not move until he had the permits.
Denlinger said, "I would have rather have been any other place in the world at that moment. I glanced at the other drivers who were all staring at me as though I should be able to pull a rabbit out of my hat or something."
As he and the officer walked back to the cruiser the lawman hollered, "Where in hell do you think you are going without any permits?" And then Denlinger began his last-ditch effort at extracting a little sympathy.
"Officer, we are helping a widow in Gloucester, New Jersey, who was being fined by Jersey Central Railroad, it had to be moved today to the Strasburg Red Caboose Lodge, where coming generations will enjoy her donation.
"We offered to pay the costs of all these drivers and trucks to grant her wish."
Much to Denlinger's surprise the officer stopped, put his hand on Denlinger's shoulder, and said, "Well, I'll be damned! I had my grandchildren up there to sleep in the Red Caboose Motel, and they haven't stopped talking about it yet. How many axles do you have on that caboose trailer?"
The officer divided into the total weight, measured the width and height and confidently said, "You are overweight, over height, and over width. I'll tell you what I'm going to do. I'll have a cruiser lead you over the Commodore Barry Bridge to the Pennsylvania side. Once you are in Pennsylvania and you get stopped, it is your problem.
"Thank you, thank you," Denlinger gratefully told the officer. "You've got a free weekend in the Red Caboose anytime."
Everyone started their trucks and they followed the flashing light over the bridge.
The free caboose arrived in Strasburg before dark, for its final rest, thanks to a special officer on duty that day.
So many railroad widows came to Mr. Denlinger and asked him to buy their husbands' collections because of the fear of advertising and getting taken as a widow. He started out with one half-day consignment auction the first year, which soon turned into four auctions a year, selling one item per minute for 8 hours per auction.
Ill-Fated Bobber
The oldest caboose at the Red Caboose Motel is an 1898 Ma & Pa Maryland Pennsylvania. It was last used on the WaWa and Concordville tourist railroad until 1972 when Hurricane Agnes washed out the tracks and landlocked their rolling stock.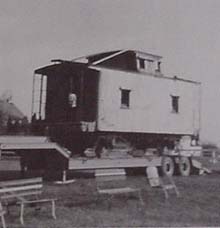 Mr. Torrey, then owner of the WaWa and Concordville railroad, called Don Denlinger about this old 1898 four-wheeled bobber that was in the 1972 flood. Denlinger drove down there the next day and dreamed restoration dreams about the mud-soiled and rotting car. After negotiating a price—as is, where is—in what Denlinger called a state of mind where enthusiasm overrules common sense, he contracted a lowboy driver to go down Route 352, winch it on the truck, and return to the Red Caboose Lodge with it. At least it seemed that easy until they started home. As they proceeded west on Route 1, they came to a low-arch-type bridge and — No way.....
The resourceful truck driver suggested that since it was a wooden caboose they could take out the window sash in the cupola, leaving only the four corners to saw off. They could let the top down inside the body and would be able to get under the bridge.
It sounded like a rational idea since they were running out of daylight. Denlinger later said, "If I would have only known what trauma the next chain of events would bring, I wouldn't have listened to the truck driver. A cupola looks small on top of a caboose, until two guys try to lift it and slide it down inside gracefully.
"It was my crazy idea to go down inside to slow it down when it came. Needless to say, when the truck driver tilted it up, there was no way I could stop the 300 pounds of cupola from crashing down. It pinned me to the floor and put a large gash in my head."
The truck driver lifted the load enough to allow Denlinger to roll out from under the weight. White and very silent, the truck driver disconnected the gooseneck on the lowboy and took Denlinger home in the tractor for medical attention.
The next day wasn't any better. As Denlinger put it, "The next day another horrendous chapter unfolded as we arrived on the scene of the hapless roadside caboose.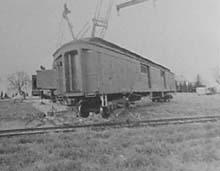 There she sat in the meadow without a truck under her and her wheels sunk to the axles in sod. When we called the trucking company we were told that the truck and driver were scheduled to be on another job that morning, so the driver had to dump the caboose or lose his job."
When Denlinger asked them to send another truck they replied that their equipment was busy for the next three weeks. They got the same answer from other trucking firms all over Chester and Philadelphia. Finally one company said they had a lowboy coming back from a job at three in the afternoon.
"Not having any other choice," Denlinger said, "I said I'll take it, and gave them the location.
"This gave us time to jack our sunken caboose out of the ground. We worked and dug and jacked and finally got all four wheels up on planking. Then we waited and waited."
At 4 p.m. Denlinger finally went to call the company to see if he had been stood up. While he was making the call he heard a tremendous sound outside.
"When I hung up and went out to look, I saw a house-moving truck twice the length we needed," he said. "But this was not the time to be choosey, so the driver and I agreed the only way to get that long trailer into the meadow was to stop traffic on Route 352 both ways and make a wide swing. "I stopped the traffic, and the driver revved the diesel as he crossed the two lanes of the highway, circled and went off the pavement into the meadow. The long trailer, which was still across two lanes of highway, bellied out, the trailer separated from the tractor, and the air hoses popped.
"When that happens, you guessed it," Denlinger continued, "all 12 wheels on the trailer lock!
"By that time the going home traffic was backed up in both directions and I think I got called every name ever cursed by irate man! "The worst cursing came from a musical rock band that had to be in Philadelphia for a banquet in one hour. The lead guitarist was also the leader of the cursing and at one point I thought he was about to take the guitar over my head. They said they would sue me for every blankety-blank thing I had if they missed their engagement.
"Again, I said a little prayer as I walked back to relay the message to the truck driver."
Denlinger noticed a winch on the front of the tractor bumper and asked the driver if they could chain the tractor to a nearby tree and use the bumper winch to drag the locked-up trailer off the road.
"Hell, yes," the driver said to Denlinger with relief at the thought of a way out of this mess.
It was only a matter of minutes until the winch was engaged. The diesel whined and the 12 tires squealed as they were drug along the road.
"I didn't even mind the hand signs, gestures, and blowing horns as traffic started moving past our nightmare," Denlinger remembered.
But the payoff came when the sun set just as they got the caboose loaded and ready to roll and the driver said to Denlinger, "I don't have a permit to transport after dark."
"Lord, have mercy," Denlinger said, "Tomorrow is another day."
SCSRA hopes you enjoyed this fascinating multipart story of the Red Caboose Motel. Visit them on the web at The Red Caboose website
---
by Sue Kientz, outgoing SCSRA President
Changing of the Guard — After three very interesting years, my term as SCSRA president is up. I'm sure you realize "interesting" is the polite word to use. What was described as just a 'figurehead' position (only if the figure you have in mind looks like Munch's "Scream") really became more of a Mr. Toad's Wild Ride. But I am grateful that the association survived the storm, and that I've at least had the pleasure to glimpse the Promised Land as I stood talking to people at Fullerton Railroad Days.
Taking over the helm is Gordon Bachlund, who consequently has resigned as board chairman. Gordon will appoint a new board chair by next meeting in October. This seems a little like Deja Vu, but I must again say I'm a little sad to see Gordon leave the chair position, since I have such fond memories of many years hearing him call the meetings. Gordon, I wish you the best of luck for the next three years. I know all associates join me in giving you our full support.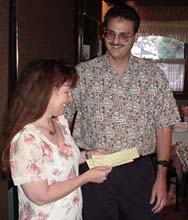 SCSRA Now Debt Free — One brief but powerful moment at the Annual Dinner was when Treasurer Mike Vitale handed out checks which paid several outstanding purchases, and lastly, the remaining loan note that was held by me for $1,500. This was loaned to SCSRA previous to my becoming president, when I was just a lowly newsletter editor (not even a board director!). Then Mike ceremoniously announced that SCSRA was now officially debt-free. What an accomplishment! After all the troubles, to end on that high-note was really a thrill indeed. I owe great thanks to Mike Vitale for all the careful work he has performed on our finances. Without him, we would be in a pickle indeed!
Questionnaire Delayed — I have been remiss in not mentioning in previous issues that the generous offer by associate Paul Nelson to conduct an associates survey was put on the back burner late last year, when it became obvious that we didn't really have a choice about keeping track materials at Travel Town or working on the Zoo Railroad — neither was going to happen at all. So asking the associateship "what do you think" about these key issues became moot. However, Paul is still offering to conduct the survey as late as this fall. The board is considering what questions we might ask, and so the questionnaire may still come your way before too much longer. Thank you to Paul for your generous offer, and for your patience.
---
The July 2002 Movie Night that SCSRA/FRPA members and their guests enjoyed recently featured Money Train, released in 1995 in multiple sound formats including SDDS (Sony Dynamic Digital Sound). We decided to run the film using the SDDS digital format to afford our viewers the full digital sound experience.
This was an ambitious undertaking, since obtaining and running the SDDS equipment is no small feat. But that's true of all SCSRA's movie nights, since each time the equipment required for the show must be brought together in one place, assembled and tested, then trucked to the performance venue (in this case Sue Kientz's large garage), and reassembled and "tuned up," all just a few hours before showtime. In case you are interested in exactly what it takes to put together such a special screening, here is the story of our last "Movie Nite."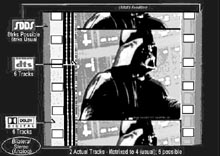 First, it may help to explain what the SDDS sound format is all about. SDDS is a Sony proprietary digital sound recording system that uses the outer edges of the 35mm film for multiple digital tracks that are recorded optically. The playback equipment comprises a "penthouse" sound reader (meaning the reader stands at the very top of the projector assembly, in movie business techno-speak) that scans these tracks using LED light sources and video digital readers. The sound readers feed a special digital processor that "translates" the digital tracks into multiple analog sound channels that are then amplified and fed to multiple speakers behind the screen and around the theatre auditorium.
Most major motion pictures today are released with the traditional optical analog stereo sound track, a time code for DTS (Digital Theatre Sound - a system that uses a separate CD synched to the movie action to provide digital stereo sound), Dolby digital, and Sony SDDS digital, the latter being the most advanced and arguably the most expensive. The illustration above shows how these tracks are integrated onto the film.
When we decided to put together the equipment to screen Money Train, Tim Dulin and I contacted Max Reynolds, a cinema equipment dealer and contractor in Oceanside, CA, who kindly loaned us an SDDS reader and processor especially for this screening.
Three weeks before the scheduled event, we spliced all 6 reels of our 35mm print of Money Train together and placed them on a single 12,000' reel (about 48" in diameter).
Two weeks before, Tim assembled the SDDS processor into our portable sound rack, and made the interconnecting cables "from scratch." The SDDS processor was set up to feed an RCA audio-video receiver containing all required amplifiers for the multi-channel sound system. While this unit is designed for home DVD theatre use, it is equally suitable for small film theatre use.
On the Saturday before the screening, we took the heavy and bulky long-playing pedestal (the Eprad "Sword," as it is called) from storage to my shop, where we fitted a newly acquired Ballantyne PRO 35 projector head and a Ballantyne optical sound head to it. (If a problem develops in the digital sound equipment, the sound automatically defaults to optical stereo so no one in the audience misses any of the sound track.) Tim fitted the SDDS penthouse sound reader atop the projector head, and aligned all units.
Then, Tim serviced the long-playing pedestal and set up the film guidance rollers that would carry the film from the 48" supply reel on one side, over and down through the penthouse digital sound reader, the projector head and the basement optical sound reader, and then on to the 48" take-up reel on the other side. After connecting all the components with power and control wiring, we threaded up the 12,000' reel containing Money Train and ran it completely through the system to test its operation and make sure there would be no unexpected surprises. Then Tim installed the xenon lamphouse and power supply on the pedestal and connected these components.
The following (Sunday) morning, I re-wound Money Train and collected the cartoon and trailers for further "building up" of the film program later the following week.
The Saturday of the actual showing, Tim added the cartoon and trailers to the 12,000' reel, and, with help from Jim Hoffmann, we loaded everything onto my truck and Jim's and went to Sue Kientz's house to set up the equipment. A few weeks earlier I had reserved a rental screen from an audio-visual firm in Costa Mesa which Jim had picked up the preceding Friday afternoon.
The actual set up at Sue's house included Jim preparing new speaker cables for the multi-channel speakers, erecting the "fast fold" screen, placing the speakers and speaker wiring, and Tim aligning the lamphouse and projector, fitting new aperture plates to the projector and fine tuning the projection lenses (one "flat" for the cartoon and trailers, and one "scope" for the feature) using a picture alignment test films. Then, he assembled the components of the sound system, and "tuned" the sound system's optical and digital components using loops of various sound and alignment test films and a complex array of test equipment including a real time analyzer, an oscilloscope and a sound level pressure meter. This latter activity took a bit longer than expected since the work Tim had to do was essentially what is done in a real movie theatre when a new equipment installation is made, so our show began a bit late, and a minor sound glitch at the beginning had to be resolved. However, once everything was up and running, the sound and picture quality were just about all that we expected, and well worth the extra effort.
Following the screening, with additional help from Dan Price, Jeff Barrow and Jerry Price, we disassembled the equipment and loaded it back onto my truck and Jim's and went back to my house where we unloaded everything. The next day, we dismounted the borrowed Sony equipment so Tim could return it to Max, and we broke down the film program. And, on Monday, Jim returned the rental screen.
All together, between Tim, the writer and Jim, we invested over 60 hours to bring this show to the screen. I think you'll have to agree it's a little more complicated than turning on the TV!
As you can see, the whole process of staging one of our monthly "Movie Nites" is very complex. For just this reason, the SCSRA has been looking for some place, hopefully a theater or facility around Fullerton, where we can set up all the needed equipment a few days in advance, or have the projector already in place. If any readers here have a suggestion or lead on such a venue, please contact Gordon Bachlund.
NOTICE
The Headlight regrets that certain references to former SCSRA associate Bryan Reese, made in the Spring and Winter 2001 issues, may have been interpreted as calling into question his professional competency.
We at the SCSRA have always granted that Bryan was a valued member of our group, and when he left this organization we all expressed dismay, both in the Headlight and to him personally, that he chose to leave the M.177 project and SCSRA. Be it hereby noted that Bryan Reese is a professional railroader, and in his entire tenure as M.177 Project Manager in all cases he discharged his duties with professionalism, integrity, and the best possible judgment. SCSRA regrets if anyone was led to believe otherwise by anything that appeared in the Headlight.
By Tim Riley, Safety Officer
Fullerton Railroad Days — As most of you who attended already know, Fullerton Railroad Days proved to be a big encouragement for the future of the SCSRA. As Safety Officer, one primary responsibility and concern is to address Fire, Life, and Safety issues for all persons involved with SCSRA events/activities, ensuring that even though functions of the association are fun, they remain as safe as possible for everybody. This was a major event and a new step in a positive direction for the association that yielded the possibility of lots and lots of unknowns. Therefore under the direction of Gordon Bachlund, I volunteered to head up overnight security for our booth which I felt went along with the responsibilities of the Safety Officer.
As most of you already know, Security is my "Real Job" with responsibilities that parallel those required of me as the associations Safety Officer. Therefore I was able to apply my "real life" experience in dealing with Security, Fire, Life and Safety issues at these types of events and use them to better serve this new area for the SCSRA.
On Gordon's departure on Saturday evening, he bestowed on me the level of Dispatcher and left me in charge the keys to the displays, all materials belonging to the association and its members at the event, several radios, and several willing victims including Dan Price, Jeff Barrow, Annette Sevigny, and Darlene Sexton. With the help of Sue Kientz, we got permission to use the bunk inside George's caboose parked on a siding at the train station for rotating naps throughout the night. I assumed responsibilities before the actual closing of the event so the crew as able to get dinner and perform last minute errands before crew call actually took place.
On completion of the event of Saturday evening, crew call commenced and a basic plan of action was put in place. There were a total of five crew members on site. It was agreed that for safety, during the first part of the evening until everything quieted down, three crew members would always remain on duty and two would remain off duty. Once everything was quiet for the night, there would be a rotation of two crew members on duty while two were off duty; one would remain "on call" (me) in case needed for an emergency situation.
Our first tasks were to survey our coverage area which initially consisted of the SCSRA Booth displays, the caboose, and locomotive, and to introduce ourselves to other event participants who would remain on site throughout the evening. As the evening progressed and other event participants departed for the evening, I was asked by several vendors if we could keep an eye on their displays. I agreed to be of assistance and updated our crewmembers of the increased responsibility. To make a long story short, the only two groups who remained overnight were the SCSRA and the Boy Scouts.
By about 8:30 p.m., word of our willingness to watch several booths had spread and I was introduced to the Fullerton RR Days event coordinators. I was advised that Fullerton Police would be stationing a police officer on site later in the evening and that our crew should introduce ourselves to that officer. After discussion of Security and Safety ideas for next year's event such as identifications for persons staying overnight, the Fullerton RR Days event coordinators departed the site. At about 11 p.m., Fullerton PD arrived on site and we made introductions and a short briefing was conducted. The Fullerton Police Officer was stationed at the southeast perimeter and our crew was stationed at the northwest perimeter. Inside the SCSRA Booth was our established headquarters with all parties involved rotating patrols of the event area ensuring everything was safe and secure. By 4 a.m., the caboose bunk was being put to good use along with chairs in the SCSRA Booth. Event participants started arriving about 6:30 a.m. and our assignment ended by 8 a.m. with no incidents to report other than requesting a few neighborhood kids to leave the site.
It was a long and boring evening for those associates involved but they did an outstanding job providing Security and Safety. I'm sure that it's appreciated by both the Fullerton RR Days event coordinators and by all vendors who were able to get a good night's sleep just by knowing we were there. We met a lot of interesting and friendly people, our efforts served as good publicity for SCSRA, and again we were able to provide a safe environment for the association.
Track Materials Move — As most of us already know, these last several quarters have been very stressful for both the SCSRA Board of Directors and active SCSRA associates. High stress levels with deadlines to meet and high levels of fatigue can normally lead to situations where unsafe work practices can become a normal occurrence. With the materials relocation from Travel Town to their new found home in Fullerton on such a tight timeline, I am happy to report that as always, there have been no injuries or serious safety issues that need to be addressed at this time. All persons involved with the track materials move performed at a level exceeding 110%, maintaining safe work ethics and, most importantly, safely getting the job done with near impossible deadlines.
There were a few situations where mechanical safety issues with rented equipment crept up on active associates such as a leaking master cylinder on a reach-all forklift. With the proper safety checks that are required to be conducted on all equipment before and during its operation, the problem was discovered and a mechanic was able to repair the equipment before operation of the equipment resumed.
There was another incident when a City of Los Angeles Employee ignored proper safety precautions and entered a barricaded work area. The area was barricaded and an associate posted at the barricade because there where heavy and bulky items being lifted and moved. The city employee was not wearing proper safety gear and ignored instructions from the SCSRA associate telling the City employee to stop because the forklift operator was unable to see them.
This situation did temporarily create unsafe work environment for both the city employee and the associates involved with the movement of materials. Thanks to proper instructions, supervision and previous operations training, the SCSRA associate was able maintain the safe work environment by advising the forklift operator to stop movement before the city employee's safety was further compromised.
I would like to thank all associates involved with the track move for following association safety guidelines and for wearing appropriate safety gear such as hard hats, gloves, safety glasses, and proper footwear during the duration of the track materials move. Because of the safe work ethics of all persons involved, a safe work environment was maintained.
---
DOODLEBUG NOTES
by Gordon Bachlund, Chief Mechanical Officer
Due to mandates from the City for the removal of personal tools and property of associates from the Museum premises, Doug Stephens led a massive effort to clean out the Shop Building and boxcar, and transfer into the M.177 the SCSRA tools needed for continuing work. In addition, he packaged Mechanical Department supplies not germane to the M.177 so that they could be relocated to Fullerton. With the help of Sue Kientz, George Engelage, Dan Price, Jeff Barrow, Jeff Pippenger and the writer, these supplies have been successfully relocated.

With the imminent start of Train Shed construction, access to the M.177 may be restricted. Only time will tell what level of effort we can maintain during the coming months.
---
Editorial by Sue Kientz
A few months ago, one of our associates visited the Los Angeles Live Steamers. While commenting on the wonderful track displays and how beautifully they wound through the property, the associate bemoaned the fact that much would have to be moved to allow passage of the Zoo Railroad. "Oh no, that's not happening," the LALS docent said. Our associate then pointed at the hole in the fence and the unfinished track pointed their way. "Oh, they're going to have to take all that up," was the reply.

It wouldn't be the first time that a park visitor was told something incorrect, but what's curious about this is, we've now heard that ASRA was recently told that the City has decided to abandon the Zoo Railroad, citing the "infeasibility" of the project. ASRA's board even voted to "accept" this decision (like they had a choice). Suddenly that LALS docent doesn't look so stupid anymore. In fact, perhaps this is finally the real reason that SCSRA has been slowly forced out of its longtime home at Travel Town.

The City denies there has been any change in the status of the Zoo Railroad, but for once, all the events of the last two years make sense. Why else would they want to get rid of an 80-member organization that was funding and staffing Museum projects? How long, I wonder, were the Zoo Railroad plans known to be "infeasible"?

Perhaps as long ago as mid-2000. I say that because around that time, another associate approached then LA Parks Commission President Steven Soboroff at a political fund-raiser and was brusquely told "the Zoo Railroad will never be built." How did he know that way back then? And if it's true, why weren't we told? Maybe because Travel Town wanted our train rides to continue fully staffed all the way up to Train Shed construction, and wanted us to make sure we paid off the M.177 engine loan. (No Zoo Railroad, no need for M.177's engine!) If true, they knew they weren't going to need all that track material we collected — in fact, no wonder they didn't fight more for it. Even as Linda insisted the material stay at Travel Town, when we offered her 2/3 of it, she said, "Take it all." Now that finally makes sense. We cleaned their yard for them!

Or maybe they didn't worry about losing SCSRA support. Maybe there was another reason they kept such information to themselves. They didn't need all of us, surely didn't want those who'd feel betrayed when they canned the Zoo RR. But they would want to keep some "key" volunteers. Why not start a subtle "annoyance" campaign. Drop little irritants here and there, stir up dissension inside SCSRA, and then gently peel off those volunteers deemed valuable, promise them positions, get them totally alienated from the rest. Once the cat was out of the bag, they could be sure those poor souls wouldn't join back up with their former friends, no matter what we found to do. Their bridges would be burned. It would be too embarrassing.

Whatever the truth is, time will reveal. But if the above is true, how sad. M.177 will have nowhere to go now.
---
CHAIRMAN'S MESSAGE
by Gordon Bachlund, SCSRA Board Chairman
As you have read elsewhere, we had both a booth and an equipment display at FRPA's Fourth Annual Railroad Days celebration in Fullerton on May 4 and 5. This marks our first major event in collaboration with the FRPA, and the beginning of an exciting new chapter in the history of the SCSRA!

The Booth — The writer served as "booth chairman" and, with the help of a great team of volunteers, our booth was very impressive, complete with a display of railroad artifacts. As you will see from the photos, we did a museum-quality mock-up of the M.177's end to showcase a display of AT&SF rear markers and our "Little Ranger" drumhead, all lighted. In addition, we exhibited posters of movies featuring trains, M.177 photos and other train-related photos, and numerous smaller artifacts including railroad watches, rule books, timetables, lanterns, lamps, etc. The spectacular M/W display, designed by Dan Price and Jeff Barrow and situated along the exterior west wall of the booth, drew considerable attention with its working crossing signal, and the southeast corner of the booth was punctuated by a switchstand with a special target sporting the SCSRA logo.

The Railroad Equipment Display — The equipment displayed, through the kindness of Director George Engelage, included an extended vision caboose and a diesel-electric locomotive, both from Coast Rail Services, that bore SCSRA signage and banners, and alluded to the upcoming demonstration railroad operation at Fullerton. It goes without saying that caboose tours were provided, and proved very popular.

It Takes People — The people who made this event come alive worked on and coordinated displays, prepared exhibits, loaned artifacts (including really big ones like the aforementioned caboose and locomotive!), set up and tore down the booth and displays, staffed the booth, provided administrative support, provided security, and a host of other endless duties, and included Elliott Alper, Jeff Barrow, Tim Dulin, George Engelage, Charles Forsher, Tom Graham, Jim Hoffmann, Dan Price, Sue Kientz, Tim Riley, Annette Sevigny, Darlene Sexton, Greg Smith, Dennis Stephens, Doug Stephens, Tim Riley, Jim Vicars, Mike Vitale, and Alan Weeks. In addition, several members visited our booth at length to show their support, including Brian Moore, Mary Jo Hurdle, Jerry and Sharon Price, and Jim Vicars.

In closing, I would like to thank, from the bottom of my heart, these unselfish and talented members of the SCSRA family!
---
ASSOCIATE NEWS
Mike Vitale and Charity Lawrence were married on June 22. SCSRA associates extended in-person congratulations and best wishes at the Annual Dinner, where despite all the wedding preparations they still managed to attend!

Sue Kientz was hospitalized briefly in late June after having surgery to remove a (luckily) benign growth. She's nearly back in action, slowly but surely.
---
---
THE HEADLIGHT
is published quarterly at Los Angeles, California, and is the official publication of
THE SOUTHERN CALIFORNIA SCENIC RAILWAY ASSOCIATION, INC.
P.O. Box 39727, Griffith Station, Los Angeles, CA 90039-0727
(323) 667-1423 and via the World Wide Web at http://www.scsra.org/
A California Nonprofit Public Benefit Corporation, Incorporated January 4, 1984
IRS Tax Exemption No. 95-3947766

Any article or feature published in The Headlight may be reprinted in whole or in part provided that proper credit is given the source.
---
BOARD OF DIRECTORS
Chair, (Acting) Sue Kientz (July 2005)
Members,

Gordon Bachlund (January 2007)
George Engelage (July 2006)
Ted McConville (January 2005)
Jerry Price (July 2005)
Jim Vicars (January 2006)

CORPORATE OFFICERS
President, Gordon Bachlund (July 2005)
Secretary, Greg Smith (July 2004)
Treasurer, Mike Vitale (July 2003)
APPOINTED OFFICERS
Vice President, Museum Relations, Sue Kientz

APPOINTED SUPERINTENDENTS AND MANAGERS
General Superintendent, Jerry Price
Chief Mechanical Officer, Gordon Bachlund
Mechanical Superintendent, vacant


Asst. Supt., Gas & Diesel Locos, vacant
Asst. Supt., Steam Locomotives, vacant
Asst. Supt., M.177 Project, Doug Stephens
Asst. Supt., Electrical/Communication, Jim Vicars


Operating Superintendent, Jim Hoffmann


Asst. Superintendents, Darlene Sexton, Jim Vicars
Chief Instructor, Gordon Bachlund (acting)
Rules Examiner, Alan Weeks
Instructors, Darlene Secton, Tim Riley, Dan Price, Jeff Barrow

Maintenance of Way Superintendent, Jeff Barrow
Co-Maintenance of Way Superintendent, Dan Price
Motor Vehicles Manager, Tim Riley
Assistant Treasurers, Jim Vicars, Tom Graham
Safety Officer, Tim Riley
Fund Raising Manager, vacant
Historian/Archivist/Library Manager, Jim Vicars
Historical Research, Mary Jo Hurdle
Merchandise Sales Manager, vacant
Public Relations Manager, vacant
Publications Manager, Sue Kientz
Dining/Hotel/Commissary Manager, vacant
Key Control Officer, Jeff Barrow
Recycling Manager, Alan Weeks
Acquisitions and Inventory Team, Dan Price (lead), Jeff Barrow, Don Schuster, Darlene Sexton
Community Service Coordinator, Darlene Sexton
Webmasters, Sue Kientz, Ted McConville
Website Design, Sue Kientz
Associates with inquiries regarding project work schedules
may contact any of the above by leaving a message at (323) 667-1423.

---
Questions and comments to Sue Kientz, SCSRA Publications Manager