The Headlight
---
Southern California Scenic Railway Association, Inc.
Serving the Travel Town Museum and the Crystal Springs and Cahuenga Valley Railroad
Volume 12, Number 2............................................................................Summer 1997
---
---
By Bryan Reese, M.177 Project Manager
Details, details . . . much of the activity of this quarter has centered on details. Why, you may ask? We continue to be in something of a state of limbo regarding the Winton Engine. I have received several notes to guarantee the debt we owe to the engine rebuilder, but as of this writing, not enough to cover the necessary $26,500 we owe.
Consequently, this has put us into a position that we haven't seen for some time. We have had ample volunteer labor, but fall short on funding.
A very noteworthy accomplishment was the assembly and testing of the radiator shells by Greg Ramsey. Four of the six have been remounted on the roof. The radiators cooling fans, which were rebuilt several years ago, were reinstalled back in place in the air intake plenum above the engine room. This was accomplished using a genuine U.S. Navy portable bomb hoist.
Along with the radiators were mounted the headlight, horn, and related rooftop hardware. The forward windows received the proper trim molding, and the engineer's and fireman's side windows have been rehabbed and reinstalled. Lube oil and coolant piping inside the engine room has also been in the works.
Those volunteers who made it happen this quarter include Alan Weeks, Greg Ramsey, Jim Vicars, Doug Stephens, Brian Moore, Thomas Seal, Dan Price, Ed Sikora, Charles Forsher, Scott Muir, Steve DeVorkin, Mike Sharpe, John Daum, Chris Rippy, Tom Graham, and Gordon Bachlund. Special thanks to Joe Barilari and Jeff Pippinger for securing the services of the extra-large backhoe for lifting the radiators.
On the night of the Associate's Dinner, the Charley Atkins locomotive was coupled to the rear of the motorcar, and with the headlights and class lights lit, rides were given. Extra thanks to Charles Forsher for his extensive interior cleaning of the car.
Regular readers may be wondering about the paint on the roof. As was reported previously, the polyurethane top coat suffered premature failure and started peeling just weeks after application. Subsequent research has yielded a different product for the roof which the manufacturer claims won't be subject to this problem, provided the old paint is removed completely. The small flat roof section over the engine room was prepped according to these instructions, and the new product applied prior to the installation of the radiators. We will be watching this test area carefully over the next few months, and the hope is that it will perform satisfactorily. If it does, the rest of the roof will be sprayed.
Should you or anyone you know be interested in helping either with a donation to M.177 or guaranteeing the debt, please let me or any of the other association officers know
---
By Gordon Bachlund, SCSRA Board Chairman
At its regular meeting on June 17, 1997, the Board of Directors elected new corporate officers as follows:
President - Greg Ramsey
Secretary - Greg Smith
Chief Financial Officer - Tom Graham
These "new kids on the block" will serve until June 1999, and we wish them well in their new offices.
We are grateful to outgoing President Jim Hoffmann, outgoing Secretary Tom Pyle, and outgoing CFO Jim Vicars for two years of dedicated leadership in service to the association.
---
By Albert J. Di Paolo, Assistant Mechanical Superintendent, Steam
First off I'd like to congratulate the winner of two tickets to Disneyland, Travel Town's Patrick Alonzo.
Our current project is the Santa Maria Valley 1000. Lubrication is progressing well with all of the soft grease lube points being greased. A quick look at the cellar boxes revealed that they are of the oil type and will be needing some attention. In order to facilitate lubricating the rods with our alemite gun, I removed the chain-link fence surrounding the running gear. It seems that the most work will involve repacking the trailing truck journal boxes as they are of the Cole type and have been "serviced" with sand by years of caring children.
As always, when working on these engines I like playing "amazing discoveries." As mentioned in a previous article, this engine was built in 1920 by American Locomotive Co. (ALCO). Being a student of Baldwin engines, I'm always trying to learn more about the other manufacturers of locomotives and how they built their wares. This engine has some unique features that I'd never seen before and I will share them here as I discover them.
Starting in the cab, the most noticeable feature is that the throttle rod is located off center on the backhead. Could this mean that the throttle valve is off center in the steam dome? Why? My guess is that there is some unusual staying or bracing in the boiler that was in the way. Only a look inside will tell. I also noticed that the Hancock Inspirator on the fireman's side was added later and did not come as original equipment (OEM). A trained eye (no pun intended) will notice the hole in the front of the cab where the original injector and its associated plumbing were mounted.
Probably the most interesting features of the 1000 are the flag stanchions on the pilot beam. As most of us know, these were used to mount the classification flags should the engine be working as an extra or if a second section of the same train was to follow. What is so noteworthy of these is that they are made by the Pyle National Co. (of railway lighting fame). In addition to having a mounting hole for a flag, they also had a slot for supporting a class lamp. But that's not all - should that lamp be electric, an electrical outlet is located in the back of the stanchion.
There is still more work to be done, and I will be at the park on the first Saturday of every month. Feel free to join in!
---
By James G. Hoffmann, SCSRA President
As I reflect back on my two years at the helm of this organization, I cannot help but think that, on the surface, it looks as if we have made little progress. The M.177 still isn't running under its own power, the Zoo railroad still hasn't made it off the property (or even past the little railroad), the collection still doesn't have a roof over it, and so on. But progress can be noted in numerous other ways.
M.177's engine rebuild is virtually complete and needs only an infusion of $$ to get it back. Its cab end once more wears its striking red-and-yellow "gull-wing" design. And it's once again capable of operating and carrying passengers, even if not under its own power.
"Our Gang" spent many hours putting in a new display track on the north side of Travel Town, which makes room for other projects and provides an attractive grouping of some of the displays. Included in this project is a working standard-gauge "stub" switch, a most unusual bird, indeed. Acquitting, moving, sorting, and storing track and signal parts from MTA's former Santa Fe Pasadena Subdivision occupied many, many laborious hours.
Speaking of signals, our demonstration railroad can boast a "Searchlight" block signal at end of track, which Gordon calls our "votive light" against the day we can go past it towards the Zoo. And we have two generations of crossing warning signals in use: bells, flashers, and gates at pedestrian crossing and a vintage "Mechanical Flagman" at the vehicle crossing which works off a track circuit!
The Crystal Springs & Cahuenga Valley #1, aka Charley Atkins' No.1, engine rebuild is near completion. Its sanders were repaired and now work. And its wheels were trued to an acceptable contour using abrasive brake shoes. California Western #56, the Baldwin RS1200, now has an operable auxiliary generator thanks to a generous donation from its late sister at Fort Bragg.
The instruction program is now in full gear, with training material being developed and new operators being qualified on all levels. We now operate using a timetable, which prepares us for the day when we will operate more than one train. In the past year we carried near-record levels of passengers and received a record amount of donations.
We have embarked upon a new venture providing crossing signals and other "props" for movie and video shoots. To enable us to better serve the industry and protect ourselves in the process, we have created a new position of Commercial Use Manager, and appointed Steve DeVorkin to fill this position. His knowledge of the movie industry will be of invaluable help to us.
One of the most important functions of any museum is the timely and attractive presentation of news to its membership. Our Associates are fortunate to receive two quarterly newsletters:The Green Eye, published by Linda Barth and the staff at Parks & Recreation, and The Headlight. I can say without hesitation that I would compare The Headlight favorably to just about any other museum's publications. It always features interesting and well-written articles, photographs, and information. In addition, it is an honest publication: if we "stub our toe" our readers know about it. It is with great pleasure, therefore, that I award the 1997 Clarence Ridenour Award for dedicated service to Sue Kientz, our editor. Way to go, Sue!
Despite the obvious disappointment in the perceived lack of progress of "big ticket" projects, I feel more than compensated by pride in the many jobs that go into a successful preservation and restoration effort. Let me conclude by saying that it has been my pleasure to serve the past two years as your president. I only regret that my duties as manager (and staff of one) of a busy performing arts center have precluded my taking a more active role at Travel Town. I wish my successor all the best, and hope that his tenure is even more eventful and exciting than mine has been.
---
M.177 Operating History
By Mary Jo Hurdle, Historical Research Associate
This seventeenth report of the research efforts covers the spring quarter 1997.
Mrs. Gracie McClung (Winfield, KS) is a cousin of Ward O'Neil, who visited Travel Town in late 1996, and who was kind enough to refer us to other motorcar passengers. Mrs. McClung writes of making a number of trips to Wichita during the 1940's, when gasoline was rationed. A friend who was a teacher in Dodge City would meet her in Wichita, and they would spend the weekend shopping, eating, and going to movies. In 1942 she and her sister took the train to Topeka and spent time touring the Capitol. On their way home the train was pretty well filled with service men. "I remember that two of the fellows asked me to share their seat with them as it was 'standing room only."'
Another time she rode to Independence KS. She remembers that the train stopped at every little station and picked up milk cans and other freight.
"My father came to Kansas in 1880 and their farm joined the Southern Kansas and Missouri Pacific lines. He so loved the trains and the section crews that maintained the lines. When the Walnut River around Winfield flooded, the trains had to be rescheduled and would come into Winfield from the west on the South Kansas tracks. My father would so enjoy having mainline trains going by their farm. I recall this happening in 1944 when tracks north of Winfield washed out."
---
By Steve DeVorkin, Public Relations Manager
We are high-balling ahead with the fund rasing effort. Color pictures of the M.177 with its restored pilot will be taken shortly. Then these pictures will be used to inspire railroad minded persons to give us gobs of money. But before that happens some generous individuals will have signed promissory notes to Globe Bearing so we might get the Winton engine out of hock. Once this happens and the engine is delivered, there are all sorts of plans for the return of this prodigal "infernal" combustion engine to be used as publicity of our fine volunteer efforts here at Travel Town.
Work on the epic SCSRA safety video trudges ahead. Filming has been completed and Jim Hoffman has agreed to do the voice-over narration, and once that is done, I hope to have the piece edited and then we can show it to all volunteers and keep our spotless safety record intact. We of course will also show it on the kiosk to the general public.
We are in a holding pattern somewhat until we are able to announce any future plans for the Zoo Railroad. Then there should be scads of chances to fill the public eye with images of our fine organization. We always need to get the word out and have new blood coming into this organization. Some of us suffer from tired blood, so if that is your problem, come by and swing a spike maul or do some other useful thing and get that blood moving.
Keep those cards and letters coming in, folks, with ideas on how to promote the association with the general public. As always, you can reach me at (213) 897-0336 (days) or you can E me
---
By Gordon Bachlund, Mechanical Superintendent
Cabeese - The recovering of the center aisle floor in AT&SF 999110 is nearing completion. Most of the linoleum has been cemented over the newly leveled floor, and aluminum trim strips have been installed. Thanks to Thomas Seal and Scott Muir for keeping this project moving.
The radio in SP 4049 received a bit more receiver servicing, and is working well thanks to the ministrations of Jim Vicars. Jim also serviced the batteries on both crummies and provided equalizing charges, having replaced the alligator clips on the DC leads of the portable charger. Why don't they call them crocodile clips? Anyone?
Buildings and Equipment - With the seasonal rains and winds came the usual fallen leaves and branches, and in the last issue I wondered who would help with the cleanup. Now, I am pleased to report, Charles Forsher came forth to lead the attack, with help from Doug Stephens and Brian Moore who trundled dumpsters back and forth in support. On May 31, a group of boys from the Del Haven Community Center pitched in.
M/W News - Much activity during the quarter was devoted to the dump truck's continuing metamorphosis, this time with the addition of a tail gate which Joe Barilari fabricated from scratch. The truck then saw service bringing fill dirt to the signal storage area to correct a long-standing low spot. This fill and some loads of ballast were spread, compacted, and bladed flat. Final finish grading remains to be done.
On the Track 6 to 7 Crossover, most ties have been placed and some rail set, which now awaits spiking. Little progress can be reported here since Our Gang was understaffed during the quarter, but some good news can be reported. The City has entered into a purchase agreement with Omni Products for rubber crossing material for the three tracks that cross the main pedestrian walkway, and necessary field measurements have been made by Tom Graham and provided to the vendor.
At the Annual Dinner a problem with the track car setout was noted. The north end of the setout track had risen nearly three inches during the past months, thereby impeding traffic on the Connecting (operating) Track. Ed Sikora put together a "tiger team" the following week who skeletonized the north end, and then elevated the south end, thereby lowering the north-end railheads to the same level as the Connecting Track railhead. The job was completed by placing ballast and tamping.
We are grateful to Ed, Dan Price, John Daum, Margaret Daum, Mike McDonough, Doug Stephens and Thomas Seal for the quick setout track fix, and to Dan, Brian Moore, Jeff Pippenger, Jeff Barrow, Charles Forsher and our newest Maintenance of Way volunteers, Ben Coombs and his son William, for keeping the crossover project and the signal storage area project moving along. Thanks, Gang!
NEWSFLASH! I am happy to report the arrival of some key equipment we have been waiting on for some time. At the June board meeting, we were met inside the Pennsy diner by two large boxes on the table. Our pneumatic spike drivers are in! As Greg so aptly put it, Boy, are they heavy! This should be good news for the aforementioned rails awaiting spiking.
Also, on Saturday, July 12, we arrived in the Travel Town yard to find three large palettes had been delivered. They contained the rubberized crossing material for the track crossings at the pedestrian walkway. They now sit, eagerly waiting to be installed. Hint, hint!!
---
Photos by Charles Forsher
Courtesy of associate Al DiPaolo, M.177 got a loaner bell for our fundraising motorcar shoot. The bell is from a late 1800s Baldwin locomotive/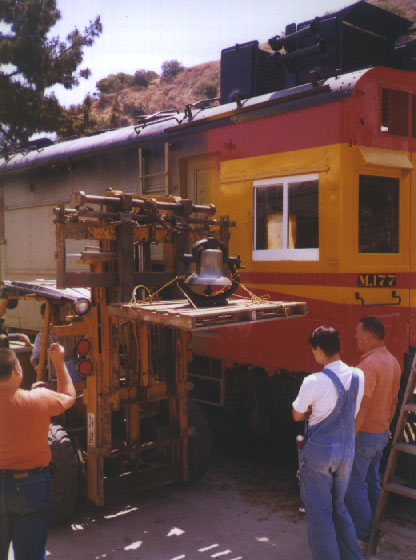 Dan Price, Doug Stevens, and Gordon Bachlund supervise the mounting,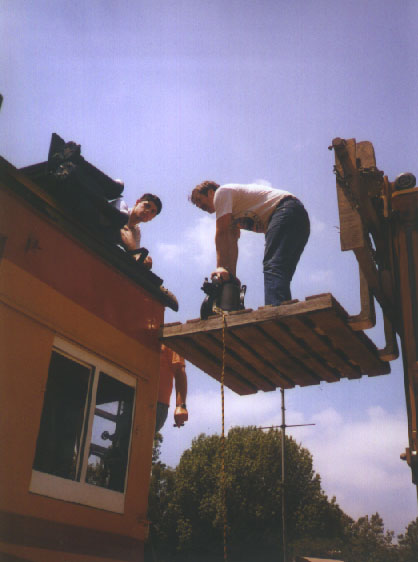 Brian Moore the lifting,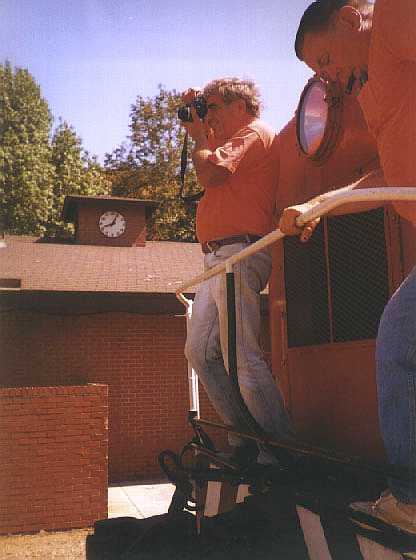 Ed Sikora the (photo) shooting, from the front of Charley Atkins as Gordon looks on,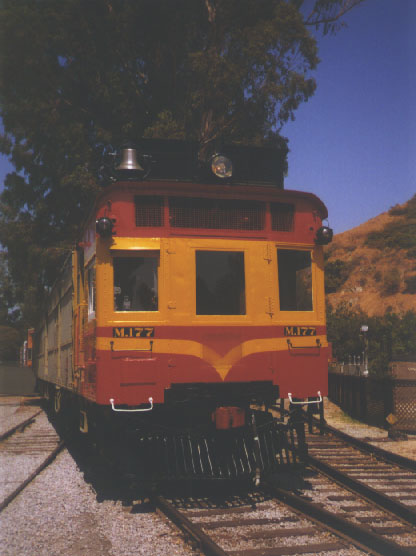 And here's the finished product! Ring a ding ding!
---
By Greg Ramsey, Assistant Mechanical Superintendent, Diesel
This installment is going to sound like a broken record, but other than the next paragraph, I did not just copy it over.
As I mentioned last issue, Charley's #1 engine was not going to be finished by the end of the school semester, so there was a shutdown of work over the summer break. As of this writing, the engine is complete to the short block stage. We are essentially only waiting for the head.
To remind you of where we are, the engine's original head was not repairable, and though we were offered a few used replacement heads, none of them were usable either. Since we had not budgeted for a brand new head (approximately $1,000), I was asked to delay the overhaul to spread the expense out as far as I can. I will purchase a new head in time for the fall semester in September.
Back at the park, the Diesel Shop is continuing to put all elective diesel projects on hold while we continue to reassemble the M.177's engine room. Bryan will tell you more, but we have finished assembling all the radiators and installed 4 of them on the roof thanks to a LARGE excavator supplied by Jeff Pippenger and Joe Barilari. We have also painted and installed one of the jacket water manifolds connecting the expansion tank and the radiators.
During routine inspections, Doug Stephens did discover another fuel leak with Charley's #2 engine. This time it was in the engine compartment, emanating from the fuel oil filter housing. He and Chris Rippy made quick work of it. The replacement PulseTech battery maintenance units were installed by Jim Vicars in both Charley and the Baldwin and he continued the routine servicing of the batteries and the electrical systems.
Staffing the Diesel Shop this quarter in addition to the above included Gordon Bachlund, Alan Weeks, and Gregory Ramsey II.
As always, I can be reached at home (805-483-1552), work (805-982-9720), or via the Internet).
---
By Gordon Bachlund
Saturday, June 7, dawned with overcast skies and worrisome predictions of showers, but that did not dampen the enthusiasm of a corps of dedicated volunteers who were busy readying the M.177 for a debut of sorts. With her front newly painted, radiators, and other rooftop appliances installed, and head light and class lights temporarily wired to her batteries, she was cleaned and switched to place Charley Atkins behind her so that,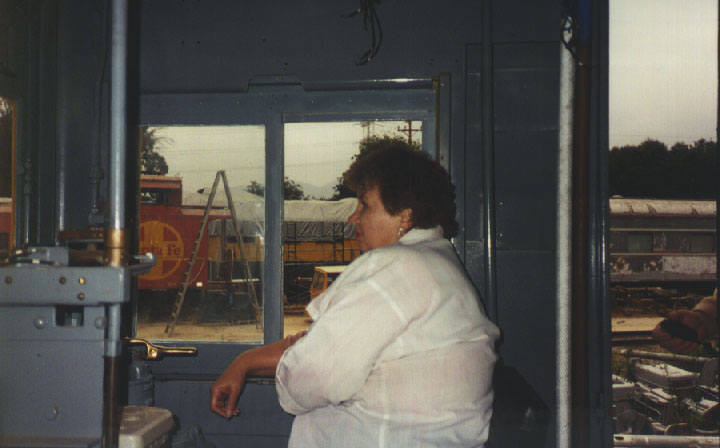 before and after the dinner, associates might ride in the engine compartment, the lucky ones perched on the engineers seat, to experience the "view from the cab." Project Manager Bryan Reese and countless others made last minute connections, tests, and adjustments. At 6 p.m. she rolled grandly up to the platform to receive her first passengers of the evening, with Mary Jo Hurdle as honorary engineer. As several remarked during the subsequent awards program, next year she will be self-propelled!
The dinner itself was a huge success thanks to Yvonne Ramsey and her Roundhouse Catering crew.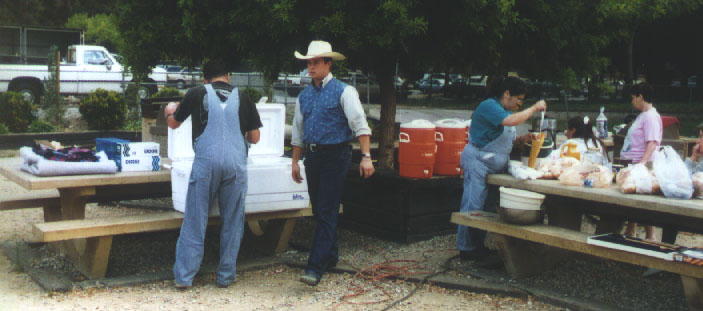 Altogether, nearly 90 dinners were served, and a particular favorite was the bountiful salad bar. Assisting Yvonne were barbecue chefs Tom Pyle and Tom Graham, maitre d' Greg Ramsey, Mary Jo Hurdle, Mary Ramsey, and Carol Bennett and friends.
After dinner, PR Manager Steve DeVorkin emceed the evening's program in a manner worthy of Billy Crystal at his finest, and introduced the speakers.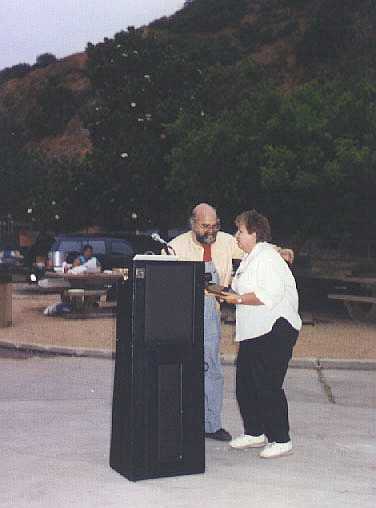 President Jim Hoffmann spoke of the past year's accomplishments and the coming year's promises. He mentioned some recent and upcoming movie work supported by SCSRA, and announced the appointment of Steve DeVorkin as Commercial Use Manager, with responsibility for future film and commercial use contracts. After summarizing the history of the Clarence Ridenour Award, and presenting the plaque for the 1996 awardee, Chell Hurdle, to Mary Jo, he announced the 1997 winner, Sue Kientz, and presented her award plaque (we are grateful to Delmer Van Zile of San Bernardino who expedited preparation of these plaques). Jim thanked Sue for her special contributions as Publications Manager and editor of The Headlight.
Jim then donned his Operating Superintendent hat and spoke of our highly successful demonstration railway operations and new training materials that will ensure consistency of instruction. He encouraged associates interested in operations to see him or any instructor and sign up.
The City of Los Angeles awards special certificates to associates with over 1,000 hours of accrued volunteer service. Museum Operations Manager Patrick Alonzo presented awards to Tom Graham (1,038 hours), Brian Moore (1,087.5 hours) and Danny Price (1,292 hours). Congratulations, guys!
General Superintendent Greg Ramsey presented SCSRA 300 Hour Service Awards to Scott Muir and Jeff Pippenger, and a 3,000 Hour Service Award to Jim Vicars.
The writer, wearing the Mechanical Superintendent's hat, thanked all who had helped make this a productive year, especially Assistant Superintendents Greg Ramsey, Al DiPaolo, Jim Vicars, and Bryan Reese, and then asked Bryan to speak briefly on Project M.177.
Bryan provided a status report, noting our continuing financial needs and the fund raising plans afoot to satisfy them, and noted that, if sufficient associates would sign notes guaranteeing payment of the remaining funds owed to the Winton engine rebuilder, he would release the engine to us, a move that would generate much publicity and help in our fund raising. Several associates promised to help, for which we are grateful.
Maintenance of Way Superintendent Joe Barilari spoke of his department's current and planned projects, and encouraged associates to join in them. Of special interest is the Track 6 to 7 Crossover which, when completed, will allow either operating diesel loco access to all museum trackage, thereby obviating any future need for large tractors to move equipment.
Bridge and Buildings Superintendent Tom Graham announced plans for shop laydown space, an inspection pit for the motive power, and possible use of cargo containers for enclosed storage.
ASRA President Greg Gneier, who is also an associate of SCSRA, spoke briefly on the status of the long-awaited Train Shed, funding for which has been provided in County Prop A, and the new Museum entrance improvements which are already funded. The Train Shed design is being reviewed for potential design revisions as a result of code changes following the Northridge Earthquake, and the entrance improvements design is fast nearing completion.
Door prizes were won as follows: Decorative belt buckle donated by Ed Sikora, won by Lyubchick Nickerson; Durango & Silverton RR video donated by the writer and won by William Coombs; Rebirth of a Locomotive (D&S RR) donated by the writer and won by Greg Gneier; two vintage Amtrak posters donated by Bob Bennett and won by Ed Sikora and Dennis Steinert; Disneyland passes for two donated by Al Di Paolo and won by Patrick Alonzo; two free dinners at next year's Annual Dinner donated by Roundhouse Catering and won by Joe Barilari; and $20 Gift Certificate donated by The Whistle Stop and won by Scott Muir. Our thanks to the donors and our congratulations to the winners!
In his closing remarks, Steve invited all to visit the equipment which was open for inspection and to ride the M.177 before going home.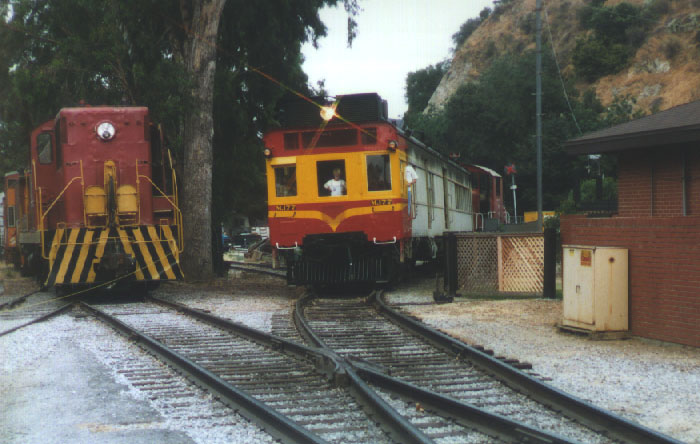 We are grateful to everyone who helped make the 1997 Annual Dinner a truly memorable event!
Finally, next year's Annual Dinner will be held on Saturday, June 6, 1998. With nearly a year's notice, we hope you will make your reservations on time. Paying "at the door" really slows things down.
---
By Gordon Bachlund
As I alluded to in the last issue, we have been exploring ways to implement a docent program. After some deliberation, SCSRA and ASRA have agreed to join forces and organize a joint docent program. In mid May we sent letters to Associates who had indicated an interest in docent activities on their applications, inviting them to become involved in organizing this program. In the event that you have such an interest but failed to indicate it on your application, please call the writer at (714) 476-3580, or Nancy Gneier at (818) 243-5019.
We envision a program wherein docents receive specialized training, are provided special name badges and perhaps even shirts indicating their achievement and qualification, and are assigned on regular operating and tour days. Docent service will be rewarded with special programs and awards.
If you enjoy meeting people, sharing ferroequinological history with eager visitors of all ages, and being a real part of the revitalization of the Travel Town Museum, please call.
---
By James G. Hoffmann, Operations Superintendent
Once again my job made it impossible to get to Travel Town except for the operating days.
Operations and training continue as usual. The new timetable seems to be working out well, and we have an excellent "on time" record. Eat your heart out, Amtrak!
Congratulations to our newest Engineer, Brian Moore. If you have started the training program, please keep coming out to continue your lessons. Instructors are available almost every Saturday to help get you up to speed. If you have not received the new printed materials for the next step in your training, please see any instructor. If you haven't gotten into training yet, why not??
Our public operations were held March 2, April 6, and May 4. There were no charter operations during the quarter
| | Passengers | Donations |
| --- | --- | --- |
| Sunday, March 2 | 1,035 | $ 405.40 |
| Sunday, April 6 | 1,156 | 473.07 |
| Sunday, May 4 | 860 | 290.10 |
| Total: | 3,051 | $ 1,168.57 |
| Total to date: | 63,366 | $23,558.85 |
Operating Days: 91
For the fiscal year June 1, 1996, to May 31, 1997, we carried 11,119 passengers, our second highest yearly total. We took in $4,168.12 in donations, a record!
Staffing continues to be a problem. The SP caboose remains closed during part of each day. We still need YOUR help in this most important part of our public relations work! Gordon and I are going to work to create a docent program (see the related article on this page), and we will make the car attendants part of this program. Please contact Gordon or me and get involved in what promises to be an exciting and fulfilling experience!
As always, THANK YOU to our ever-faithful operating crews. Those with recorded times include Gordon Bachlund, Jeff Barrow, Bob Daum, John Daum, Margaret Daum, Steve DeVorkin, Mike (Oatmeal) Flaharty, Charles Forster, Tom Graham, Brian Moore, Dan Price, Yvonne and Greg Ramsey, Isabel and Chris Rippy, Thomas Seal, Ed Sikora, Kevin Simons, Doug Stevens, Jim Vicars, and Alan Weeks - and anyone else I missed!
---
By Greg Ramsey
[Repeated from last issue] By now most of you on the Internet have heard about or visited the SCSRA's website, maintained by Kevin Tam, at http://www.scsra.org/~scsra, but did you know there is also an electronic mailing list dedicated to the SCSRA and Travel Town? It is called Travel Town Today and grew out of the regular musings Dale Brown used to send his friends on e-mail about his adventures at Travel Town. It is a very low traffic list averaging 1-2 posts per week, usually discussing the days happenings at Travel Town, written by myself, Jim Vicars, and others.
To subscribe, send an e-mail to listserv@roundhouse.com and include in the body of the message:

SUBSCRIBE TTOWN-TODAY yourfirstname yourlastname
When your subscription is approved by the list-owner (me), you will receive a short e-mail telling you what is approved on the list and how to send postings. The list is open to all friends of Travel Town including SCSRA, ASRA, and others. Hope to see your keystrokes soon!
---
Hardcopy printing for the Headlight was generously donated by
MINUTEMAN PRESS
"For the job you needed yesterday"
Specializing in

Multicolor printing
High-speed copying
Expert desktop publishing
Free, professional advice
Minuteman Press
3165 Sherman Way
North Hollywood, CA 91605
(818) 764-6091
---
NOTE: All SCSRA caboose train operations and ASRA passenger car tours take place at Travel Town during regular park hours, which are 10 a.m.-5 p.m. standard time and 10 a.m.-6 p.m. during daylight savings time.
Aug 23 Steak Fry and Handcar Trials
Sept 7 SCSRA Operations (caboose rides)
Sept 20-21 ASRA Passenger Car Tours
Oct 5 SCSRA Operations (caboose rides)
Oct 11 Oktoberfiesta and Handcar Race
Oct 18-19 ASRA Passenger Car Tours
Nov 2 SCSRA Operations (caboose rides)
Nov 15-16 ASRA Passenger Car Tours
Dec 7 SCSRA Operations (caboose rides)
Dec 13 Holiday Party and Movie Night
---
Here comes another SCSRA/ASRA Event! The 2nd annual Summer Steak Fry at the Travel Town Museum will be held Saturday, August 23rd, starting at 6:00 P.M. It promises fun for the whole family!
The way it works is, we provide . . .
| | |
| --- | --- |
| * Glowing barbecues for your use | * paper plates |
. . . and you bring . . .
| | |
| --- | --- |
| * Your own steaks | * chicken breasts |
This event is for members only. Please RSVP with the number in your party to (213) 485-5520 before August 16th. Remember, there will also be Handcar and Baldwin rides and other Travel Town activities! Come Join us!
---
THE HEADLIGHT
is published quarterly at Los Angeles, California, and is the official publication of
THE SOUTHERN CALIFORNIA SCENIC RAILWAY ASSOCIATION, INC.
P.O. Box 11216, Glendale, CA 91226
(213) 667-1423 and via the World Wide Web at http://www.scsra.org/~scsra
A California Nonprofit Public Benefit Corporation, Incorporated January 4, 1984
IRS Tax Exemption No. 95-3947766
Editor: Sue Kientz
Send your letters to the editor to the address above or at the E-mail link below
Any article or feature published in The Headlight may be reprinted in whole or in part provided that proper credit is given the source.
---
BOARD OF DIRECTORS
Chair, Gordon Bachlund
Members, Linda Barth,


Tom Graham
Randy Matus
Ted McConville
Greg Ramsey
Bryan Reese
Ed Sikora
Jim Vicars
CORPORATE OFFICERS
President, Greg Ramsey
Secretary, Greg Smith
Treasurer, Tom Graham
APPOINTED OFFICERS
Vice President, Corporate, Gordon Bachlund
Vice President, Museum Services, Linda Barth
Vice President, Railroad Relations, Bryan Reese
APPOINTED SUPERINTENDENTS AND MANAGERS
General Superintendent, Greg Ramsey
Mechanical Superintendent, Gordon Bachlund


Asst. Supt., Gas & Diesel Locos, Greg Ramsey
Asst. Supt., Steam Locomotives, Al DiPaolo
Asst. Supt., M.177 Project, Bryan Reese
Asst. Supt., Electrical/Communication, Jim Vicars
Asst. Supt., Inspections/Records, Bryan Reese

Operating Superintendent, Jim Hoffmann


Asst. Superintendents, Gordon Bachlund, Greg Ramsey, Jim Vicars
Rules Examiner, Tom Graham
Inspectors Gordon Bachlund, Randy Matus, Jim Vicars Instructors Brian Moore, Tom Graham

Maintenance of Way Superintendent, Joe Barilari


Asst. M/W Supt. Ed Sikora
Asst. Supt., Motor Vehicles, Jeff Pippenger
Asst. Supt., Signals, Ed Sikora

Bridge and Buildings Superintendent, Tom Graham
Assistant Treasurers, Jim Vicars, Mary Jo Hurdle
Safety Officer, Ed Sikora
Fund Raising Manager, Linda Barth
Historian/Archivist/Library Manager, Jim Vicars
Historical Research, Mary Jo Hurdle
Merchandise Sales Manager, Yvonne Ramsey
PR and Commercial Use Manager, Steve DeVorkin
Publications Manager, Sue Kientz
Dining/Hotel/Commissary Manager, Yvonne Ramsey
Key Control Officer, Jim Vicars
Recycling Manager, Alan Weeks
Webmaster, Kevin Tam

Associates with inquiries regarding project work schedules
may contact any of the above by leaving a message at (213) 667-1423.

---
Questions and comments to Sue Kientz, SCSRA Publications Manager