---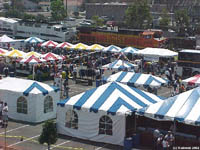 Yes, the year has come around and SCSRA is getting ready for its second appearance at the ever popular Fullerton Railroad Days. And once again, we need YOU to come out and enjoy the fun with us, by volunteering to help staff SCSRA's booth.
There will be even more to do at this year's Railroad Days. The Fullerton Railway Plaza Association (FRPA) is planning the biggest event ever, with as many as 100 vendors and displays expected.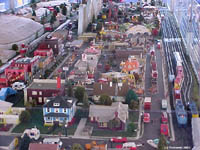 FRPA is hoping they can arrange for San Bernardino Railroad Historical Society's beautifully restored 4-8-4 Northern, AT&SF No. 3751 to return, and Metrolink, Amtrak, and our own George Engelage's Coast Rail Services loco and caboose have been invited to participate.
Longtime associate, board member, and corporate secretary Greg Smith is this year's Railroad Days Coordinator. Greg will need everyone's help and cooperation to make this year's event a success for SCSRA. Helping Greg already are Sue Kientz, who will arrange for staffing the booth, and Dan Price, who is SCSRA's T-Shirt Czar. Yes, we'll again have T-shirts and possibly hats for sale at our booth. We expect to bring out our crossing signal (that was so popular last year), our movie posters, and lots of train artifacts.
Tim Riley will not only once again provide overnight security for SCSRA; he is handling overnight security for the entire railfest! Tim will be looking for volunteers to help him "make it through the night" on Saturday, May 3. So mark your calendar, for Tim's crew, or for one or more shifts at the booth that weekend. Contact Sue to sign up now.
Interaction with RR Days Visitors
Of prime importance this year should be planning how we interact with all the people who will visit our booth. Last year we were just happy to be at Railroad Days, and many of us just watched the crowd go by, not really intent on drawing visitors in to see our displays or buy a T-shirt. This year, we need to engage the public that comes to our booth and tell them what we are all about.
FRPA has designated SCSRA as its operations and restoration arm. While operations or restoration projects are not going on presently, that could change at any time, and we should tell people what we're working on. For example, we expect to begin track work to create new display track, and a restoration project is still being finalized.
But it's not all about the future. While we wait for the green light for these activities, we have our train-themed social events, with FRPA (their quarterly dinners, offering good food and regular train-relevant speakers), with our Movie Nights which present a train film and often cartoons and short subjects, a yearly slide show (coming this year in fall), the Annual Dinner, and our Christmas party.
If the visitors of Railroad Days like trains, we need to tell them about all the different ways we celebrate our love of trains. Our get-togethers are our main way of enjoying trains right now, but soon enough, we'll be hands-on again, working with and (hopefully in the not-too-distant future) operating trains. Our role in support of bringing a railroad museum to Fullerton is poised to turn into a better train-related volunteer experience than we've ever had before! Let's tell our booth visitors and hopefully they'll want to join us.
---
Progress and Partnership Grows
by Gordon Bachlund, SCSRA President
In a dramatic show of support for the evolving strategic partnering of SCSRA and FRPA, the latter organization's Board of Directors voted to add George Engelage and me to their Board during its November meeting last year.
At that meeting, FRPA President Dick Hopping announced plans for the 2003 Fullerton Railroad Days, slated for May 3 and 4. Fred Canfield will again chair the event which promises to be bigger and better than last year, and announced that the SCSRA, in addition to being an exhibitor, will be responsible for safety and security at the event.
The SCSRA will have a 10' x 20' booth, and we are actively seeking volunteers to handle the exhibit details. If you'd like to become involved with booth layout, set-up, tear-down and/or staffing, and possible equipment docent activities, please contact Greg Smith or Sue Kientz. If you'd like to become involved with Railroad Days safety and security, please contact Tim Riley. Let's get organized early!
The line-up of equipment displays for Railroad Days has not been finalized, but FRPA's George Barlow promises that it will be varied and interesting. Invitees include the BNSF Railway, Amtrak, Metrolink, the Grand Canyon Railroad, and more. For the latest updates, be sure to attend the quarterly FRPA dinner meetings. These are listed in the SCSRA/FRPA Calendar Section.
The track project that I mentioned last issue came closer to realization when, in early December, I met with Mitch Alderman, a railroad civil engineer with URS Corporation (the second largest transportation design firm in the country), to discuss the project. The writer gave Mitch a set of drawings provided by Dick, and walked the site with him. The next step will be a site survey by Mitch with the assistance of Jeff Barrow and Dan Price, both of whom, coincidentally, are studying to become civil engineers (see photos). Mitch will then prepare a preliminary design for Dick to take to the City of Fullerton for review. We expect the project to be phased, with the first phase being an eastward extension of the north private car spur to the end of the present parking lot. However, the switch will not be installed until after Railroad Days. There is a possibility of our cabooses occupying that extension by Railroad Days and being open for tours. If you'd like to join our M/W group, please e-mail Jeff.
Meanwhile, FRPA will assist the City in arranging for private car tenants for the existing depot private car spurs. In addition, the City will be working with FRPA in providing decorative iron fencing to afford required security.
Work continues on the plans for the demonstration railway. There is much liaison that needs to be accomplished, and George Engelage is handling that process with the utmost professionalism.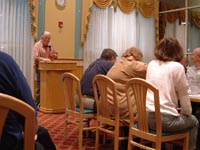 The primary project of the FRPA, that the SCSRA will fully support, is the planned Southern California Railway Museum at Fullerton. When you attend Railroad Days 2003 you will be able to view a detailed architectural model of the proposed museum. The FRPA engaged the services of a specialized consultant to perform a series of feasibility studies, and the bottom line is that the project is not only feasible, but highly viable. A small first step toward its accomplishment has been made, as the City has purchased the property east of the existing depot parking lot that extends to Lemon Avenue. Once the lease of that property's tenant expires, the land will be cleared and we will extend display tracks east to Lemon Avenue.
The Southern California Railway Museum at Fullerton got another boost as the leadership of both the SCSRA and the FRPA agreed to merge their quarterly newsletters into a single larger publication, with our Sue Kientz as Editor. The new newsletter masthead, as yet not selected, will reflect the museum's mission.
---
The Other Shoe Drops
by Gordon Bachlund, SCSRA President
The City of Los Angeles announced in late November that "Registered City Volunteers" will continue and complete the restoration of the M.177. With that announcement, the SCSRA had no further involvement at Travel Town.
Not unexpectedly, in mid December the City cancelled our permit, and steps are being taken to remove the few remaining items of SCSRA property, including the American rail crane and its idler flat car, as well as the cabooses. There is a strong possibility that the cabooses may soon be residents of Orange County.
This is indeed a sad end to our extensive involvement with Travel Town that began in 1986, and that eroded over the past several years with the City's escalating campaign of harassment. While I am, of course, disappointed, I am at the same time glad that the M.177 will hopefully receive the attention she deserves, attention that we were consistently discouraged from providing her.
However, all's well that ends well, and the future of the SCSRA looks brighter than ever!
---
On The (Rail) Road Again
by Dan Price and Jeff Barrow, Maintenance of Way Co-Superintendents
Finally, the M/W department comes back to life! On Saturday Jan. 4, 2003, Gordon Bachlund arranged a meeting with Mitch Alderman, Dick Hopping, Jeff Barrow, and Dan Price at the Fullerton Train Station to look at future, joint SCSRA/FRPA track projects. Mitch Alderman, a civil engineer, had very generously donated his time and effort to survey out these future projects. On the 4th Mitch, with assistance from Dan and Jeff, successfully surveyed the Fullerton Train Station's parking lot and two existing railcar storage spurs (see photos below). The plan is to lengthen those tracks for more storage space during Railroad Days. The next steps are to wait for Mitch to get the plans back to us and then for us to obtain approval from the City of Fullerton to begin work on those spurs.
Another project on the horizon that we started planning this last quarter is the organization of our Fullerton M/W yard. This is a big part of the possible upcoming track project.
To get to the items needed to build the track, the yard must be sorted out. We are looking into the possibilities of paving the yard, pallet racks, lights, etc. This will help for future projects as well.
The perpetual project for the M/W Department of finishing removal of remaining property of the SCSRA from Travel Town continues. Not much is left at Travel Town but a few very important items remain, which will be leaving very soon. More on that as it comes up.
---
November 28, 2002
Dear Ms. Kientz,
In reading through a few of the back issues of The Headlight, and finally your "Firebox Chat" in the most recent issue, it becomes obvious that some extremely frustrating times had befallen SCSRA. The article by Ray Crapo, provided in a previous issue, pretty well sums up the problems of politics and personalities that seems to hound volunteer organizations. Hopefully some of the correct people read what Mr. Crapo had to say and took it to heart. It is such a shame that a few persons can nearly destroy a good organization which was intended to bring people of like interests together, in addition to preserving historic railroad equipment.
It is my opinion, that your personal efforts, along with the Board of Directors and the active membership, are to be commended. I was especially impressed with the level of diplomacy and restraint that the writings from yourself and others presented. If your opinions expressed in the last "Firebox Chat" are correct, the City of Los Angeles employees involved should be ashamed of themselves. They obviously have no regard for dedicated volunteers, their friendships, or the previous hard work accomplished by the SCSRA. You and the SCSRA have been through some extremely trying times, possibly instigated by the actions of certain City employees. Possibly the track materials released from Travel Town, and now safely stored at Fullerton, were legally relinquished due to feelings of guilt on the part of a certain City employee.
Please remember that although it has been a difficult passage, SCSRA still managed to accomplish some historic restorations. Although the City of Los Angeles may not fully appreciate what was accomplished at Travel Town, much of it through volunteer efforts and private funding, SCSRA did indeed accomplish the restoration of M.177, and other museum pieces. Try to remember the good times, the lifelong friendships that were made, and what was accomplished, and not the negative aspects. The newsletter alone is a fine effort. Having edited a few myself, I know what kind of effort it takes.
The SCSRA will have a better future cooperating with the Fullerton Railway Plaza Foundation. Possibly SCSRA and FRPA can merge into a new shining example of what can be accomplished through the cooperation of driven friends, dedicated to the preservation of railroad history. No doubt some rumors, politics and rivalries may have already developed. Hopefully, the dedicated leadership of both organizations can deal with the rumors and rivalries quickly, with the least amount of pain, friction or disruptions for all concerned. If all concerned learn from the past, then the organizations will not be doomed to repeat it. Hopefully the previously disappointed membership and volunteers of SCSRA will be able to build a new better future at Fullerton.
Respectfully,
Glen Icanberry
Redlands, CA
---
By Gordon Bachlund
The SCSRA Annual Christmas Party on December 14, 2002, was again hosted by Sue Kientz, and it was great fun. Sue provided a bountiful buffet including salads, lasagna al forno, and baked ham, with rolls, cheeses and condiments galore, not to mention chips and dips, salsa, drinks and cookies. Following the buffet dinner, we screened a program of 35mm films including "Precious Images," a tribute to 50 years of American film, and the 1983 Bob Clark seasonal favorite, A Christmas Story. Following the movies, a short walk up the street led to the famous "Christmas Tree Lane" which had been opened earlier that very evening. We are grateful to Sue and Ron for their wonderful hospitality and for a really fun evening!
Speaking of Sue, she hosted the party notwithstanding she was scheduled for further abdominal surgery the following week. I am happy to report that the surgery went well and that Sue is recovering quickly.
---
Story by Charles Forsher
Christmas evening I was treated to dinner and a movie by my friend Mrs. Mellisa Marshal. Dinner just happened to be at Denny's, located across from Century and Aviation Blvds, where a massive railway bridge, currently the property of BNSF, dominates the landscape.
On the way back to my building, Mellisa drove up Aviation. I glanced over toward the tracks, and much to my surprise, the view was obliterated by a parking lot!
Flashbacks of Hollywood Blvd. in my late childhood swept over me — the Pacific Electric tracks paved over at street corner crosswalks for pedestrian comfort!
I was suffering from what is called Sublimation.
The anxiety generated by the present Administration's "I can lick any country in the world" policies had now shifted to a safer but still upsetting topic. Needless to say I had trouble going to sleep that night.
* * * *
Mr. Elliot Alper agreed to run me down to the bridge December 29th, a Sunday, early in the afternoon.
I directed him to a street north of the bridge, Arbor Vitae Street, to see firsthand if BNSF was shooting itself in the right-of-way. Mr. Alper had mentioned seeing a long string of flat cars spotted near the bridge, and this did not bode well either.
Another flashback: of being even younger and stopped with my father, in our post-World War II "compact" Dodge while a local freight train crossed Olympic Blvd. near Lincoln Blvd. in Santa Monica, a diesel switcher pulling a train of flat cars loaded with rails.
That was the demolition of the freight line between Electric Avenue and Main Street in Santa Monica.
* * * *
When I first stumbled upon Aviation Blvd. and Century, back around 1990, I found a crew of men busily recovering a paved-over stretch of tracks on Century, where the second set of rails once crossed over.
Amazed, I went and asked one of the men point-blank what was happening. A bridge, I was told.
The being in 1990 B.C. (before [a] camera), I was helpless in the face of such monumental history unfolding before my very eyes.
But I returned some months later to see a completed and strange concrete bridge, a spike used by surveyors at each end of it, in the ground for rail alignment, the tracks now connected to a temporary rebuild of what must have been the northbound track in the old days.
An inverted "shoo fly" it was, for the bridge was not yet connected.
* * * *
Elliot drove his sleek white auto up to and over the mainline, and into a level area next to the tracks. I was already breathing a sigh of relief.
Not only was everything still quite intact on this end, but one could see at a distance an optical illusion, of the track jogging sharply from the realigned, former northbound track over to the southbound, and thence up and over Century Blvd., which on my recently purchased map still shows that area to be a grade crossing, as well as the former second tracks up to the north where Aviation turns into Florence Avenue.
I could also see where a spur used to cross Aviation to the south of Century, near 104 Century Blvd., and thence in between industrial facilities.
After a lot of photo taking and video recording on Mr. Alper's part, we returned to his auto and proceeded south to 102 Century, and another industrial complex.
Happily, everything was just as it should be, including a half-buried, discarded stick of high iron, and even more encouraging, a half–used-up pile of ballast!
This called for a celebration, so returning to the car we headed for the Green Line.
Elliot was reading my mind that afternoon, because instead of parking at the LAX shuttle station, Mr. Alper kept going, down to the Redondo Beach end of the Green Line to start our jaunt from there. I had not gone for a trolley car ride on the Green Line in several years.
When I did, the Redondo Beach end was where I got off, crossed the tracks coming down from Century and Aviation (two tracks here still, despite the removal of a massive railroad truss bridge crossing Artesia Blvd. at a majestic height), and dined at a local fast food establishment which had a table with a good view of both the tracks as well as the elevated Green Line station.
At that time, Blue Line cars and Green Line cars were mixed with impunity. Something that I found distasteful.
But on December 29th, I found that the Green Line now had new cars, with distinctive curved glass fronts.
* * * *
Some of the passengers found our picture taking disturbing, but nobody went out of their way to challenge us.
This being the time of day it was, and on a Sunday, patronage was light, the mood in the car relaxed, and when we reached the Norwalk end of the line, I thought we had enough daylight left (shortest day was Dec 21) to make for the Amtrak-Metrolink station and perhaps catch some mainline action.
Shortly my friend and I found the shuttle, the no. 4 Norwalk transit bus, which accepted what was supposed to be round trip trolley tickets, as fare. That done, Elliot and I boarded the bus and settled in.
Someday, the Norwalk end of the line will be expanded when the freeway is. In lieu of this, a main line proceeds past the Norwalk terminal, electrified, and vanishes around a bend.
Movie Studio set perfection. But it ends abruptly against a massive concrete wall.
* * * *
Arriving at the station, I left Elliot to break a five for the ride back to the Green Line. I found a gas station open and bought a snack.
It was getting close to sunset now. The setting sun illuminated the Norwalk Amtrak station quite nicely. And Elliot and I took in the majesty of the engineering that had been accomplished — banked mainline tracks, the military looking span for passengers high above the tracks. Then an Amtrak bound for San Diego came charging at full bore.
"Wave!" Elliot yelled, so I did. A female train operator waved merrily back, a huge grin on her face as she leaned enough out of the window of her cab to extend her whole waving arm.
* * * *
The sun had just vanished behind some buildings behind us as Elliot and I waited at the bus stop.
It was becoming chilly, and a little mystery was unfolding. Several people had gotten off other no. 4 buses and proceeded to the Metrolink waiting platform. Since Metrolink does not run on Sunday, and Amtrak was not stopping here (at least the train I waved to wasn't), it was a mystery what those folks were waiting for.
Similarly, a gent was sitting at the bus stop shelter and looking quite bored, not boarding any outbound buses nor joining us for the trip back to the trolley.
Another mystery was an apartment building I spotted along the boulevard the no. 4 traveled on, with a sort of McDonald's "M" on it. Nearby at an intersection was an actual McDonald's. I was led thus to speculate on drunks buzzing the tenants of the "M"-festooned apartment building, demanding to order cheese burgers and chocolate shakes. How often did it happen, I wondered... I did a little stand-up (sitting down) for a fellow passenger, a drunk trying to order a Happy Meal through the intercom; the hapless tenant trying politely to make the drunk go away.
* * * *
Night had fallen completely by the time Mr. Alper and I arrived back at the waiting platform. A double treat this was, because now we got to experience the Green Line at night, as well as the middle of the day, so to speak.
At Avalon, a lady got on with a bicycle. When the train started up again, the bike became familiar with me, or tried to, nudging me in an almost lifelike way.
The lady who owned the bike didn't know what to say. I quipped that I had just bought a book, Dating for Dummies, and here was a situation not covered in the book. What do you give an affectionate bicycle on a first date? Heck, what sort of conversation would one start? Was patting the seat being too intimate?
After dropping off passengers at the LAX (Imperial) shuttle stations, the cars were empty again, save for an employee who got on, with hard hat and janitorial supplies.
I experimented with the place that the articulated cars are joined. Hard to imagine it, but standing on the disc, one is in a sense going in two directions at once, even though both directions are, well, in the same general direction. This is among the more startling laws of Physics, such as California being sideways on the planet, and all of its humans and animals, cars and trains are traveling sideways as casually as flies upon a wall.
So here we were, heading into the last big curve before reaching the Redondo Beach station, and the two cars were of course pointing, at least, however slightly, in two separate directions while heading in the same.
I tried to guess where the train would park. I went over to a door and stood waiting. I soon realized I was looking three stories down at the freight tracks.
Some more video recording on Elliot's part, and another surprise. The driver consented to pose by the door of what was now the front of the train.
* * * *
Since the release of the security guards, little mischief makers have carved strange scribbling into every available glass surface, mainly where folks would have been able to stand or sit and enjoy an installation.
Also changed: the television camera transmissions from atop the towers, offering breathtaking vistas on television screens.
The parking lot, however, had no signs of problems, and Elliot's car was still parked where it had been left, with all four tires, and no scratchings or marker work. I tried my hand at the video camera. The station was fuzzy but Elliot came out focused.
He spoke of our day together, and then I had to hand him the machine, not knowing how to turn it off.
* * * *
We retraced our direction and presently found ourselves back at Aviation and Century Blvd.
We debated about following the tracks past the place where Aviation became Florence. There would have been no way to get on the 405 from the place the tracks crossed over.
I had worked, a number of years ago, briefly, in a Tow Company located right next to the same line. Long trains of multilevel automobile cars were being pulled southbound on an hourly basis, by a set of the most heavy duty diesel locomotives around. I think the same right of way once held an inbound and outbound track for the LARY, and was just big enough for a standard gauged track at this point in the line.
Every time a train went by, the huge brick structure I worked in vibrated, as if from a minor temblor.
I think the building has been since demolished.
* * * *
As Elliot made a right turn on Century, I saw a marvelous sight. Up the tracks there was a bright light. The kind shining between the rails, as if a locomotive.
Perhaps it was.
Then again, you have seen this yourselves, dear Reader — the lights from industries relying on rail service. Their "front porch" light on, so to speak, waiting for the late night spotting and/or pick up of cars.
* * * *
I had realized hours earlier, and said so on video tape for Elliot, that in lieu of an impending war with Iraq, BNSF may consider the need for another route to the Harbor should the newly upgraded Alameda Corridor be bombed by some terrorist attack.
Just as sad a thought: at least 30 good miles of mainline track are still here. Unlike the tracks up Sepulveda as far as Ohio Ave. and Santa Monica Blvd. in West Hollywood, the Exposition Blvd. line and the freight line that still runs from Abbot Kinney Blvd. in Venice, down past Via Villa Marina in the Marina Del Rey area, is abandoned, though still on my 2002 map of Los Angeles and Hollywood.
In closing I must give brief mention to one last fond memory: the Culver Boulevard tracks on which trains of oil-laden tank cars were whisked along like bats out of hell until a number of years ago.
I watched a few when I lived there, close by.
---
COMBINED SCSRA AND FRPA NEWSLETTER CONSIDERED
by Sue Kientz
In the latter part of last quarter, FRPA President Dick Hopping asked if I would consider editing a combined newsletter for both SCSRA and FRPA, likely including news from FRPA's other sister organizations. Apparently Dick and others at FRPA have enjoyed our SCSRA newsletter's look, format, and presentation, and are hoping that I could produce something similar for them, without adding the extra work of an additional newsletter to my volunteer duties.

Since the initial inquiry, both SCSRA and FRPA board members have been pulsed about this matter and there has been no negative feedback. The newsletter would not be the Headlight nor the FRPA Newswire, but a new publication, the name yet undecided.

If you have an idea for a good name for this new newsletter, or have any other thoughts on this, let me know. The new publication would likely include (1) progress toward the new museum, (2) Railroad Days, (3) activities of FRPA, SCSRA, and the other aligned groups, (4) special events and meeting, (5) important railway related news of interest, and (6) pictures and stories having to do with trains and rail travel.

The timing of the new newsletter will likely fall into the same quarterly schedule we now have. At this point, I'm not sure if this issue is the last Headlight you will see, but look for the new publication to be coming soon!
---
MECHANICAL REPORT
by Gordon Bachlund, Chief Mechanical Officer
Doodlebug Notes — Due to continuing access restrictions and harassment of our volunteers, there was no work on the M.177 during the period, although Doug Stephens made frequent inspections to ensure the safety of the car and its contents. On October 28, 2002, the City sent us a letter removing the M.177 from our responsibility and indicating that a "City Volunteer" would thereafter direct the restoration effort. Accordingly, Doug removed most of the Association tools and equipment from the Motorcar. Then, on November 27, 2002, the City sent us a letter canceling our permit and requiring the removal of all our equipment from the premises known as Travel Town no later than the end of February 2003. We are very grateful to Doug for his devotion and courage in braving a hostile environment and looking after the Association's interests.

Cabeese — As noted above, we need to remove the cabooses, crane parts and remaining assets. To expedite removal plans, the Board decided to meet two weeks early in January to review its options and make appropriate plans.
---
Donald Bruce Henrie
July 28, 1953 - November 8, 2002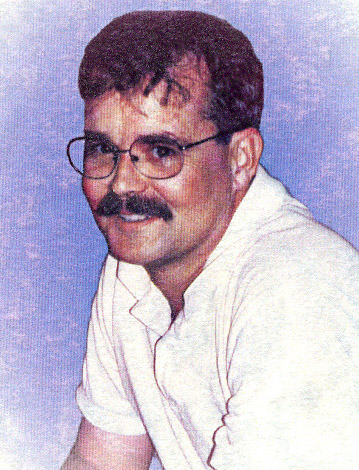 We are saddened to report the passing of Bruce Henrie, Associate Number 83, on November 8, 2002.

Bruce joined the SCSRA in 1989 and immediately began to volunteer actively in the M/W Department, jumping right in with the ongoing reconstruction of Track No. 6. In the course of that work, an overzealous construction equipment operator accidentally cut the underground electrical feeder to the Travel Town Refreshment Building in the late afternoon, and Bruce made temporary repairs within several hours of the incident, and permanent repairs the following week.

In addition, Bruce did electrical work on Association facilities, such as the new underground feeder to and new wiring in the Shop Building, and the new panel and outlets in the Exhibit Hall to support our Movie Nites. Over the years Bruce donated a work truck and numerous tools and items of shop equipment to the Association.

A memorial service was held on November 22, 2002, at Calvary Chapel in Santa Clarita.

Bruce was a good friend to the Association, and all who knew him felt his warmth and kindness. Whenever there was a need that Bruce could fill, he was there for us. We will miss him greatly.

The souls of the righteous are in the hands of God, and there no torment may touch them.
---
---
THE HEADLIGHT
is published quarterly at Los Angeles, California, and is the official publication of
THE SOUTHERN CALIFORNIA SCENIC RAILWAY ASSOCIATION, INC.
P.O. Box 39727, Griffith Station, Los Angeles, CA 90039-0727
(323) 667-1423 and via the World Wide Web at http://www.scsra.org/
A California Nonprofit Public Benefit Corporation, Incorporated January 4, 1984
IRS Tax Exemption No. 95-3947766

Any article or feature published in The Headlight may be reprinted in whole or in part provided that proper credit is given the source.
---
BOARD OF DIRECTORS
Chair, Sue Kientz (July 2005)
Members,

Gordon Bachlund (January 2007)
George Engelage (July 2006)
Jim Hoffmann (September 2007)
Ted McConville (January 2005)
Jerry Price (July 2005)
Greg Smith (September 2007)
Jim Vicars (January 2006)
Mike Vitale (September 2007)
CORPORATE OFFICERS
President, Gordon Bachlund (July 2005)
Secretary, Greg Smith (July 2004)
Treasurer, Mike Vitale (July 2003)
APPOINTED OFFICERS
Vice President, Museum Relations, Sue Kientz
Safety Officer, Tim Riley
APPOINTED SUPERINTENDENTS AND MANAGERS
General Superintendent, Jerry Price
Chief Mechanical Officer, Gordon Bachlund
Mechanical Superintendent, vacant


Asst. Supt., Gas & Diesel Locos, vacant
Asst. Supt., Steam Locomotives, vacant
Asst. Supt., M.177 Project, Doug Stephens
Asst. Supt., Electrical/Communication, Jim Vicars


Operating Superintendent, Jim Hoffmann


Asst. Superintendents, Darlene Sexton, Jim Vicars
Chief Instructor, Gordon Bachlund (acting)
Rules Examiner, Alan Weeks
Instructors, Darlene Secton, Tim Riley, Dan Price, Jeff Barrow

Maintenance of Way Superintendent, Jeff Barrow
Co-Maintenance of Way Superintendent, Dan Price
Motor Vehicles Manager, Tim Riley
Assistant Treasurers, Jim Vicars, Tom Graham
Fund Raising Manager, Ted McConville
Historian/Archivist/Library Manager, Jim Vicars
Historical Research, Mary Jo Hurdle
Merchandise Sales Manager, Dan Price
Public Relations Manager, Gary Herod
Publications Manager, Sue Kientz
Dining/Hotel/Commissary Manager, vacant
Key Control Officer, Jeff Barrow
Recycling Manager, Alan Weeks
Acquisitions and Inventory Team, Dan Price (lead), Jeff Barrow, Don Schuster, Darlene Sexton
Community Service Coordinator, Darlene Sexton
Webmasters, Sue Kientz, Ted McConville
Website Design, Sue Kientz
Associates with inquiries regarding project work schedules
may contact any of the above by leaving a message at (323) 667-1423.

---
Questions and comments to Sue Kientz, SCSRA Publications Manager