The Headlight
---
Southern California Scenic Railway Association, Inc.
Serving the Travel Town Museum and the Crystal Springs and Cahuenga Valley Railroad
Volume 11, Number 4............................................................................Winter 1996
---
---
By Bryan Reese, M.177 Project Manager
As I write this, the Winton engine from M.177 sits ready to be reinstalled in the engine room. Those who have been following the project know that the expense of repairing the damage done by years of neglect and exposure to the elements has been considerable. Total cost to repair the engine at an outside shop is $67,500, of which $24,500 remains to be paid to the vendor. This cost includes rehab of the pistons which in some cases involved removing the corroded portions, building up the surface with electric welding, and re-machining to the original profile. Rings, bearing shells, and cylinder liners had to be manufactured from scratch, and then the engine was reassembled.
A contract has also been executed to rebuild the main generator. This too, involves a substantial expense as the field windings were completely missing, having been stolen for the copper years ago. This work will cost more than $20,000.
For quite some time now, the project has gained continued momentum on the strength of the actual work that was getting done. Up until now, our funding has been adequate to support the ongoing work. What is important to realize is that nearly all of the money that has been used to fund the project was raised three or more years ago.
Now we are at a critical stage in the restoration of M.177. We have been successful in convincing our primary vendors that our project is worthy of them performing this work. Now we must follow through with the commitment and complete the funding of the project. It is crucial that present momentum be maintained, and this is only possible with the timely delivery of the Winton engine and main generator.
Unfortunately, at the time of this writing, it is not at all clear if it will be possible to take delivery of these key components without the vendors being paid in full. Without them the project is in danger of stopping cold, or at the least receding to the back burner where it languished for some time.
I am not particularly concerned about labor. I have the confidence that we have a reliable core group of volunteers who will always keep the work moving forward at the job site. We must, however, refocus on fundraising if we are ever to see M.177 run again. I urge all my readers to do all they can to contribute financially to the project at this critical juncture. If you find that is just not possible, then I would ask you to put on your thinking cap and come up with fundraising possibilities. We have in the past been successful at receiving grants from charitable organizations. You could be of great help in donating your time to pursue such funding. You could inquire of your employer if they offer charitable grants or matching programs. All ideas are welcome.
In order to avoid this quarter's column from becoming solely a pitch for money, let me review the progress made since last time:
Doug Stephens has taken up the sandblaster and has been working with it at the site, as well as taking items to the shop where he works for blasting. As a result, we have begun the process of reassembling and testing the radiators, and we should soon see them remounted on the roof. Thanks to Alan Weeks for painting the freshly-blasted end castings where primer, and coating their insides with glyptal.
The lube oil tank filter housing and fuel pump have all been reinstalled in the engine room as well as associated piping. If you stop by, you will notice that the piping is painted different colors: blue for water (coolant), yellow for lube oil, and red for fuel, all according to Santa Fe practice.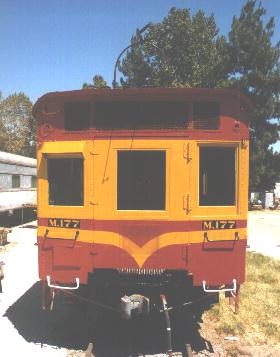 Doug has also been sandblasting the pilot (cowcatcher, to some) in preparation for photos to contribute to the fundraising efforts. Kevin Tam is also back to work installing the new ceiling panels in the smoking section, but it was found that they are going to require some additional rework before they fit properly.
On December 7, two of the car lighting batteries were temporarily installed, as were the vestibule lights, and the motor car was towed up to the museum building to host our annual Christmas Party, which I might add was most satisfactory. Prior to Halloween, The Train Club set up their annual Haunted House in the motor car, which went over well with the visitors and garnered some modest but very welcome donations. Special thanks to Thomas Seal and Scott Muir for those efforts.
Also, pitching in this quarter were Brian Moore, Greg Ramsey, Tom Graham, Mark Schirmeister, Bob Bennett, and Gordon Bachlund. Perhaps next time you can see your name listed here!
---
By Albert J. Di Paolo, Assistant Mechanical Superintendent, Steam
Steam Locomotives have always fascinated me. In addition to the usual reasons (here's where most people wax romantic and use poetic license in such sentences as "the comic flailing of rods" or "the mournful wail of a steam whistle across a prairie..."), I like the technological aspect of the machines. Most people take for granted that steam was the motive power of choice in all industries (not just railroading) for the better half of the Nineteenth Century and the first half of the Twentieth Century. Steam was, for all intents and purposes, a way of life.
Steam power and the Industrial Revolution went hand in hand as each helped to develop the other. In fact, the fields of mechanical engineering and thermodynamics were born in the industrial revolution out of the need for bigger, better, and faster machinery. Much like today where the engineering fields center around aerospace, electronics, computers and now environmental engineering, during the industrial revolution the degree of choice was mechanical engineering and, even more specific, locomotive engineering. If you were lucky enough to be born during the industrial revolution era and decided to study mechanical engineering, one of your choices for college was Purdue University in Indiana. Purdue offered, among other things, a degree in locomotive engineering (probably the reason for their team name being the Boiler Makers). In fact, Purdue even had a locomotive testing plant on campus complete with a stationary, floor dynamometer! Imagine writing the lab report for that class!
Of course as time marched on, so did every field of technology. New ideas and concepts were put into use and, over time, older technology was rendered obsolete. Unfortunately as ideas and concepts and technology were condemned to obsolescence, so were the reasons for their having come about in the first place. With luck, sometimes a museum had the foresight to see the end coming for some kind of technology and took the initiative to preserve it for posterity. As we know, such is not always the case and, for those of us who are trying to recreate and preserve the past, a quest is formed.
A perfect example of such a quest came about when two other fellow associates (Joe Siemons and Dale Tetley) and I bought a 1904, narrow-gauge Baldwin locomotive in 1990. The engine as purchased was a "basket case." But when we found a copy of the original builder's photo, we were quite pleased at how well-proportioned the engine was and will be when the restoration is completed. Then close examination of the builder's photo revealed a certain valve located on top of the boiler just aft of the smokebox. The reason for the existence of this valve baffled us. What was its purpose? Why was it located on the front of the locomotive? Why not in the cab? Why don't other steam locomotives have this valve?
This mystery stayed with us for a few years while we researched other aspects of the engine, until one day when I found an original catalog of Baldwin detail parts dated 1907. Careful examination of the catalog showed a device called a spark ejector that was located on the underside of the smokebox. But again the questions: What does it do? Was it related to the "mystery" valve? How come we've never before heard of such a device? Did it have to do with coal burning engines only? If so, how come none of the present day coal burners have this? And, how come none of the technical books of the time mentions such a device?
After looking very closely at our builder's photo, we could very faintly make out the shadowy outline of what could be a spark ejector. After this discovery it was necessary to find photos of engines of similar vintage to see if they had it as well. The best source was a book called The Locomotives That Baldwin Built by Fred Westing (Bonanza Books, 1966). This book had builder's photos of engines of various vintages, but some of the photos of engines built between approximately 1890 to about 1915 clearly showed a spark ejector. And more importantly, two pictures clearly showed the associated plumbing leading back to a valve located on top of the boiler just aft of the smokebox. Mystery solved!
From all this information we were able to deduce that the spark ejector was a device used to clean the cinders out of the smokebox at the end of a run. It was probably used by the fireman in conjunction with the clean-out holes located on the side of the smokebox. Also, the spark ejector was applied to engines in an era when extended smokeboxes were very popular and believed to increase draft and arrest the sparks of coal-burning engines. We now knew what the spark ejector was and how it worked. But the important question was how to reproduce one without blueprints or drawings and just a few fuzzy photos.
Just for kicks, I thought I'd search the Internet for East Coast railroads, as they burned coal up to the end of steam. I came across a web page for East Broad Top Railroad in Rock Hill Furnace, PA (www.he.tdl.com/~colemanc/ebt.html) and dropped them a line asking about spark ejectors. A few days later I received a reply telling me to call a Mr. Stanley Hall, the general manager of the railroad, as he would be able to answer my questions. And answer them he did! It seems all six of their remaining steam engines had spark ejectors and, more importantly, the railroad still had an entire collection of wooden patterns for almost all the replacement parts they needed, including one for a spark ejector! And yes, they are willing to allow us to have a reproduction made!
A few weeks later (this all took place in October) Joe Siemons and I flew back to Pennsylvania to visit the East Broad Top. What a treasure! A complete turn-of-the-century coal hauling shortline still intact including roundhouse, steam powered belt-driven back shop facilities, et al.
Needless to say, this quest solved a mystery and also taught a lesson in technological history. It seems the spark ejector was used in conjunction with the extended smokebox. The extended smokebox was designed to arrest sparks and improve draft. Unfortunately, the draft wasn't that much better and the netting in the smokebox would clog and need frequent cleaning, hence the spark ejector. With better grades of coal and a different arrangement of netting, however, the extended smokebox was considered obsolete by the mid 1910s. Engines built after this went back to a considerably shorter smokebox. This explains why most coal-burning tourist lines today don't have spark ejectors and why we'd never heard of them before. But what about the East Broad Top? Apparently the railroad never modernized its equipment. All the engines we saw were pretty much still "virgins" in that they looked exactly as they looked when delivered by Baldwin. Even the classification lamps were still illuminated by kerosene! I guess the day I stop learning about the history of steam technology will be the day I stop being fascinated by steam locomotives.
---
By James G. Hoffmann, SCSRA President
Once again I am working 16-hour production days at the school. This wouldn't be so bad if it were not necessary to squeeze eight days into each week. While this has limited my participation at the Museum for several months, it has not dimmed my enthusiasm at the many good things that are happening.
December 7th, the date of our joint SCSRA/ASRA holiday party, was noteworthy in several ways. First, it had been decided to have the food and grog served in the M.177, so shortly after 5 p.m., Charley Atkins pulled the motor car up to the platform, markers glowing and vittles and potables safely laid out inside. The battery-operated lights gave just the right touch to the evening. When all had partaken to their hearts' content, "Saturday Night at the Movies" commenced in the Exhibit Hall. Tom Graham and Gordon Bachlund had serviced and wired a mixer-amplifier donated by Steve DeVorkin so that a microphone for announcements and "non-synch" music capability was at hand. Jim Vicars, who handles the wiring and the lights, brought a tape of holiday music to add a crowning touch. Yvonne and Greg Ramsey manned (personed?) the snack bar and the short subject began. During the intermission prior to the feature, Linda Barth made a brief announcement thanking all volunteers for a terrific year, rejoicing at the passage of the county bond issue that will pay for the Train Shed, and advising that the new Museum entry project was underway. Her gratitude was further demonstrated as she announced that she was covering all costs associated with the evening, including the film rental, snack bar treats, food, and drinks. We were pleased that several of the City staff joined us, and we are grateful to all who helped, including the operating crews, Bryan Reese and the motor car team, Greg and Nancy Gneier and the ASRA folks, and to our special guest of the evening, Mary Jo Hurdle. If you're wondering how I came to know all this despite my 16-hour days, let's just say "I have my ways."
Motor car progress has been steady largely thanks to Bryan, but help is always needed. Regular M.177 workdays are the second and fourth Saturdays of every month. By curious coincidence, those are the days that Gordon schedules recreational locomotive operations. Hint! There is some bad news, however. The rebuilt Winton engine, awaiting return, will not be released by the rebuilder until the balance due is paid. While this is a disappointment, we may be able to use it to our advantage by featuring this shortfall in a special fund-raising appeal that is being prepared. Meanwhile, we need someone to volunteer to take charge of our corporate fund-raising effort. If you'd like to get involved administratively, this is a wonderful opportunity. Please contact me or Linda for more information.
M/W progress has been significant during the quarter. The M/W storage area, long a jumble, is being sorted and organized. And the old blue dump truck is gone - gone, that is, except for the dump bed and hydraulic gear which is now installed on Greg Ramsey's white Dodge. See Joe's article for details of this remarkable transformation.
The Zoo Railroad has appeared stalled for some time, but this perception was not really correct, since there is always a time-consuming political side to every endeavor involving any level of government. Earlier in the year, Linda predicted that the log jam would be broken by year's end. I'm very happy to report that a civil engineering consultant has been hired by the City to design the exit (connecting) track crossing of the miniature train tracks and the first phase of construction "outside the fence." This will take the exit track east to a turnout and provide a 110-foot tail for switching, the other leg of the turnout leading west toward the station and to our long-awaited sandblast track. Our LALS neighbors will do some track reconfiguring at their west end to accommodate our east tail track, the subsequent eastward extension of which will lead toward the Los Angeles Zoo. See Joe's article for more news.
From all appearances, 1997 promises to be a banner year for the SCSRA, and it is my holiday wish that it will be a banner year for each and every one of you!
---
M.177 Operating History
By Mary Jo Hurdle, Historical Research Associate
This fifteenth report of the research efforts covers the quarter ending November 30, 1996. Connie Menninger (Kansas State Historical Society, Topeka) has sent clippings of The El Dorado Times of June 5, 1945, reporting on the "Gala Event" celebrating the inauguration of the "Little Ranger" service between Emporia and Winfield. The Chamber of Commerce dinner was attended by 223 persons, at which numerous Santa Fe officials were guests, and Flint Tompkins was presented an award for selecting the name "The Little Ranger." Details of the dinner, speakers, and lists of guests were included. An editorial on the significance of the rail service provided stressed the end to the isolation of the community (and others along the line) which was "marooned" since the war began, and ending the need to drive 40 miles for services.
Ward O'Neil (Winfield, KS) left a note at the Travel Town office following a visit. He was kind enough to leave the names and addresses of other possible contacts who rode the Doodlebug. Letters have been sent, and we are hoping for further information and stories from them.
CHAIRMAN'S MESSAGE
By Gordon Bachlund
At its regular meeting of December 17, 1996, the Board held an election to fill the seats of directors Bachlund, Matus, Ramsey, Smith, and Vicars whose terms were due to expire. The chair nominated four of the incumbents, and Greg Ramsey nominated Bachlund, who could not nominate himself. Additionally, associates Joe Barilari, Sue Kientz, and Tom Graham were nominated. Greg Smith subsequently declined nomination, stating that he would prefer to step aside so that new talent might join the Board. Finally elected were Gordon Bachlund, Tom Graham, Randy Matus, Greg Ramsey, and Jim Vicars. These five will serve until December, 2001.
Reconfirmation of appointed officers, superintendents, and managers will take place at the March 1997 meeting, and new corporate officers will be appointed at the June 1996 meeting.
---
By Gordon Bachlund, Mechanical Superintendent
Cabeese -- The radio in SP 4049 had been acting up, so Jim Vicars and Ted McConville adjusted the squelch and began to troubleshoot some audio distortion in the receiver. This work may be ongoing for several months. Meanwhile, Tom Graham and Bryan Moore effected wiring additions and shelving alterations in the clothes locker of AT&SF 999110 to upgrade the Rules Examiner's lair into which has been moved the video equipment for the safety classes. A larger filing cabinet was installed for Operating Department records, forms and supplies. Are YOU ready to begin training? Ask Tom to schedule your Rules Class.
Buildings and Equipment -- A major cleanup of leaves and fallen branches was undertaken following a minor brush fire to the east of the Museum on September 1st. Clearing of stored materials (thanks to Our Gang) and grading of the area along the south side of Track 4 was begun in preparation for improvements next year. Many thanks to Kevin Simons, Charles Forsher, John Daum, Margaret Daum, Alan Weeks, Dan Price, Jeff Barrow, Tom Graham, Brian Moore and Jeff Pippenger. Meanwhile, Dan manned the weed sprayer and attacked recalcitrant unwanted vegetation with a vengeance.
---
By Tom Graham, Bridge and Building Superintendent
Greg Ramsey's Christmas wish this year is the inspection pit I wrote of last time. Well, Greg, be of good cheer, for we are designing the pit as you read this. It will be of poured-in- place concrete construction (with pro bono structural engineering already volunteered) and will be part one of a three- part plan to provide concrete paving on both sides of track 4 (part two) to enable equipment to be jacked safely for repairs. Part three is the integrated plans for our new shop facilities, still waiting for a final decision on where we will put it.
My schedule at school and the rewriting of the operating department's training outline has occupied all of my free time, but I plan a major design push during the holidays as soon as I can get a hold of some topographical maps of Travel Town from Linda's office.
The steps for the Hunters Point were "borrowed" for temporary use at the M. 177, so that rebuild has been put on hold and will have to wait for my 1997 spring break.
---
By Steve DeVorkin
There were many irons in the fire this last quarter, all of which have yet to be used.
When the Winton engine arrives at Travel Town we plan to alert the media and hopefully have yet another chance to extol the virtues of our group by showing them the progress on our greatest restoration to date, the ever popular M.177, the titular icon of our volunteer efforts. This will be the opening shot of a publicity effort to hopefully entice new members and ending with a gala with the final painting of the exterior and actual running of the motor car. We have hope of enticing a major Hollywood celebrity to host the event. But this is putting the engine before the motor car, so to say.
We are also in the midst of preparing a video which will serve as an electronic "docent" for SCSRA and ASRA on the weekdays. It will play in a kiosk I obtained from the Los Angeles County Museum of Science and Industry and was made available through the generosity of Mr. Nathan Miranda. The kiosk, which will have the utmost security, a television set, and a VCR, will be located in the museum's main building and will relate our groups' exploits through the video which we will produce.
Charles Forsher and Joe Barilari have offered their help with the video project. I welcome any other input, video, photos, etc., from any interested associate. Linda has agreed in principle to let us show the proposed tape. This video will also urge anyone who is even slightly interested to join us. There will be a "self-service" membership area about the kiosk where people can join SCSRA and/or ASRA and a place where their checks for membership will be happily accepted. The tape will also include safety video for children as part of "Operation Lifesaver." This will be a good opportunity to raise the public awareness of our two groups with those who frequent the park on weekdays.
The best public relations, though, are of the personal kind. Keep an eye out while you are at the park for that particular person who has a certain look in their eyes which screams, "I want to play with all those neat trains!" This person may even be an adult, with a family who is just aching to join our group and doesn't know how. Please share you enthusiasm with them and show them around our compound, behind the green fence, so to say. They might become one of our more valuable members. I have an new E-Mail address so please, if you are in cyberspace, drop me an E or use the bell at (213) 897-0336 weekdays.
---
By Greg Ramsey, Assistant Mechanical Superintendent, Diesel
Work has been progressing steadily on Charley's #1 engine by the students and staff down at LA Trade Tech College. The engine was completely disassembled and all the parts were throughly cleaned and inspected. As we suspected, this engine was throughly worn out. Fortunately the block, crankshaft, blower, and governor were salvageable. Unfortunately the camshaft, auxiliary drive gears, oil pump, water pump, and head were not.
Fortunately, it appears that replacements have all been donated. I have found new cam and balancer shafts and usable gears in my family's stock, Mike Cavanaugh has located the pumps, and Golden West College has generously offered us a serviceable head.
We have still expended a large amount of money on replaceable parts and machining. The block and crankshaft were sent out to Service Motors in Montebello to be magna fluxed and have new piston liners fitted. Service Motors has also supplied us with new piston kits and gasket sets. CBC Truck Repair in San Fernando has supplied us with rebuilt piston rods, injectors and most of the new bearings. At this writing, Trade Tech has reinstalled the crank and camshafts and has either finished or is working on the rebuilding of the blower and governor.
Because of the time it has taken to locate and deliver all of the parts, particularly the donated major items, the engine will not be finished by the end of this semester, but should be ready for return soon into the next. I really appreciate the extra effort Trade Tech has gone to inspect and reuse as many parts as possible, especially the small stuff from my stock.
Back at the Park, Doug Stephens and I hung out the blue flags and did our best impressions of the Jamaican limbo to inspect and service Charley's traction motors (now sing along: "All I want for Christmas is my new inspection pit...") The brushes all seemed in fine condition and a little grease (mostly on us) finished that job. We also found time to give Charley a complete oil and filter change (can you say, "Jiffy Lube"??).
Unfortunately, on one of the few Saturday's I didn't make it down (really, I am old enough to retire from the Navy Reserve soon) I got a call late in the evening from Doug to tell me that Charley wouldn't start. From the symptoms, I figured the pin in the rack linkage had probably fallen out, a simple enough fix, but a problem that usually causes the rack to go to full-fuel. Of course, Operations Sunday was only two weeks away so I didn't have much time to play with (anybody have another small switcher we can have so we can alternate them?). Upon my investigation the following weekend, though, I discovered that at least two of the injectors were frozen in the no-fuel position. Further investigation found minute metal particles inside the injectors.
Modern fuel systems generally use some sort of disposable paper filter, but 50 years ago, cleanable cloth bag filters were common. That's what is in Charley. Unfortunately they will deteriorate with age and fail to trap all the contaminants. That's what has apparently happened. Since we are a museum, we try and maintain the original equipment whenever possible, but this is one of those times when we will have to update systems. With the help of Jim Vicars I returned the following Friday and installed new duplex filters in both engine compartments in new locations where we will be able to do regular element replacements. We also replaced all the injectors and have timed and tuned the engine. After operations, we also removed and cleaned the pump strainer which greatly helped the fuel pressure problem.
While mounting the new fuel filters in the #1 compartment, we removed the backing plate from an electrical panel and found a large power resistor that had melted probably years before we received the locomotive. Our able-bodied electricians Jim Vicars and Ted McConville (visiting from the far northwest) spent several hours studying and documenting the situation and have determined that since we have been running without for years, it must not be too important.
Staffing the Diesel Shop this quarter, in addition to the above, included Gordon Bachlund, Jeff Pippenger, Alan Weeks and Gregory Ramsey II.
As always, I can be reached at home (805-483-1552), work (805-982-9720), or via the Internet.
Diesel Shop Trivia
Also by Greg Ramsey
Last installment I asked everyone to go look in the hood of the Baldwin: "If you look on the Engineer's side, you'll find a valve with a threaded connection mounted on each of the pistons heads. Who can tell me what these are called and what they are used for?"
These are commonly called "test cocks." Though most of us only use them as compression releases, or to check for water in the cylinder, they actually have a more complex diagnostic use. Many diesel ills can be diagnosed by studying the average pressures occuring inside the cylinder. To do this, a device called an indicator is attached to the cock which will record the pressures at each point of the cycle. The indicator consists of a drum with paper which rotates in sync with the piston and a tracing point or pencil which moves in proportion to the cylinder pressure. By studying the shape of this plot and comparing it to the other cylinders, a variety of maladies can be diagnosed.
Now for this quarter's homework: I want every engineer, hostler and mechanic to climb into the Baldwin and draw me a line diagram of the lube oil system external to the block and tell me what each component does. A free lunch (at Travel Town on Saturday) awaits the first associate to give me a complete and correct drawing.
---
By James G. Hoffmann, Operations Superintendent
As my job requirements are putting me into my annual "hibernation," this report is largely written based on telephone conversations with Gordon and Jim Vicars. Many thanks for keeping the department running! At last board meeting, a proposal was made and accepted which now gives us a printed rate sheet for all future weekday and weekend charter operations. Congratulations to Brian Moore, our newest instructor. We need to keep the trainin program in full forward gear! Our public operations were held September 1, October 6, and November 3. There was no charter operation during the quarter.
                         Passengers              Donations
Sunday, September 1         276                 $   212.30
Sunday, October 6           785                     342.06
Sunday, November 3          748                     298.42
                    ______________________________________
  
Total:                    1,809                 $   852.78
                    ______________________________________
Total to date:           57,271                 $21,449.27
                Operating Days: 	85
Note that September's figures reflect an early shutdown of operations: at about 3:30 p.m. the Fire Department evacuated Travel Town on account of a fire in a nearby canyon.
Thanks as always to our faithful stalwarts who helped keep the rails shiny and the passengers safe and happy! Those with recorded times include Gordon Bachlund, Jeff Barrow, Dale Brown (he surely gets the Commuter of the Quarter Award!), John Daum, Margaret Daum, Mike Flaharty, Tom Graham, Brian Moore, Dan Price, Yvonne and Greg Ramsey, Chris Rippy, Kevin Simons, Kevin Tam, Jim Vicars, and Alan Weeks. If you would like to see your name here, well, come on down and get into the training program!
---
By Joe Barilari, Maintenance of Way Superintendent
I'd like to start by saying that I hope everyone had a joyous holiday season, and welcome to 1997. The last quarter has been particularly busy and regular visitors have noticed. The yard has been cleaned extensively, not just restacked, but gone through piece by piece and the end result has made the yard rather spacious.
For starters, the tie pile, San Berdo and long ties, has been relocated to the parking lot. We have long had a problem getting the trucks in and out of the gate since the pile seemed to grow (no, we didn't water it) without influence or reason.
This had to finally reach nirvana, as folks like Gordon and I with trucks long in wheelbase had to struggle to navigate around it every morning and evening. Bad enough without a trailer, and pure stress with one.
So the M/W Department decided to do something - we rented a forklift (the city's was not available that day), got out the bander, and rounded up them doggies. Off to join the existing piles in the parking lot they went and, boy, did the lizards run when daylight came! Now we have enough space to turn pretty good-sized trucks, and you never know when that might be necessary.
Speaking of our trucks I have good news on that front as well. M/W for many years has had nearly no options when it came to moving bulk rock products. Some years ago we were donated an old dump truck. Old Blue was a fine vehicle for interpreting history but lacked some usability as a rock hauler. It was given lots of attention over the years by various knowledgeable associates and many a bandaid were installed in an effort to have something instead of nothing, but in the end one thing stopped us (or should I say, didn't !) - brake parts are not just hard to find but in some cases not available for trucks that old, especially International. A vehicle that doesn't stop on a dollar much less a dime is tough to find operators for, and in a park full of children, I could no longer in good conscience bend the rules and drive it myself.
So we had parked it hoping to find a solution, and one did come up. Some readers know that Greg Ramsey has for a number of years left his white Dodge at the park for our use and lately it really hasn't been doing much. So we decided to replace the dump truck's cab, chassis, and power train with that of the white Dodge. Now, for years I've had a side bet with Ed that we could do this and it wouldn't look like something from a third world country. As of this writing, the truck works and looks good considering that lack of paint. After the weather clears up it will be treated to a coat of (what else?) U.P. yellow. I personally donated the racing buckets so the old bench seat's spring will no longer poke through to say "Hello!" as you reach for second gear. The usable parts left from Old Blue were stock piled in case we need them later. Also during the quarter the signal truck was lettered for one of the author's favorite roads in No. America, FNdeM (Ferrocarriles Nacional de Mexico, for you folks in Loma Linda) and treated to some TLC and flat repair as was found necessary. The other M/W vehicles were given equal treatment and someday soon could receive much needed paint. Another bone was the lack of lifting points on the tractor which spends nearly as much time as a crane in the yard. This has been rectified and our man on the scene at Hugo Nue-Proler in LA is sifting the scrap piles for a set of used forks with which we can make a forking attachment. This will prove of use when we are removing ties (or the pieces as the case may be in Travel Town) and the multitude of stuff inside our gate.
What this all leads to, of course, are the many projects pending around the park. The pedestrian crossing has been idle for a while as the materials have been on order. When this stuff arrives, we will make this top priority since the temporary stuff isn't weathering all that well. The crossover from the U.P. track to the north desperately needs attention as do most of the frogs and switch points. With the prospect of Train Shed construction and/or the new entrance facility, surely other things will arise as they always do.
Another good thing happening in the last quarter was the advent of an initial meeting with SCSRA personnel and the city-hired civil engineer currently working on the lead tracks to the station facility/service yard tracks. Surely, future progress on this front should motivate volunteership in ways unimaginable.
Signals made a bit of progress this quarter as the long-awaited wig-wag from the harbor area finally arrived by truck. This, as always, drew a crowd of volunteers to assist in its planting, watering, and feeding via a piece of orange multi-conductor high tension wire. Subsequently a battery box was brought forth to complete the ensemble and Sparky (I mean Ed Sikora), our resident signal superintendent (and low-voltage electrical dude) says a light should at least flicker by next issue.
So armed with that, you can go forth to complete your day, but please take a moment to remember those who contributed mightily to these endeavors: they are Jeff Barrow, Tom Graham, Brian Moore, Jeff Pippenger, Ed Sikora, Kevin Simons, Steve DeVorkin, Greg Ramsey and son, Mike Armstrong, Julio Mancia, Kim Mancia, Gordon Bachlund, Bob Bennett, John Daum, Margaret Daum, Ted McConville, Scott Muir, Thomas Seal, Dan Price, and Jim Vicars.
---
Hardcopy printing for the Headlight was generously donated by
MINUTEMAN PRESS
"For the job you needed yesterday"
Specializing in

Multicolor printing
High-speed copying
Expert desktop publishing
Free, professional advice
Minuteman Press
3165 Sherman Way
North Hollywood, CA 91605
(818) 764-6091
---
NOTE: All SCSRA caboose train operations and ASRA passenger car tours take place at Travel Town during regular park hours, which are 10 a.m.-5 p.m. standard time and 10 a.m.-6 p.m. during daylight savings time.
Jan 5 SCSRA Operations (caboose rides)
Jan 18-19 ASRA Passenger Car Tours
Feb 2 SCSRA Operations (caboose rides)
Feb 8 Movie Night: Silver Streak (1935)
Feb 15-16 ASRA Passenger Car Tours
Mar 2 SCSRA Operations (caboose rides)
Mar 8 Movie Night: Silver Streak (1978)
Mar 15-16 ASRA Passenger Car Tours
April 6 SCSRA Operations (caboose rides)
April 12 Movie Night: Tough Guys
April 19-20 ASRA Passenger Car Tours
May 4 SCSRA Operations (caboose rides)
May 17-18 ASRA Passenger Car Tours
June 1 SCSRA Operations (caboose rides)
June 7 SCSRA Associates Annual Dinner
June 21-22 ASRA Passenger Car Tours
July 6 SCSRA Operations (caboose rides)
July 26 ASRA Annual Meeting
Aug 3 SCSRA Operations (caboose rides)
Aug 23 Steak Fry and Handcar Trials
Sept 7 SCSRA Operations (caboose rides)
Sept 20-21 ASRA Passenger Car Tours
Oct 5 SCSRA Operations (caboose rides)
Oct 11 Oktoberfiesta and Handcar Race
Oct 18-19 ASRA Passenger Car Tours
Nov 2 SCSRA Operations (caboose rides)
Nov 15-16 ASRA Passenger Car Tours
Dec 7 SCSRA Operations (caboose rides)
Dec 13 Holiday Party and Movie Night
---
THE HEADLIGHT
is published quarterly at Los Angeles, California, and is the official publication of
THE SOUTHERN CALIFORNIA SCENIC RAILWAY ASSOCIATION, INC.
P.O. Box 11216, Glendale, CA 91226
(213) 667-1423 and via the World Wide Web at http://www.scsra.org/~scsra
A California Nonprofit Public Benefit Corporation, Incorporated January 4, 1984
IRS Tax Exemption No. 95-3947766
Editor: Sue Kientz
Send your letters to the editor to the park address above or at the E-mail link below
Any article or feature published in The Headlight may be reprinted in whole or in part provided that proper credit is given the source.
---
BOARD OF DIRECTORS
Chair, Gordon Bachlund
Members, Linda Barth,


Tom Graham
Randy Matus
Ted McConville
Greg Ramsey
Bryan Reese
Ed Sikora
Jim Vicars
CORPORATE OFFICERS
President, Jim Hoffmann
Secretary, Tom Pyle
Treasurer, Jim Vicars
APPOINTED OFFICERS
Vice President, Corporate, Gordon Bachlund
Vice President, Museum Services, Linda Barth
Vice President, Railroad Relations, Bryan Reese
APPOINTED SUPERINTENDENTS AND MANAGERS
General Superintendent, Greg Ramsey
Mechanical Superintendent, Gordon Bachlund


Asst. Supt., Gas & Diesel Locos, Greg Ramsey
Asst. Supt., Steam Locomotives, Al DiPaolo
Asst. Supt., M.177 Project, Bryan Reese
Asst. Supt., Electrical/Communication, Jim Vicars
Asst. Supt., Inspections/Records, Bryan Reese

Operating Superintendent, Jim Hoffmann


Asst. Superintendents, Gordon Bachlund, Greg Ramsey, Jim Vicars
Rules Examiner, Tom Graham
Inspectors Gordon Bachlund, Randy Matus, Jim Vicars Instructors Brian Moore, Tom Graham

Maintenance of Way Superintendent, Joe Barilari


Asst. M/W Supt. Ed Sikora
Asst. Supt., Motor Vehicles, Jeff Pippenger
Asst. Supt., Signals, Ed Sikora

Bridge and Buildings Superintendent, Tom Graham
Assistant Treasurer, Ted McConville
Safety Officer, Ed Sikora
Fund Raising Manager, Linda Barth
Historian/Archivist/Library Manager, Jim Vicars
Historical Research, Mary Jo Hurdle
Merchandise Sales Manager, Yvonne Ramsey
Public Relations Manager, Steve DeVorkin
Publications Manager, Sue Kientz
Dining/Hotel/Commissary Manager, Yvonne Ramsey
Key Control Officer, Jim Vicars
Recycling Manager, Alan Weeks
Associates with inquiries regarding project work schedules
may contact any of the above by leaving a message at (213) 667-1423.

---
Questions and comments to Sue Kientz, SCSRA Publications Manager