Restoration Notes: A Day in the Life of a Railway Museum.
Saturday, August 8, 1998
Various goings-on, a report from Greg Ramsey
My wife, Yvonne, had swapped days off with a friend at work so she could have Monday off; therefore I have the kids today. It is also "neighborhood cleanup" day, so I am going to take advantage of the free dumpsters to get rid of several large boxes of junk. Fortunately with Yvonne getting up early, we all are up and I've dumped the trash, loaded up the Blazer and still hit the road by before 9:00am.
After a quick run through McDonalds, our first stop is CBC truck parts in San Fernando. They have finally obtained the correct (or at least the correct replacement) vibration damper for Charlie's #2 engine. From there we head to Burbank to my mother's place. My daughter, Jenny, is going to stay with her Grandma so she can take her to ice skating lessons. I'm also after some chassis punches so I can finish my Winton head gasket template. From there I'm finally off to the Travel Town with my son Gregory.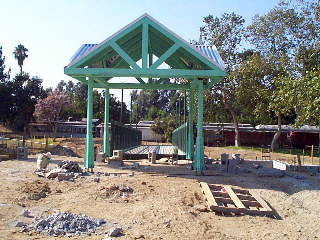 As I enter the parking lot I'm looking for progress on the entrance project and I notice that they have finally erected part of the new "entrance pavilion."
As I drive on, I notice that they also have installed the bridge over the miniature railroad.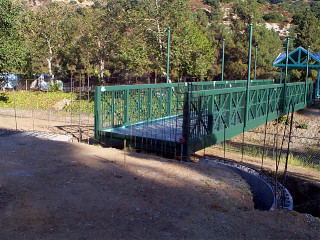 I really want to work on the M.177's Winton engine today and since I have already pulled and replaced Charlie's #2 engine vibration damper, I round up Doug Stephens and Doug Ward and "volunteer" them for the task. They are soon joined by Tim Dulin and with some occasional guidance from me complete the change-out by early afternoon.
I've decided to make a sheetmetal template for the Winton head gaskets since the material I've obtained is so difficult to cut. No, Super Trak didn't stock them. I have to make at least 4 identical gaskets, so the template will server as a guide, both for the current set as well as the future. I had made the basic template at home from sheetmetal left over from the door I made for my caboose, but as I expected, it still required some "adjustments." Those adjustments took most of the afternoon.
While I "adjusted," Gregory took a putty knife, sat down nearby and spent the next couple of hours scraping caked on grease off an oil spray shield from the generator end of the engine. We then took it outside and used a can of Gunk™ degreaser and a wire brush to finish the cleaning. If it passes Bryan Reese's inspection, we'll give it a coat of paint next weekend.
While we worked, Bryan came by with some friends from Arizona and gave them a tour of the Motorcar. One of them is a machinist, and Bryan worked out a deal with him to try and straighten some of the bent head studs and then to make new ones for those not repairable.
Away from the locomotive track, the MW folks lead by Danny Price and Charles Forsher spent the day putting joiner bars on the piece of rail that the Baldwin broke some months ago crossing over to switch the Santa Maria Valley 1000.
I didn't see anyone working on the tail track today, probably because the City had our skiploader off the property for routine maintenance.
After Charley was up and running, Bryan Moore, with help from Jim Vicars and Gordon Bachlund, took some of our new rules-qualified associates for more brakeman training.
As I was leaving, Gregory and I walked around the new entrance project and shot some digital images of the work in progress, some of which will probably find their way to the SCSRA web page in the near future. Webmaster, make it so!!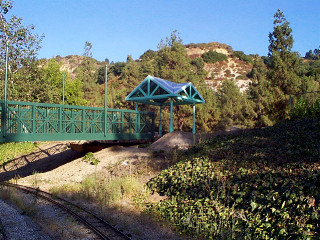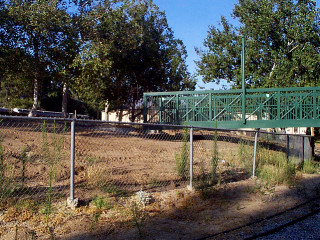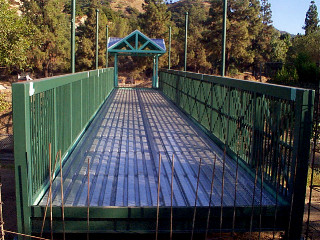 ---

E-mail questions and comments to SCSRA Dispatcher
Copyright 2000. The Southern California Scenic Railway Association, Inc..

---