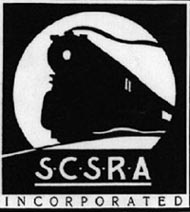 Travel Town
by G. M. Best

Southern Pacific 3025, the first engine in Travel Town, shown at the SP shops in Sept., 1952 with members of the Recreation and Parks Commission of Los Angeles as follows, reading from left to right: Charles Atkins, Travel Town developer; George Hjelte, Department General Manager; Morrie Luxford, Commission member; R. L. Burns, Commission member; W. J. McHugh, Asst. Supt. of Motive Power, SP Co.; Mrs. William J. Wilson, Commission member; Larry Helgesen, Administrative Assistant, Rec. and Parks Dept.; Orin Wennersten, Maintenance Supervisor, Rec. and Parks Dept.; William Frederickson Jr., Supt. of Recreation, Rec. and Parks Dept.
Photo credits: All photos by G. M. Best except WP 26 on truck, Gil Kneiss; Sharp and Fellows 7 on truck, R. B. Jackson; SP 3025, photographer unknown.
This book and its contents copyright G.M. Best
The Western Railroader
"FOR THE WESTERN RAILFAN"
Vol 19 - No. 18                June, 1956               Issue No. 200