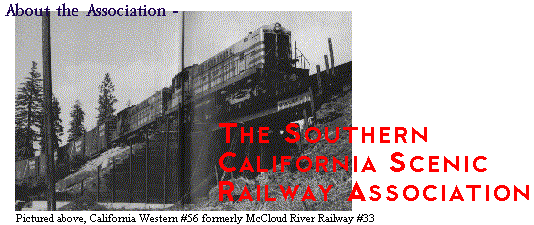 Mission Statement
The mission of the Southern California Scenic Railway Association (SCSRA) is to provide a historical insight into the numerous contributions that railroads have made to the development and growth of our region from the 19th century onward, through our support of the Southern California Railway Plaza Association (SCRPA) and through the conservation of our two cabooses.
SCRPA's ultimate goal is the creation of a premier destination attraction to present the spirit of the Southland through this railroad heritage. Called the Southern California Railroad Experience (SCRX), it will include exhibitions, programs, and activities that are educational, interactive, and fun for all ages.
In addition to SCRX planning and development tasks, the SCSRA and the SCRPA sponsor programs and projects to promote interest in rail safety, history, and education.
Nonprofit Organization
The SCSRA was incorporated in 1984 under the non-profit corporation laws of the State of California, and is a 501(c)(3) educational organization. Thus, donations are tax deductible to the extent provided by law.
The SCSRA is governed by a Board of Directors acting through its President, Secretary, Chief Financial Officer, and other appointed officers and superintendents. The Board of Directors typically meets at 7:30PM on the second Tuesday of March, June, September, and December, and you are invited to attend the meetings if you'd like. The agenda always includes a time for comments and questions from all attendees. For information on meeting locations or other questions, contact the Dispatcher.
The SCSRA has no paid employees. All members at all levels are volunteers!
The SCSRA is a "non-member" organization. Thus, as a member of the SCSRA, you are actually an "associate" of the organization, the only "voting members" being the Directors. This arrangement is intended to keep the organization free of the political malaise that often characterizes so-called "member organizations," and to help us focus on projects rather than on individuals' special interests.
The Southern California Railway Plaza Association (SCRPA) is our strategic partner in our activities in Orange County, including the planning and development of the Southern California Railroad Experience and its future demonstration railroad.
Volunteer Opportunities
The functional organization of the SCSRA is similar to an operating railroad, with work areas divided into Departments. Each Department is under the supervision of an appointed Superintendent. Members may volunteer in the activities of any or several Departments. Superintendents are listed on the back page of each issue of the SCSRA newsletter, The Hot Rail, and you may contact any Superintendent for more information.
The administrative organization of the SCSRA is along traditional corporate lines, with appointed administrative Managers for the various work areas. These Managers are also listed on the back page of The Hot Rail, and you may contact any of them for more information.
Our current work location in active development is adjacent to the Amtrak Depot in Fullerton.
Members are invited to participate in a variety of activities ranging from equipment restoration and maintenance to constructing track to operating a demonstration railway. Members are also invited to perform administrative functions such as fund raising, management, record keeping, historical research, maintenance of archives, bookkeeping, publication of museum newsletters, etc.
Among our Mechanical Department activities, we maintain two vintage cabooses. Also, we maintain a modest fleet of support vehicles and maintenance-of-way equipment.
Our Maintenance-of-Way Department crews construct and maintain track and signals, and various support facilities.
Our Operating Department trains and administers operating crews for demonstration railway operations.
Whatever your interest, you are sure to find a rewarding volunteer opportunity with the SCSRA.
Quarterly Newsletters
SCSRPA produces a quarterly newsletter, The Hot Rail, that is mailed to members as well as being posted online. In addition, we publish docent guides, equipment informational handouts, and similar exhibit related material.
Make your Rail Dreams Come True!
You can contribute to the SCSRA/SCRPA team whether you bring experience with you or just want to volunteer to learn. We have only a few members with actual working museum or railroad experience. Most of our members have learned what they now know by their hands-on involvement. We will train you if you'd like. Most of our demonstration railway train crew members dreamed of one day operating a locomotive, and their dreams have come true, and yours can too!
The membership application has boxes to check if you have specific interests, or want to share specialized skills such as carpentry and woodworking, sheet metal work, welding, diesel engine maintenance, electrical and control/communications wiring, fund raising, accounting, computer skills and database development and maintenance -- the list is endless.
Finally, age is no barrier. We have active members ranging from their teens up to over 70.
Safety - our Most Important Concern
Our primary concern is safety, from the proper handling of tools to the proper operation of a locomotive. We have a Safety Officer who maintains an overview of all our operations and is always available, along with our Superintendents and Managers, to answer questions and provide instruction in the safe use of tools and equipment. The SCSRA Operating is proud to have maintained a 100% safety record during 12 years of railroad operations while carrying over 110,000 passengers, and our Mechanical and M/W Departments have never been marred by a lost time accident. We intend to keep it that way with your help.