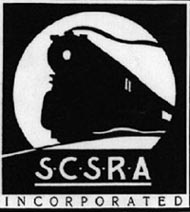 Travel Town (continued)
Return to Page 6 | Page 7
A program of maintenance for the locomotives and cars has been started, and one by one, the engines are being repainted wherever rust develops, especially the rods and boiler jackets. Smoke stacks have been covered to keep water from rusting out the bottom of the smokebox, and many members of local railfan groups have contributed their time and services in repainting and restoring the electric cars of various types.
There has been some critisism on the part of rail photographers that it is impossible to photograph most of the locomotives. This is quite true, but if the locomotives were spread out with sufficient room for a perfect locomotive picture, Travel Town would lose it's compact, intimate atmosphere, and most of the shade trees would have to be removed. Atkins is doing what he can to improve the location of the engines, and at least six of them can now be photographed, but it is impossible to please everybody, and the exhibits were not placed there specially for one group.
Atkins now has a small office near the parking lot entrance, a freight station has been set down nearby, and Atkins says he hopes to have some freight cars and a switch engine standing alongside the freight house one of these days. The recent arrival of a box car would indicate that Atkins is working on the idea. There are several electrics at Travel Town which either belong to private individuals or railfan clubs interested in juice transportation.
All who love the steam locomotive, or the electrics, and regret to see their passing, will through the years give thanks to the foresight and planning of George Hjelte, Bill Frederickson, and Charles Atkins, and to the generosity of the various railroads, firms, and individuals who donated the exhibits, brought them to the park, set them down there for all the see, throught the coming years. And most of all, the thousands of children who have climbed over the engines, ridden the narrow gauge train, had refreshments in the dining car, and enjoyed a family picnic under the trees, appreciate Travel town very much indeed. They will be coming back there again and again, and in due time will, I hope, bring their own children with them.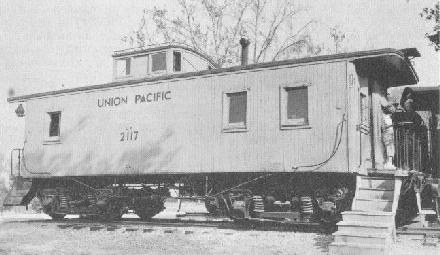 Union Pacific caboose 2117 came to Travel Town from Rawlins, Wyoming where it had been inservice for over 70 years.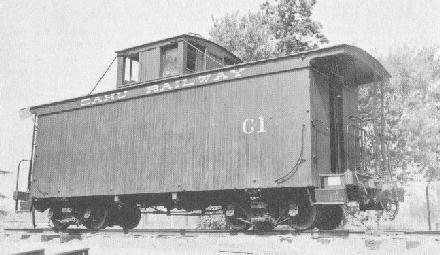 Side view of Oahu caboose
The End
See Travel Town Museum official website, and
Travel Town Museum Resource Page