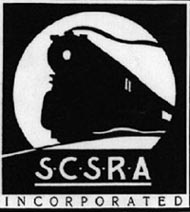 General Rules
From the Standard Code of Operating Rules
Adopted January 1986
Association of Americal Railroads
Each employee whose duties are prescribed by these rules must have a copy.

Employees whose duties are in any way affected by the timetable must have the current timetable with them while on duty.

Operating rules may be amended by timetable or special instructions.

Employees must be conversant with and obey the rules and special instructions. If in doubt as to their meaning they must apply to their immediate supervisor for an explanation.
Employees must pass the required examinations.
Employees must not sleep while on duty. An employee lying down or in a reclining position with eyes closed, covered or concealed will be considered as sleeping.
Employees must render assistance in carrying out the rules and special instructions and must report promptly to the dispatcher any violation thereof.
Any unusual condition that may affect the safe movement of trains must be promptly reported by quickest available means of communication to the train dispatcher.
Employees reporting for duty, on duty, or on Company property are prohibited from having in their possession, using or being under the influence of alcoholic beverages or intoxicants.

Employees shall not report for duty or perform service under the influence of, or use while on duty or on Company property any drug, medication, or other controlled substance, including prescription medication, that will in any way adversely affect their alertness, coordination, reaction, response, or safety.

The illegal use of a drug, narcotic, or other controlled substance that afffects alertness, cordination, reaction, response, or safety, or their possession while on duty or on Company property, is prohibited.

The use of tobacco by employees on duty while in the presence of or engaged in serving patrons is prohibited.
Employees on duty must comply with prescribed dress and grooming codes and be neat in appearance.
Employees must be courteous and orderly.
In case of danger to railroad property, employees must unite to protect it.

Unauthorized possession, removal, or disposal of any material from railroad property or property served by the railroad is prohibited.

Employees must exercise care to avoid injury to themselves or others. They must observe the conditions of equipment and the tools that they use in performing their duties and when found defective will, if practicable, put them in safe condition, reporting defects to their immediate supervisor.
Train and engine service employees must not occupy the roof of a freight car or caboose under any circumstances. Other employees whose duties require them to occupy the roof of a car or caboose may do so only when equipment is standing.
Employees must know the locations of structures or obstructions where clearances are close.
Employees must expect the movement of trains, engines or cars on any track, at any time, in either direction.
Employees must not stand on the track in front of an approaching engine or car for the purpose of boarding same.
Employees subject to the Hours of Service Act must familiarize themselves and comply with its requirements.
In case of doubt or uncertainty, the safe course must be taken.