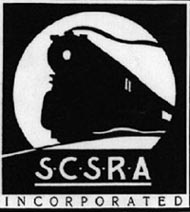 A Typical Narrow Gauge Story: the Oahu Railway
"A gauge of three feet was chosen because the cost per mile of a standard gauge railroad... was so hight that there was no possibility of raising money." - Gerald M. Best, Nevada county Narrow Gauge
Noted rail historian Best pointedly summaraized the chief reason that a surge of shortline construction in the latter 19th century was often narrow gauge rather than standard-gauge track. He might have also added that terrain sometimes indicated gauge - where right-of-way was narrow, slim rails and slim equipment would make a better fit, or it could reduce grading because light, narrow gauge equipment could cross rough terrain on elevated tracks. On the other hand, many railroads which began as narrow gauge, and remained viable businesses, were changed to standard gauge in order to allow interchange with mainline roads, and frankly, because narrow gauge cars just could not hold as much as larger standard gauge cars. Railroad history offers some notable exceptions to that trend, of course. One is the Oahu Railway and Land Conpany of Hawaii.
Posed unpretentiously at Travel Town are two wooden three foot gauge passenger cars, a coach and a combination baggage-mail-coach, both assembled in Oahu Railway's own car building shops around 1900. These modest cars hold a special place in Travel Town history, as they carried the passengers of the Crystal Springs and Southwestern Railroad in Griffith Park from 1955 to 1961.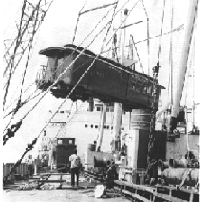 The shipment and delivery of the equipment was a highlight in Travel Town's early history as well. Carried by steamship from Pearl Harbor to Los Angeles Harbor, swung dramatically by crane from ship to shore, and trucked throught the streets of Los Angeles trailed by news film crews, the artifact's arrival from the then-territory of Hawaii was certainly the most Arduous and theatrical of Travel Town's acessions.
But this narrow gauge equipment had come from a railroad whose own history was more interesting than that of the equipment's long journey to the mainland
The Oahu story began with a broken leg. In 1865 Benjamin Franklin Dillingham was thrown from a horse on Oahu, while the ship on which he served as first mate was in port. The ship left him behind to recover and the resourceful Dillingham, born in Massachusetts, became something of a naturalized Hawaiian during his forced stay. His first job was as a clerk for H. Dimond & Sons hardware merchants; in 1869, he bought out the entire firm. Fifteen years later, he had brokered his holdings into a new firm, the Pacific Hardware Company, and had accumulated, along with his wealth, some interest in property on the west side of Oahu and a cadre of influential associates. The Oahu of his day was an island paradise whose sole role in the world's economy was as a trading stop for ships. Impressed by early experiments in agriculture and ground water wells, Dillingham visualized an Oahu rich with agricultural developments and products to ship around the world. But how could he convince others that Oahu's vast empty land should be cultivated? And even if he did how would he move products from inland to port.
Dillingham proposed to build a railroad - narrow gauge, of course, to reduce first cost. He was granted a franchise by King Kalakaua in 1886, and officially opened the first nine miles on the King's bithday, November 16, 1889. Oahu Railway's initial roster showed two Baldwin-built 4-4-0's and nine passenger coaches built by Carter Brothers of Newark, California. Revenues were meager in the first years from small shipments of the little existing crop production. But Dillingham's plan was eventually validated, because the availability of the railroad to ship products from land to harbor did promote sales of the land and induced new agricultural ventures. Of course, Dillingham furthered the process along, and incidentally added to his personal wealth, by organizing and investing in such ventures as the Ewa Plantation (Oahu's first sugar plantation, laid out in 1890) Kahuku Plantation, Waialua Agricultural Company, Haleiwa Hotel, and the Oahu Sugar Company. The Oahu Railway was built to reach each of these facilities over the course of the 1890's. When profit was insufficient to pay for extension of the line as far as Kahuku in 1897, Dillingham issued bonds to finance construction. These bonds were due in 1927, but the company was able to pay them off in 1923 out of excess revenue - and still pay a stock dividend that year as well! As Dillingham projected, the island's sugar and pineapple production (including that of the Dole Pineapple Company) became ample enough to be both an important facet of the Hawaiian economy and a satisfactory source of revenue for the railroad which had made it all possible.
Dillingham's road was not troubled by the major problems facing narrow gauge lines on the mainland. The shortline railroads built to feed Oahu Railway's mainline were also three-foot gauge; even the U.S. military built their tracks to narrow gauge, so they could interchange with the Oahu Railway. Their freight and passenger car capacity and inventory (much of their rolling stock was built in their own shops) was sufficient for them to meet the needs of their customers. The carrier remained gainful in both passenger and freight business right up to World War II, when it appeared to have actually exceeded it's own passenger - carrying capacity as one would have assessed it on paper. But after the war, with most of the servicemen gone, passenger revenues dropped; autos and trucks had begun to devour business to some degree even before the war. Oahu Railway abandoned their entire rail system outside the Honolulu and harbor area in 1947. They became strictly a terminal operation, reorganized as the Oahu Railway and Terminal Warehouse Company in 1961; that same year a suit was settled with the State and almost all the old right-of-way reverted to State ownership. The last miles of the terminal road were not abandoned until 1972.
Taken from the Travel Town Souvenier Album.