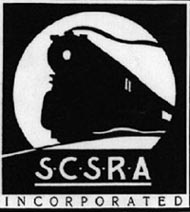 SOME INTERESTING FACTS about AT&SF Caboose 999110
AT&SF Railway caboose 999110 is believed to have been originally numbered AT&SF 1860, part of the series 1650 to 1874, which totalled 225 cabooses, and was built by the American Car and Foundry Company in 1928. During its operating life it was upgraded and/or modified several times, with the addition of generators and lights, radios, toilets and improved trucks. The last major upgrade was accomplished at the West Wichita, Kansas, shops (now closed) in 1966, resulting in a configuration called "Class CE-1" which was utilized in mainline and local service system wide. In this final configuration, the caboose is equipped with three pairs of facing bench seats which can be converted into bunks, a conductor's seat and desk and two cupola seats, as well as a heating stove, a 12V DC refrigerator, a Microphor toilet with on-board sewage treatment system, and FRA safety glazing. The caboose's dimensions and weights follow:
| | | |
| --- | --- | --- |
| | Length over pulling faces of couplers | 42'- 1" |
| | Length over platform end sills | 35'- 3" |
| | Length over body end sills | 26'-3" |
| | Width over side plates | 9'- 7" |
| | Height, top of rail to top of smokejack | 15'-6" |
| | Weight of body | 44,340 lbs. |
| | Weight of trucks | 15,560 lbs. |
| | Total Weight | 59,900 lbs. |
The trucks are Barber-Bettendorf swing bolster type with leaf springs and have 33" wheels with roller bearings. The B end truck is equipped with a 12V DC alternator which charges the 12V battery, providing power for the lights, radio and refrigerator. The heating stove is oil fired.
The caboose was donated to the SCSRA by Pacific Rail Industries of Colton, California, and dedicated at Travel Town on October 12, 1989.
As maintained by the SCSRA, all on-board utilities are operational including the sewage treatment system which discharges only treated, chlorinated water on the ground in accordance with EPA requirements.